Archived Travel Guide
Drive-in music series thrives in Maggie Valley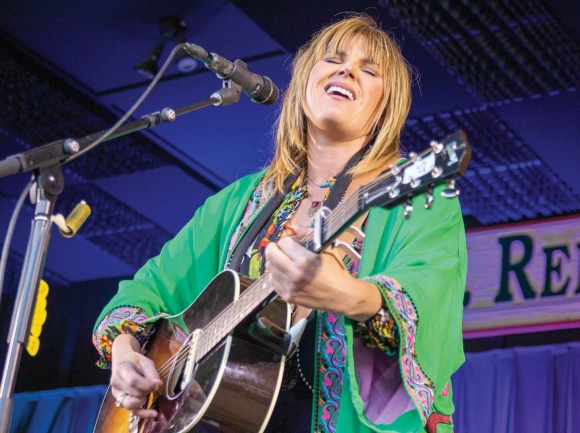 Grace Potter. John A. Zara photo
In the late spring of 2020, Russ Keith was cruising down U.S. 19 through the heart of Maggie Valley. Soon, he noticed the festival grounds out of the corner of his eye. He pulled in, stopped and got out of his car.
"The gate was unlocked, so I just walked out there and stood in the middle of the property," Keith said. "And I knew this was the place — it needs to happen right here."
Owner of The Grey Eagle Music Hall in Asheville, Keith saw immense potential in the Maggie Valley Festival Grounds as a destination for a drive-in concert series. Now, with everything in place, the series officially launched in September 2020 with bluegrass legend Sam Bush.
Since Bush appeared onstage in Maggie Valley, other national acts have performed, including Mandolin Orange, St. Paul & The Broken Bones, Grace Potter, Del McCoury Band, and Jason Isbell.
With the current pandemic, the entire live music industry had pretty much come to a screeching halt. So, promoters and venue owners had to get creative. By being able to adhere to social distancing guidelines and protocols, the drive-in series has taken flight slowly and steadily around the United States.
"It was very challenging, just trying to find the right location and getting the right people onboard who see the vision that we have," Keith said. "It's been great working with the Town of Maggie Valley and the community itself. They were itching for some live music and they knew of the reputation of The Grey Eagle."
A legendary venue in the Southeast, The Grey Eagle is regarded as one of the most beloved and storied stages of its kind across the country.
"We want to let people know that The Grey Eagle isn't going anywhere," Keith said.
St. Paul and The Broken Bones. John A. Zara photo
Keith put together the drive-in series alongside Jeff Whitworth of Worthwhile Sounds. A full-service booking agency and artist management company in Asheville, Whitworth has worked with The Grey Eagle and several other venues (and festivals) around the Western North Carolina for several years. Most notably for Haywood County, Worthwhile Sounds is also the booking arm behind the annual Cold Mountain Music Festival at the Lake Logan Conference Center.
"Honestly, it's refreshing to be back in the saddle again and to be pushing music out there," Whitworth said. "Tickets for the drive-in series are already selling well, which is reaffirming to our belief that people are ready to get back out and experience live music — they're missed seeing it and we've missed putting it on."
In terms of the festival grounds, the setup with be as follows: 250 cars allowed (with different ticket pricing tiers available), each vehicle will be given a 20x20-foot box with space for parking and for outside seating/viewing (bring your own camping chairs), with the concert also transmitted live to your FM car radios (if you choose to remain in your vehicle).
"The festival grounds was an obvious choice for us because it has an infrastructure that doesn't exist in a lot of places where you're doing drive-in and pop-up shows," Whitworth said. "The property already holds largescale car events throughout the year, so that shows how well-structured the facility is to do a drive-in series. It also has multiple entry points for vehicles coming in and going, which is on a four-lane highway near a major interstate — it's a win-win for everyone."
For the Town of Maggie Valley and greater Haywood County, that "win-win" is something of a silver-lining in a year of festival cancellations, with tourism faltering amid the pandemic and an event calendar that has been pretty much wiped clean.
"We wanted to work with Russ and The Grey Eagle from day one. Their reputation is second-to-none in the Asheville music scene — they're about quality," said Nathan Clark, town manager of Maggie Valley. "We went slowly through this process to get it right, with our thinking now as to how to make this a long-term relationship with The Grey Eagle."
"We're very excited to see such an innovative event happening in Maggie Valley and Haywood County," added Ben Wilder, assistant director for Visit NC Smokies and the Haywood County Tourism Development Authority (TDA). "The drive-in concert series will bring in a significant impact on weekdays and weekends this fall. We look forward to welcoming new visitors and music enthusiasts to our community."
For Whitworth, someone who has worked in the music industry for over 20 years, he can't help but smile knowing that the industry he's poured his heart and soul into is finally starting to reemerge in this "new normal" of societal interaction and live music experiences.
"With the uncertainty and the great unknown of everything that's going on right now, it's reassuring and rewarding to see these ideas and events come to fruition — to see these things take life," Whitworth said. "Now? We just have to set our sights to the finish line of that first drive-in show and then grow and evolve from there — we'll get there."