Archived Travel Guide
Craft cocktails, intimate setting: Dark Moon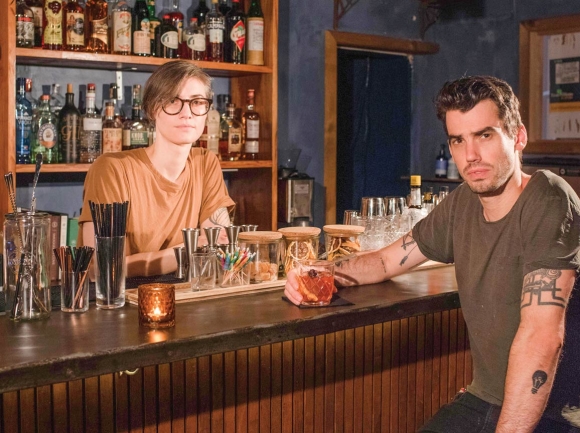 Cecelia White and Don Panicko.
Crossing the threshold of the White Moon café in downtown Sylva, one is drawn in by the scent of culinary delights and unique beverages.
But, against the back wall is a nondescript door. There's no sign on it, nor is there any indication that the entryway serves any more of a purpose than a broom closet.
Turning the doorknob, you're soon pulled into Dark Moon, an intimate and intricate speakeasy. Underneath the dim lighting, there's an array of quality spirits and wines, cheeses and meats, as well as an extensive handcrafted cocktail menu.
"We wanted to create a small European style, big city bar," said Don Panicko. "The concept is to create a flow around Sylva, where you either start or end your night at Dark Moon. It's about the connectivity between all of these great dining and nightlife spots in downtown."
Alongside his wife, Cecelia White, the young couple has seemingly doubled-down on the strong business and community roots they've grown in the two-and-a-half years since White Moon opened its doors. With Dark Moon, it's about bringing forth the artistic talents of White and Panicko, who each come from elaborate backgrounds of creativity and pursuits.
"We care so much about the environment we're creating, and I think that elevates the experience for everyone who comes in here," Panicko said. "We like to go to new places and pay attention to all the little subtleties. It's about traveling and collecting experiences, and being influenced by those places — if I see something really good and clever at a spot, it sticks with me."
With the speakeasy setting, Panicko finally gets to dive deep into his passion for handcrafted cocktails, a skill set he picked up while living and working in the New York City restaurant/bar scene.
"I enjoy coming up with all of these different kinds of craft cocktail recipes, carefully measuring out everything and making sure everything is perfect in presentation and taste," Panicko said. "There's no cutting corners — your Tuesday drink will taste the exact same as your Saturday drink."
A Charlotte native, White attended the prestigious Fashion Institute of Technology (FIT) in New York City, while Panicko (hailing from California) worked his way up through the service industry in The Big Apple. Both found their way to Western North Carolina on separate journeys, ultimately crossing paths in Asheville.
With White working in apothecary goods and Panicko headlong into woodworking in Asheville, they soon discovered the harmonious mountain town of Sylva. Fast-forward a few years and now they have two businesses open and thriving within the community.
And even though Dark Moon was conceived before the shutdown (and constructed in 2020), White and Panicko were steadfast in keeping their vision alive, now coming to fruition.
We didn't close a single day during the shutdown," White added. "We survived for months simply barricading the front door and taking online orders. And what's really great is that during that time, the local community started to catch on to what we're doing — we're very appreciative that people love and appreciate us."