Archived Travel Guide
Finding a better way: Cullowheegee Farms Natural Soaps & Crafts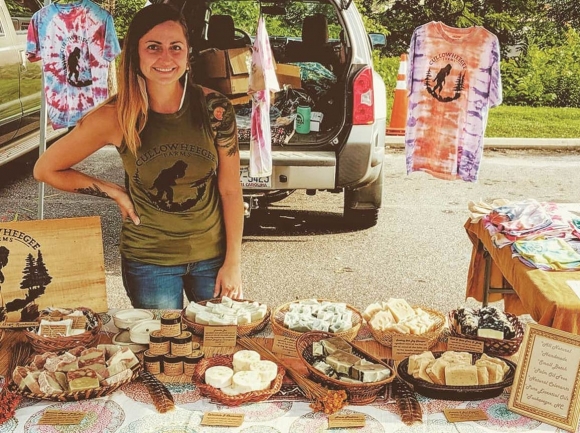 Sarah Rehmann.
About three years ago, Sarah and Eric Rehmann uprooted their lives in Raleigh and headed for Western North Carolina.
The young couple had just gotten married and were looking for a change, personally and professionally — something that would bring them closer to the mountains they enjoyed hiking and exploring.
"We loved our jobs [in Raleigh], but we were always so busy. We were looking forward to a slower pace of life and wanted to get busy building a more sustainable life," Sarah said. "Whenever we could squeeze together a couple of days off, we would visit Western North Carolina. We'd often daydream about someday owning land and living a more sustainable life."
Once Eric got a position as a chef for Western Carolina University in 2017, the Rehmanns relocated to an 11-acre piece of property in Tuckasegee which they dubbed Cullowheegee Farms.
"I've always loved to create and design, but working heavily in the restaurant industry [in Raleigh] didn't leave much time for creativity. But, once we moved here, I found inspiration everywhere," Sarah said.
During Christmas 2017, Sarah was looking for different ways to make handmade gifts for loved ones. A friend recommended that she perhaps dive into handmade soap as a possible gift option.
"That was the 'aha' moment, " Sarah said. "I always had sensitive skin and had recently converted to natural soaps myself and had seen a huge improvement in my skin. And I decided to give it a try in making my own soaps."
From the outset, the Rehmanns have intended to turn Cullowheegee Farms ultimately into a multifaceted property of artisan crafts and agricultural products. As the landscape and ideas for it started to take shape, Sarah quickly gathered supplies and knowledge for handcrafting the soap.
"Making soap is both a science and an art," Sarah said. "I made my favorite combination, this lavender and oatmeal batch, and was immediately hooked [on the creation process]. I started posting photos online of the soaps and was overwhelmed by the amount of people who asked if I was selling the bars."
Since launching the natural soap company, Cullowheegee Farms offers around 20 varieties, with each sporting a unique and aesthetically-pleasing appearance that emerges from the varying layers and combination of ingredients.
The soaps are palm oil free, using only essential oils for fragrance and natural color pigments from herbs and clays. The packaging is eco-friendly, with a nod to eliminating single-use plastics by offering not only bar soaps, but also shampoo and conditioner bars, lotion bars and biodegradable lip balm.
"I love how there are endless combinations of soaps to create. It keeps it interesting and I'm always thinking up new creations, researching different herbs and oils to use to provide the best products for our customers," Sarah said. "When people visit these mountains, they're reminded of the importance of nature, of handmade and homegrown [products]. Mountain culture doesn't heavily rely on big business and mainstream society to get by."
Aside from several local businesses that carry the soaps, the Rehmanns also set up shop at the Jackson County Farmers Market every Saturday in Sylva.
"We've been blown away at the support this community has given us right from the beginning," Sarah said. "The people we've met here are so genuine and truly want you to succeed. They've been a great support, especially in the beginning stages by helping us promote and get into stores."
But, perhaps more importantly, the journey for the Rehmanns and Cullowheegee Farms has become one of deep and personal fulfillment. In 2016, Sarah's mother passed away after a courageous 11-year battle with breast cancer.
"She was treated with traditional medicine, which changed the way I looked at a lot of things. For the first time, I discovered the importance of what put in and on our bodies and how it impacts our health," Sarah said. "Though she passed away, her passion for nature and creativity lives through me. And from the very beginning of this soap venture, I wanted to stay true to those passions."