Archived Travel Guide
From bean to table: Steamline Coffee Co.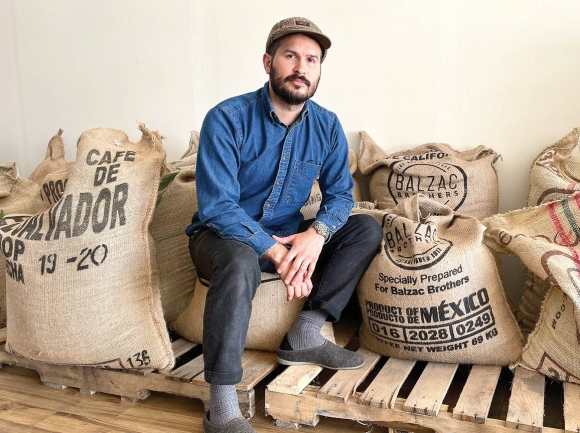 Cabell Tice. Luke Sutton Photography
Friday morning in downtown Waynesville and Orchard Coffee is bustling. There are those entering and waiting patiently for strong coffee and freshly baked goods, those exiting with full hands and big smiles.
It's a familiar sight for the popular family-run business. And yet, for co-owner Cabell Tice, all he can think of lately is what's down the road — literally and figuratively.
"It's all been part of the plan. I've been passionate about roasting for a number of years," Tice said. "I've worked for some roasters. And I've roasted coffee in competitions, where we did really well, too."
The "part of the plan" Tice is referring to is Steamline Coffee Co. A full-scale roastery just a few buildings down the hill from Orchard on Depot Street, Steamline was launched by Tice and his family, which includes his mother, siblings, wife and children.
"I wanted the roasting brand to be different than Orchard, because I feel that Orchard really embodies the spirit of farming, which is a big part of the heritage of this area," Tice said. "With Steamline, it's celebrating the train and railroad lines that connected and expanded this country, ultimately bringing growth to Waynesville, Haywood County and Western North Carolina."
Although Steamline initially planned to start roasting in January 2020, the pandemic and eventual economic shutdown stalled those plans, where all focus and energy went into ensuring the financial stability of Orchard.
"Steamline had to go on pause for a while, where that capital to start the roastery was put to the side in case we needed it going forward with Orchard," Tice said. "Thankfully, after a few months of being open and still able to sell coffee and goods at Orchard, we knew we could put Steamline into high gear to start roasting."
Tice noted that, as of now, Steamline will not do any online sales. All of its roasted coffee will only be sold onsite at Orchard. Heading down to Steamline once a week, Tice estimates the company produces about 150 pounds of coffee in that single roasting session, all of which gone and sold within days.
"Once you've built your flavor profiles and your curves, it's kind of anti-climactic because you're just replicating the process and simply paying attention to ensuring that the machinery works properly," Tice chuckled. "But, for me, what I love about it is being able to work alone and enter this kind of relaxed space, where I have music playing and I'm focused on the quality of our product."
As a tribute to his mother, Maria, who remains a beloved fixture behind the counter at Orchard, Tice has been experimenting with and producing roasted coffee from her native Mexico.
"I wanted to be able to highlight coffee from Mexico. So, most recently, I've been able to source a Mexican coffee that we love from Chiapas," Tice said. "And in doing that first Chiapas roast, it felt so much more important to me within the roasting process. It wasn't just making beans, it felt like part of who I am, and it means so much to serve that coffee alongside my mom at Orchard."
With Steamline, Tice looks at the new venture as a way to ensure the quality of ingredients and brand awareness radiating from up the hill at Orchard.
"For us, we know we're using the best ingredients, where everything has a good balance of flavor and we have control over all the facets of the bean," Tice said. "By offering our own beans, we can put something out we're fully proud of — we're not taking a break on the pursuit of excellence."
Aside from the ever-evolving nature of his businesses, Tice & Co. will also be expanding the food menu at Orchard. The current breakfast options will soon include lunch dishes, with dining hours also extending throughout most of the day.
"We have big dreams as a small shop," Tice said. "Our goal is to do the best job here, to really serve our community. We love Haywood County, so our focus is to keep ingraining ourselves in this awesome place."
When asked about how 2020 and the shutdown affected his business and family, Tice paused for a moment, seemingly remembering all of those faces (from near and far) who still showed up at the front door — standing six feet apart down the hill and around the corner — in search of a cup o'joe.
"When the pandemic hit, you really could see that people were voting with their dollar. They were saying they care about our business and that they want us to stay here — that really kept us going," Tice said. "When we opened, we took a chance on Waynesville and Waynesville took a chance on us. We showed up here and didn't know anybody. This community has fully embraced our business and who we are as people."