Archived Outdoors
Guide rates swim spot safety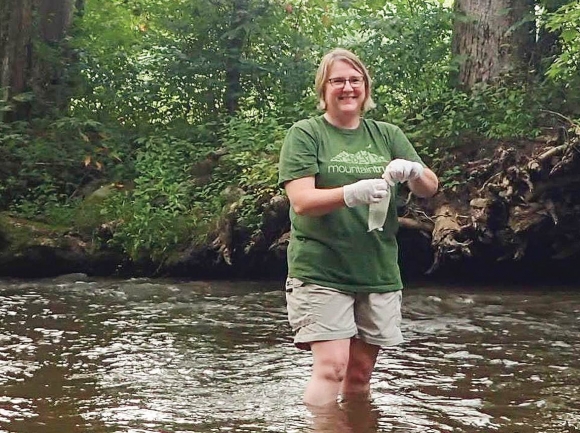 Western Regional Director Callie Moore collects a water sample. MountainTrue photo
MountainTrue has launched a new service that offers up-to-date water quality results for more than 65 popular recreation areas in Western North Carolina, northeastern Tennessee and Towns and Union counties in Georgia.
Every Wednesday, MountainTrue volunteers and staff collect water samples and then rush to process, analyze and post those results at www.theswimguide.org by Thursday afternoon.
The website and companion smartphone app geo-locate users to provide a list of nearby testing sites that either pass or fail U.S. Environmental Protection Agency guidelines for E. coli in designated swimming areas. E. coli bacteria and other harmful pathogens make their way into waterways from sewer/septic system leaks, cattle accessing streams and stormwater runoff — especially runoff from animal agricultural operations without riparian buffers. E. coli serves as an indicator for the presence of other more harmful microbes, such as Cryptosporidium, Giardia, Shigella and norovirus.
Find the guide at www.theswimguide.org.