Archived Arts & Entertainment
And I could not ask for more: A conversation with Edwin McCain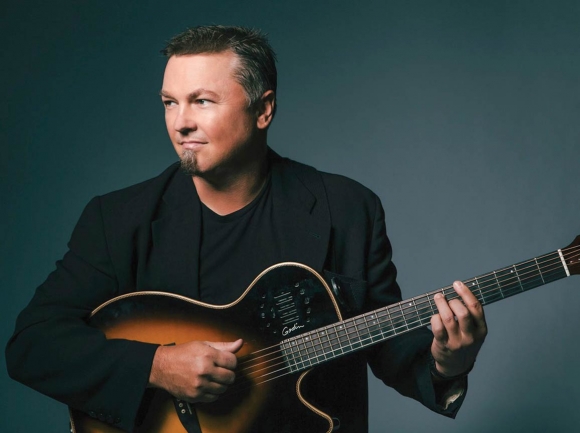 Edwin McCain.
When the entire music industry shutdown last year, acclaimed singer-songwriter Edwin McCain wasn't necessarily concerned with not being able to hit the road and perform onstage, something the 51-year-old has been doing for the better part of the last three decades.
"I've always had multiple side hustles going since the beginning of my career, much to the chagrin of my wife," McCain said recently over the phone from his Upstate South Carolina home. "When everything stopped, I was like, 'See, this is why I do all these other things, in case of some weird interruption or my career comes to an abrupt end.' [Laughs]."
Those "other things" are a wide-range of endeavors: owner of a land clearing/grading business, creative consulting/business development for an anti-virus software entity, spokesman for a forestry mulching equipment group, and a partnership in a medical waste company.
But, for most of us, McCain is well-known and regarded for his work in front of a microphone, a distinct voice which propelled the singer-songwriter onto some of the biggest stages in entertainment, backed by his smash singles "I'll Be" and "I Could Not Ask for More" — melodies that continue to be spun every day on radio stations and covered by performers the world over.
And, for many years, McCain has also remained a fixture at the legendary Warren Haynes' Christmas Jam in Asheville, an intricate, vibrant rock scene and brotherhood McCain has been part of since he first entered the national circuit in the early 1990s.
In his older age, McCain doesn't yearn for the mega-stardom heights of his younger years. And there's no bitterness, either, for the haphazard nature of the music industry.
No, Edwin McCain is just happy to, well, be happy and alive, this truly humble, introspective being — one filled with sincere gratitude for his past successes, and for the glorious unknowns of a future with head held high.
Smoky Mountain News: Aside from the chaos of everything, what was your takeaway from the shutdown? What were you up to?
Edwin McCain: Well, it definitely forced me into the social media paradigm. I had never really engaged with social media at all. I didn't post stuff on Instagram, that was all done through our office. I'm just one of those old farts that didn't believe it was a valid method of transmission.
[Then], I started doing Facebook [live streaming] shows. I really enjoyed those, we raised money for all kinds of different causes. And, as a result, I ended up kind of getting into TikTok, which is fascinating to me, because there's all these young musicians on there and they're able to reach crazy amounts [of people].
I don't know if it's the short nature of [TikTok], but I haven't figured out why it's so compelling. I think it really suits that ADD mind. There's this ability for younger artists to market and work on how to be compelling.
It's sort of made a meritocracy out of the music [industry]. If you can get on there and be compelling in 60 seconds, then you're just as valid as anybody. And the ability that kids have to make high-quality recording off a desktop computer in their bedroom has leveled the playing field considerably.
So now, all that matters now is: Are you connecting with an audience? Is what you're doing compelling enough to make them want to find out more? It's been a revelation, for sure.
SMN: But, then I wonder, too, is if they're missing out on something? I mean, how much do you subscribe to that whole idea of "paying your dues" on the road and grinding away?
EM: [My friends and I] had that discussion last night, [the idea of] making a direct connection from your audience to the artists. One of the artists in the chat was of that [younger] generation.
His take on it was that artists [today] are going to pick the route they want to go, [whether] to be exclusively producing content from home and be fully digital with no live performance, or some hybrid of that, or be a purist and only play live.
You know, for us who come up in the "van and trailer" days, and the struggle of trying to make it to a point where you could support yourself by playing music, we sort of romanticize it. I know I do. And I always tell [younger artists] that's the best part of your career.
You won't tell stories from that time when you're successful, but you'll tell the "van and trailer" stories, because they're the best stories.
But, it would a remiss if I didn't acknowledge that when we [hit radio and chart success, that timing] was equally as important to anything we ever did — we came along at exactly the right time.
SMN: And a digital platform will also never replace the incredibly beautiful, cosmic nature of live performance.
EM: Right. So, that's why I think [the music industry] will end up being two different things: [digital content and live performance].
You have these online guitarists that have this technical ability to play crazy complicated stuff. But, then I'll go and put on Jimmy Herring [of Widespread Panic] or Derek Trucks [of The Allman Brothers Band].
And the difference between [those guys and the online players] is palpable because it's a lifetime of experience, soul and emotion that's being put into the notes that are being played, as opposed to video game accuracy.
[People like Jimmy and Derek] have dedicated their whole lives to understanding how to soulfully communicate music to an audience, and it shows — that's why they're who they are.
Want to go?
Singer-songwriter Edwin McCain will hit the outdoor stage at 7 p.m. Friday, June 4, at Silverados in Black Mountain.
Tickets are $25 per person. Parking is $10. Doors open at 5 p.m. A full bar and pub-style food menu will also be available onsite.
For more information and/or to purchase tickets, go to www.silveradoswnc.com and click on the "Outdoor Concerts" tab.