Archived News
Ghost Town: a new start for an old favorite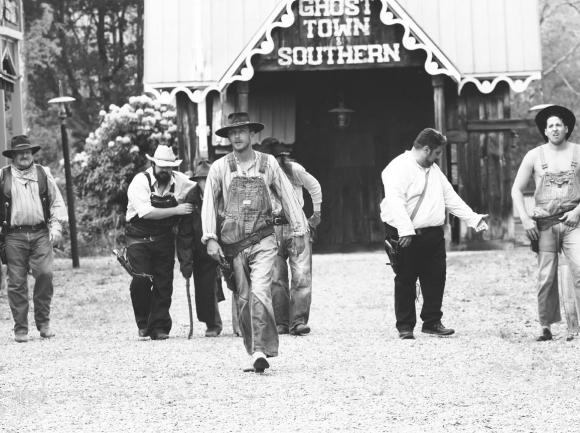 Ghost Town's iconic gunfighters reunited for one last performance before renovations on the park begin. Jeffrey Delannoy photo
A weekend-long reunion event brought dozens of former Ghost Town in the Sky performers together to share some old memories, but it also brought together a small group of developers, investors, business owners and elected officials who are now working together to make some new ones.
"It's been a good long while, not being able to get Ghost Town started and to find somebody that would run it and take care of it. It needs to be put back to where it was," said Alaska Presley, the park's longtime owner.
Presley and her husband Hubert were part of the original ownership team, along with R.B. Coburn, that opened the Wild West-themed amusement park high atop Maggie Valley's Buck Mountain in the early 1960s. She bought the park back out of bankruptcy in 2012 , but it never quite returned to the glory of its early years before closing permanently in 2016.
Since then, a number of rehabilitation schemes had been attempted by developers hoping to purchase the property from Presley, who'd listed it for almost $6 million. Now, a new LLC with Presley and developer Frankie Wood has been formed, as have expansive plans for the park's revitalization.
It's no surprise that the park's loyal fan base is still adamant about its eventual reopening, but many of the well-known local personalities who attended the mountaintop reunion – and two reenactments of the park's iconic gunfights – shed light on why.
Russ Parker
"It was kind of a weird place to grow up," said photographer Russ Parker. "People got shot and killed every hour, on the hour."
Parker's dad, legendary NASCAR photographer Pal Parker, did some work in Florida during the 1960s at Ghost Town's sister park, Six Gun Territory, which led to Coburn coming to Maggie Valley to operate the photo concession at Ghost Town. Russ, named for the park's designer Russ Pearson, was born a year later.
"Dad was in-and-out between here and the racing circuit, which meant that he employed all of his six kids and his wife," Parker said. "And so the entire family, six kids and my mother, came up and were really raised here on the park and worked every day, all summer long."
Parker said he estimates he'd shot more than 100,000 photos of tourists riding the chairlift, and has visited Ghost Town several times since it closed. Every time he does, he said, the experience brings a lifetime of memories flooding back.
"I was here a while back by myself, up here on the mountain, waiting for Robert [Bradley, a gunfighter] for something. It was eerie because you could almost hear the voices of all the things that happened as you were growing up," Parker said. "You could picture coming in late and being yelled at. We never left here before 9:30 or 10 o'clock at night in the summer."
When Parker and his siblings weren't working, they'd explore the mountaintop and ride dirt bikes.
"We had all kinds of fun. All my friends were at home in the swimming pool and I was jealous of them at the time," Parker said. "But now you look back and it's like, what a unique place to grow up."
Robert Bradley
Robert Bradley has been rolling off Ghost Town rooftops since 1962, but he started off at the bottom of the mountain, parking cars.
"I kept aggravating all the gunfighters, wanting to gunfight," he said. "They finally called me up here up on top of the Silver Dollar, and all I'd do is come out and they'd see me and shoot, and I'd go back inside and that was it. Later that evening I was working in a show called 'Jailbreak.' I was running down the street and when I got to the end, they opened up with shotguns and I turned to flip and gravel flew and from then on they said, 'Well, you just stay up here. You don't have to go back to the bottom.'"
Eventually, Bradley clawed his way to the very top of the mountain as a performer, writer and manager of the park's live action entertainment. During that time, like other Ghost Town performers, Bradley became fast buddies with Hollywood legend Burt Reynolds.
"Burt was a good stuntman to start with," Bradley said. "He came just for a weekend gig or something like that, and he ended up staying the whole summer."
That summer consisted of performances in which Reynolds played a bank robber. He'd come running out of the bank, and Bradley's job was to jump up on a box, hurdle a railing and tackle Reynolds, a former Florida State halfback, mid-stride.
"All that had to be timed out just right, and then from there it was just ass-over-elbows out through the street," Bradley said.
Robert Bradley, shown here as the "Apache Kid," has a history with Ghost Town that goes all the way back to its beginnings. Jeffrey Delannoy photo
Off the job, that summer also consisted of a growing series of folkloric anecdotes about Reynolds' time in Maggie Valley.
"Back then you had to go all the way to Asheville to get liquor, unless you bought it bootleg. That was cheap liquor at expensive prices," Bradley said. "Instead of going to Asheville to get our liquor, me and Burt stopped and got some of that old bootleg liquor in this bottle club. It was a restaurant and all that. We would always get us a table by the window, so we could set that bottle behind the curtain and people wouldn't see that cheap shit we was drinking."
Frankie Wood
Wood, one of the park's developers, had visited the park during his childhood and held fond memories, which is what led him to become involved in the effort to revive it.
"We were very excited about this reunion, giving everybody the opportunity to really enjoy it again as much as I did," Wood said.
Wood's brought in Matt Ferguson, co-owner of Route 19 Inn and chief innovation officer for Storyland Studios, a fabrication and design company that specializes in visual storytelling for some of the world's biggest names in amusement park entertainment.
"Our goal for Ghost Town is to be everything that people love about it and more," Ferguson said. "We want to have rides and attractions that compete with the best in the world, but we also want to preserve all of the things that people remembered and love about Ghost Town."
Ferguson and Wood have been steadfast in their desire to retain as much of the park's existing character as possible.
"These facades here are something that would be hard to do any better. We'd love to preserve what we can and recreate what we can't preserve because it just brings back memories when people walk down these streets," he said. "We want to preserve those memories."
That all sounds like good news to Parker.
"What's sitting here is the worst-case scenario at this point, but what Coburn and Pearson did here was unique, because they actually went out west and did scale drawings of buildings, they bought furniture, they brought props, they just created this entire town based not out of their imagination, but out of real Western sets in rural Western towns," he said. "What happens here now and what moves forward can only be positive."
Leave a comment
20

comments
I remember going to Ghost Town back in the mid sixties when I was a little girl. My family always take a vacation to the mountains in the summer. We had so much fun watching the gun fights. I was fortunate enough to take my children when they were little. I wish so much it would open back up, but without the rides. I feel like the rides took away from it being like the "old Western Town". My husband is a big fan of westerns on TV. I wish so much it would open back up so I can take him to see a town that looks like Dodge City on Gunsmoke. He would love it.

Friday, 07/23/2021

Some of the best memories with my 2 little sisters and my mom and pops. We would drive to Asheville every year in the 90s and rent an A-frame in Clyde always remembered driving over a small stream up the mountain bro get to it. 25 years later and I just helped move my parents to their house they will retire in I'm Andrews and I will definitely be back at Ghost Town in the Sky. Hope you get it up and running soon. Would love to work their if I had the chance help with bringing it back to life. Anything is possible so just good to hear we'll be able toake new memories.

Sunday, 06/06/2021

My family and I visited Maggie Valley back in the early 70's. My dad, brother, and I loved the incline chair lift. Mom was so scared. We had a wonderful time up there.

Sunday, 06/06/2021

I spent 4 of my summers at Ghost Town between ages 15 and 18 because my dad was the emcee in the Silver Dollar Saloon. I played the ragtime piano in the Red Dog Saloon. I had 2 sisters at the time, and we had a run of the park. Talk about a child's dream come true! Thousands of people visited every day. It is sad to see what has happened.

Sunday, 06/06/2021

I spent 4 of my summers at Ghost Town between ages 15 and 18 because my dad was the emcee in the Silver Dollar Saloon. I played the ragtime piano in the Red Dog Saloon. I had 2 sisters at the time, and we had a run of the park. Talk about a child's dream come true! Thousands of people visited every day. It is sad to see what has happened.

Sunday, 06/06/2021

Sadly there are not enough years left to restore
If you knew your Bible and the Great Storm of our political world you would realize it is now just like flushing money down your toilet Sad. Sad. Sad

Saturday, 06/05/2021

Sadly there are not enough years left to restore
If you knew your Bible and the Great Storm of our political world you would realize it is now just like flushing money down your toilet Sad. Sad. Sad

Saturday, 06/05/2021

What's going on at Ghost Town? Opening soon?

Thursday, 06/03/2021

I loved this place growing up. It was one of my favorite vacation memories. I hope they make it just like it was so I can bring my grandkids.

Saturday, 05/29/2021

In 1969 my wife and I visited Ghost Town. I still have several pictures of that experience that year. At that time we lived in Florida but 34 years ago we moved to upstate South Carolina. We make it a point to visit Maggie Valley often and revisit the places we fell in love with.

Friday, 05/28/2021

I will believe it when I see it! Don't get me wrong, I loved going as a kid, but it is going to take a ton of money to get it up to code, and to make it safe.
And I am not sure if the theme is something today's kids are into.
I'd they bring the gun fights back, I am not sure how that will go over in today's world either.
Best of luck!

Friday, 05/28/2021

Hi-I'm honky-tonk pianist Steve Becker (Ghost Town 80's). I've played for both saloons (Can-can/wild west,etc solo & also with drummer Catfish for the Big Shows. I'm avail to do it again. Then I think it was 7 days a week for me on a 6 month contract. Feel free to write me at bsm50@msn.com to discuss.

Thanks for your time & patience,

Friday, 05/28/2021

Hi-I'm honky-tonk pianist Steve Becker (Ghost Town 80's). I've played for both saloons (Can-can/wild west,etc solo & also with drummer Catfish for the Big Shows. I'm avail to do it again. Then I think it was 7 days a week for me on a 6 month contract. Feel free to write me at bsm50@msn.com to discuss.

Thanks for your time & patience,

Friday, 05/28/2021

Can't wait to see it open again.First time there was in the 60's .I was around 10 at the time .I remember tje little girl from Father knows best was there , kathy was her name on show .She had a broken leg or foot , she was signing Autographs. And i remember it raining like crazy that day. Brought my sons there around. 1999 or so .Not many people there and it rained that day too. Be nice to take my grandkids now .

Friday, 05/28/2021

Thanks for sharing the article and photos. So excited to bring my family. I use to come as a kid. Can't wait to visit and bring my daughter and her husband and my grandson.

Thursday, 05/27/2021

The way it is going it will never be completed. Jesus will return first Are they going to spend money to spend money that will drop into a black hole where money in profit will never be returned ?

Thursday, 05/27/2021

I love to see it open again for families to enjoy. I went there as a kids with my family and I took my kids later on.
We even had a church trip there and of course everyone loved it.

Thursday, 05/27/2021

I'm looking forward to seeing it reopen. This was my favorite place to go as i was growing up. I had many friends that worked there. I loved riding the chair lift to the top of the mountain. I still remember riding the roller coaster and how I thought it was the coolest thing ever. My best part of it all was watching the gunfights. I'm looking forward to taking my grandkids to the park so they can enjoy it as much as I did. Thanks to all of you for making this happen..

Thursday, 05/27/2021

Great photos can't wait to see it reopen.

Wednesday, 05/26/2021

Great photos can't wait to see it reopen.

Wednesday, 05/26/2021