Archived News
Tribal Council candidates make their case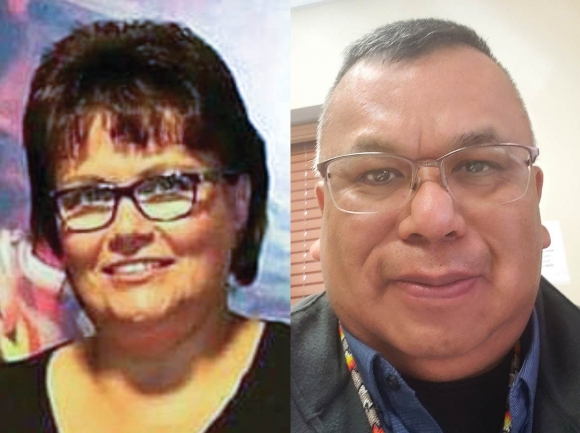 Gloria "Punkin" Griffin (left) and Sam "Frell" Reed
During the Primary Election next week, Cherokee voters will decide which candidates vying for seats on Tribal Council and the Cherokee Central Schools Board of Education will progress to the Sept. 2 General Election.
This year, all 12 Tribal Council seats are up for election, as well as School Board seats for Wolfetown, Big Cove and Birdtown. Candidates seeking to represent Yellowhill, Wolfetown or Birdtown on Tribal Council will face a primary contest this year, as will all 12 School Board candidates.
The Smoky Mountain News contacted all 19 Tribal Council candidates in next month's Primary with an opportunity to introduce themselves to voters. This is the third and final group of responses received.
Gloria "Punkin" Griffin
Griffin, 58, currently represents Birdtown on the Cherokee Central Schools Board. During her 32 years of employment with the Eastern Band of Cherokee Indians, she has gained experience in fiscal policies, finance, reporting, budgets, contracts, management and leadership. Griffin holds an associate's degree in administrative office technology from Southwestern Community College as well as bachelor's and master's degrees in business administration from Montreat College.
Opinion on tribal government's current direction:
"Our Tribe has made tremendous growth but needs to focus on business diversification other than focusing on casino-related purchases. We need to focus on our youth and build family-orientated businesses for them as well as our visitors that are not attached to the casino. We have spent so much time and money on planning for different family-orientated businesses that never get approved in the final stage, which are scrapped and told to move on to something else. This creates wasteful spending and when we build something there are too many change orders, which creates having to do a budget amendment that goes to Council for approval to add more money to be spent on the project. Homes are not being built in a timely manner for our families. We have a beautiful hospital and we still need to work patient care for our people. We have been working on saving our Cherokee language and I would hope to see our arts and crafts being kept alive as well."
Top priority if elected:
"My top priority is to see if we can contract a specialty firm to come in and help our Realty Office become up-to-date. Our land records need to be updated and organized as soon as possible. Our Realty Office being out-of-date creates problems for our people to get their homes built in a timely manner. Our Realty Office has been behind a long time. This is not something that just happened overnight. Family homes need to be built at a more affordable price. We need homes that do not cost our members $1,000 dollars a month. We need more childcare for children under the age of 5 years of age. We must add on to our current childcare centers or build new bigger facility to meet our needs. Continue to work on Cherokee language while adding Cherokee arts and crafts. We need to put more emphasis on these items for future generations to carry on."
Contact information:
828.507.8174 or P.O. Box 633, Cherokee, NC 28719.
Samuel "Frell" Reed
Reed, 54, is seeking to represent Wolfetown/Big Y on Tribal Council. His family has resided in Cherokee on Old Soco Road for over 100 years. He is the son of the late Ollie Reed and Abraham Wildcatt, and the grandson of Sam and Lucinda Bird Reed and Bodie and Bessie Wildcatt. He is a U.S. Marine Corp veteran, earned a BLET certificate from Southwestern Community College and served as a law enforcement officer for 20 years. He is currently a Tribal Court Magistrate, where he has worked for 10 years, and owns a small business, Reed Transport Service. Reed has experience in business, law enforcement, tribal programs, the Tribal Court system and the legislative body.
Opinion on tribal government's current direction:
"Recently due to some poor decisions by the current tribal government, the people are distrustful of the actions of our leaders. I feel that the will of the people is oftentimes excluded when it comes to making important decisions that affect the wellbeing of all enrolled members, such as the recent vote to purchase an outside casino in another state, which had strong opposition including from two former chiefs. We currently lack diversification of income producers and industries for our people to work. Economic diversification can be obtained by investing in opportunities on and off the Qualla Boundary that provide jobs for enrolled members. I would agree to ventures with outside entities that benefit the EBCI, so that we further provide for our native people. I feel that anything we partake in must have jobs for our enrolled members."
Top priority if elected:
"Partner with or develop some industry on the Qualla Boundary to provide jobs to enrolled members. Also develop a technical and/or trade school for our young adults or even working adults who might want to change positions, to fill critical positions in our tribe such as electricians, plumbers, carpenters, HVAC technicians and others. We have an extreme need for these technical jobs on the Qualla Boundary. I also want to propose legislation for the welfare of children who are being raised by others because the parents are involved in drug use. This not a complete list of what I will work on diligently throughout my career as your Wolfetown/Big Y Councilman. I've listened to what your wishes are. I pledge to work together with other Council members, executives and the community at large to lead us towards the future making our tribe stronger."
Contact information:
828.736.3307 or 828.497.5349.
Also on the ballot
Tribal Council
Birdtown
• Albert Rose
• Boyd Owle
• Gilbert Crowe Jr.
• Gloria "Punkin" Griffin
• Robin Lambert
• Jacob George
• Cyndi Lambert
Wolfetown
• Jesse "Fonzie" Sneed
• Bo Crowe
• Bill Taylor
• Chelsea Taylor Saunooke
• Sam "Frell" Reed
Yellowhill
• Tom Wahnetah
• T.W. Price Saunooke
• Dave Wolfe
• Stephanie Saunooke French
• Christopher Reed
• Shannon Ross
• Elvia Walkingstick (Write-in)
School Board
Big Cove
• Kristina Hyatt
• Lavita Hill
• Karen French-Browning
• Lori Taylor
• Damian Solis
Birdtown
• Melanie Lambert
• Ashford Smith
• Bree Stamper
• Ray Long
Wolftown
• Isaac "Ike" Long
• Berdie Toineeta
• Bucky Squirrel