Archived Reading Room
Peterson updates his popular 'Rules for Life'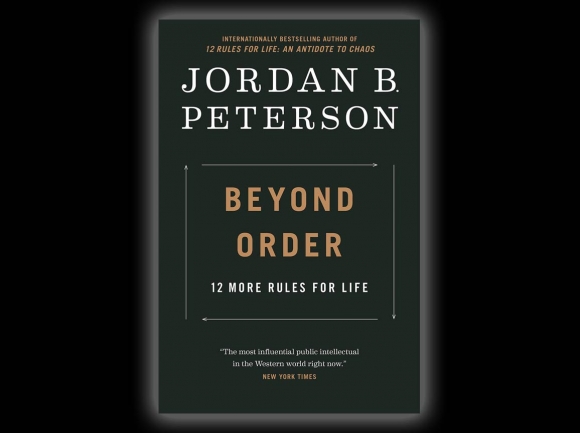 In 2018, Jordan Peterson's 12 Rules For Life: An Antidote to Chaos became an international bestseller, and Peterson himself became a celebrity, speaking to packed auditoriums and lecture halls around the United States and other countries. He then fell ill, in large part from various legal drugs he was taking, almost died, recovered, and has now written and published a sequel to 12 Rules For Life.
Beyond Order: 12 More Rules for Life (Random House, 2021, 402 pages) finds Peterson once again advising readers on how to live through troubled times. Though I found his first book a bit easier to follow and somehow more practical — I suspect my personal circumstances at that time had something to do with this impression — Beyond Order spoke to me as well.
Here Peterson looks at the roles of order and chaos in our lives and in the world. While he knows that most of us try to impose order on the swirl of events that often engulf us, Peterson also recognizes that attempts by society to control instability at all levels can lead to oppression and tyranny.
As in 12 Rules, Peterson titles each of his chapters with an admonition: "Do not hide unwanted things in the fog," "Do not do what you hate," "Try to make one room in your home as beautiful as possible," "Be grateful in spite of your suffering." And again, as in 12 Rules, he makes a philosophical case for each of these points, citing a host of sources ranging from the works of Nietzsche to various books of the Bible and further supporting his arguments with examples from his clinical treatment of patients and personal anecdotes of friends and family.
Two points about the way I read this book may interest readers. First, unlike 12 Rules, I didn't read Beyond Order from beginning to end, but instead chose a chapter for the day that most interested me. Because each chapter stands alone, this approach allowed me to move back and forth through the book to tackle whatever struck my fancy at a particular moment.
In addition, as I so often do, I marked pages that interested me with torn pieces of scrap paper and passages with pencil marks. (Because I borrowed my copy from the public library, these were light pencil marks that I will erase before returning the book.) Peterson is a fine writer and a creator of epigrams, and by the time I finished my reading the book had sprouted at least two-dozen of these markers. I could fill the rest of this review with Peterson quotations, but will limit myself to just a few:
• "…if you shelter young people, you destroy them."
• "If you fail to understand evil, then you have laid yourself bare to it."
• "Strength in the face of death is better for the person who is dying and for those who remain alive."
• "…You might love people despite their limitations, but you also love them because of their limitations."
• "We are each more responsible for the state of the world than we believe, or would feel comfortable believing."
• Without careful attention, culture itself tilts toward corruption."
• "If you make what you want clear and commit yourself to its pursuit, you may fail. But if you do not make what you want clear, then you will certainly fail. You cannot hit a target if you do not take aim."
Enough.
Peterson's sixth rule, "Abandon Ideology" strikes me as particularly pertinent advice for our present tumultuous times. He writes, "An ideological theory explains everything: all the past, all the present, and all the future. This means that the ideologue can consider him or herself in possession of the complete truth …."
He investigates the defects, often deadly, of ideology: its inability to address and solve complex problems, its "hostile resentment" toward opponents, the broad brush it uses to smear entire segments of a population. He tells us that people who divide human beings into saints and devils, and who claim that they and those who think like them stand on the side of the saints, have fallen into a trap of their own making. "This is an invitation," Peterson remarks, "to both paranoia and persecution."
At the end of this chapter, Peterson urges his readers to "begin to address and consider smaller, more precisely defined problems … trying to address them personally while simultaneously taking responsibility for the outcome." He gives some specific examples of how to do this: "Have some humility. Clean up your bedroom. Take care of your family. Follow your conscience … And, as the necessary beginning to that process … abandon ideology."
Some commentators and critics wonder why Peterson's books sell so well, why crowds of people attend his lectures or listen to him online, and why he has struck a chord in particular with so many young men.
In his foreword to 12 Rules For Life, Dr. Norman Doidge, MD, provides the answer:
"So why not call this a book of guidelines, a far more relaxed, user-friendly, and less rigid sounding term than 'rules?'
"Because these really are rules. And the foremost rule is that you must take responsibility for your own life. Period."
"You must take responsibility for your own life." That's the core of Jordan Peterson's rules for life, and it's a message millions of people want to hear.
(Jeff Minick reviews books and has written four of his own: two novels, Amanda Bell and Dust On Their Wings, and two works of nonfiction, Learning As I Go and Movies Make the Man. This email address is being protected from spambots. You need JavaScript enabled to view it..)
Leave a comment
1

comment
I am by no means a young man (I turn 57 in a week), but I have found Dr. Peterson's books and lectures invaluable. I know it sounds cliché, but I wish I had been able to read them 30 years ago.

It was a nice review, well reasoned and free from hyperbole, in either direction.

Tuesday, 06/08/2021