Archived News
Tribal Council candidates make their case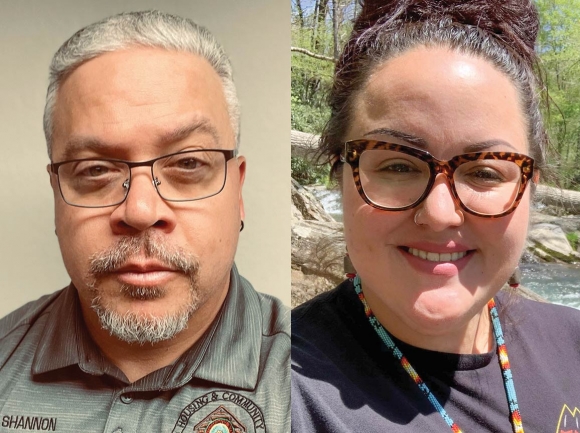 Shannon Ross (left) and Elvia Walkingstick.
Early voting is underway for the June 3 Primary Election in Cherokee, which will determine the final slate of candidates progressing to the Sept. 2 General Election.
This year, all 12 Tribal Council seats are up for election, as well as School Board seats for Wolfetown, Big Cove and Birdtown. Candidates seeking to represent Yellowhill, Wolfetown or Birdtown on Tribal Council will face a primary contest this year, as will all 12 School Board candidates.
The Smoky Mountain News contacted all 19 Tribal Council candidates in next month's Primary with an opportunity to introduce themselves to voters and published the first group of responses May 12. During the weeks leading up to the Primary Election, SMN will continue to run responses as they are received.
Shannon Ross
Ross, 48, is seeking to represent Yellowhill on Tribal Council. His family resided in the Piney Grove and Peavine areas for more than 50 years, and he is the son of the late Mary Ross (Visage) and grandson of the late Vice-Chief McKinley (Mac) Ross and Lillie Mae Wahnetah (John). He holds an associate's degree in American Indian studies from Haskell Indian Nations University and has more than 20 years of business-related and managerial experience, including owning a roofing company for seven years. Ross has traveled to many Indian reservations across the nation over the past 25 years and is experienced at working with native youth, having been a resident assistant at HINU for 10 years and spent two years as a social service assistant in Cherokee's Unity Healing Center. Ross has also served as a project monitor in the Tribal Housing Department since 2017 and has sat on the Tribal Alcohol and Beverage Control Committee since 2019.
Opinion on tribal government's current direction:
"The direction I would like to see our government head is to take care of our future. As Cherokee people we are charged with taking care of the seven generations. I would like to see diversity that would generate some income in areas other than completely relying on gaming."
Top priority if elected:
"Not only do I believe in a strong work ethic, as shown by my previous work experiences, I believe in building a strong connection with others through community service. It is within my campaign's top priorities that I address our tribe's needs relating to economic diversification, language revitalization efforts and a reduction in wasteful spending. With every opportunity the past has provided us with, and the room to grow in the right direction, the time is now to start making those moves that help secure our future generations with the same, if not more than what we have today. More in our tribe's revenues, more in our tribe's efforts of language preservation and revitalization, and more ethical spending and accountability for those in high-powered positions."
Elvia Walkingstick
Walkingstick, 35, is running as a write-in candidate to represent Yellowhill on Tribal Council. Currently a Cherokee language learner and pre-K teacher at New Kituwah Academy, she was raised with a social and environmental justice background and has been actively engaged in tribal government.
Opinion on tribal government's current direction:
"I feel that our Tribe is as strong as we have ever been and we are ready for leadership that holds space for our people to heal, to be empowered by truth and who are guided by our traditional teachings. I feel that our people are ready for leadership that ensures the continuation of our ability to blend our original instructions within the modern society we have learned to thrive in. Many of our people, and people around the world, are being called to remember who we are and who we come from and with fresh leadership will have more opportunities to step into that sacred role of infusing those teachings with the resources and technology we are blessed with."
Top priority if elected:
"As I am blessed to enter another phase of my life, my responsibilities and understanding of them have evolved and call for me to hold space to heal, teach and uplift our people through enhanced support for the revitalization of our language and ways of being. It is critical for our people to start strengthening the current language efforts and implementing new initiatives to ensure its survival. I feel more needs to be done to reverse the years of colonization that made speaking our language an uncomfortable practice for many, but it requires each and every one of us to create this environment for our children. By reclaiming our language and the bond it requires to bring it forward with us, I feel that it can only enhance the spirit of our community. Cherokee, North Carolina should and can return to the place where Cherokee people of all ages, learn, practice and use our native tongue.
"Just as critical, I feel that the current climate crisis that we face as a species calls for leadership to stand up as stewards of Elohi and do all we can to ensure a green future that a healthy next seven generations require. By asking as well as educating our people, and our relatives around us, about what a just transition can look like, our tribe needs to take the lead in making the necessary changes needed to mitigate and navigate the current climate situation."
Also on the
primary ballot
Tribal Council
Birdtown
• Albert Rose
• Boyd Owle
• Gilbert Crowe Jr.
• Gloria "Punkin" Griffin
• Robin Lambert
• Jacob George
• Cyndi Lambert
Wolfetown
• Jesse "Fonzie" Sneed
• Bo Crowe
• Bill Taylor
• Chelsea Taylor Saunooke
• Sam "Frell" Reed
Yellowhill
• Tom Wahnetah
• T.W. Price Saunooke
• Dave Wolfe
• Stephanie Saunooke French
• Christopher Reed
• Shannon Ross
• Elvia Walkingstick (Write-in)
School Board
Big Cove
• Kristina Hyatt
• Lavita Hill
• Karen French-Browning
• Lori Taylor
• Damian Solis
Birdtown
• Melanie Lambert
• Ashford Smith
• Bree Stamper
• Ray Long
Wolftown
• Isaac "Ike" Long
• Berdie Toineeta
• Bucky Squirrel
To have a profile published in an upcoming issue of The Smoky Mountain News, Tribal Council candidates can contact This email address is being protected from spambots. You need JavaScript enabled to view it..