Archived News
Swain asks for 6 percent room tax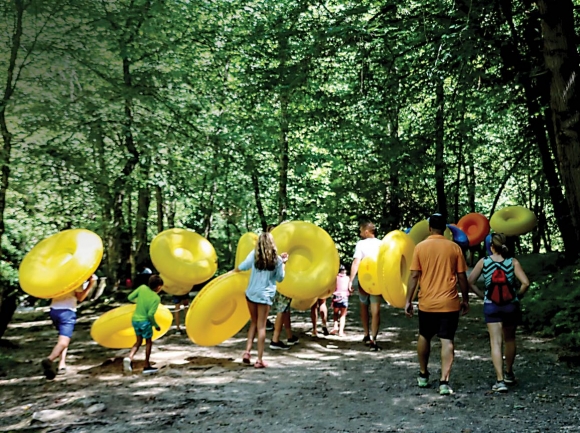 Heavy marketing efforts have drastically increased the number of tourists visiting Deep Creek and other Swain County locations. File photo
After passing a resolution at its May 13 meeting, Swain County will be asking its state representatives to introduce legislation that would allow the county to levy an additional 2 percent room tax.
With crossover week happening this week at the General Assembly — where proposed legislation will make the move from the House to the Senate or vice versa — Swain County could be too late to get local legislation through. However, commissioners decided it was worth a shot since Rep. Mike Clampitt, R-Bryson City, and Rep. Mark Pless, R-Canton, already introduced legislation to allow Maggie Valley and Canton to levy their own occupancy tax in addition to the county's room tax. The town of Bryson City was also originally included in the bill but was later taken out.
Swain County's room tax is currently at 4 percent, but TDA Chairman Jeramiah Wiggins told commissioners that 77 counties and/or municipalities in the state are already levying a 5 or 6 percent occupancy tax, including Jackson County and Buncombe County.
While Wiggins apologized for the last-minute notice of the request, he said representatives from the TDA, the town of Bryson City and the county recently sat down together to find a better way of "working in concert going forward in the future on planning and initiatives to benefit the county as a whole." That's when it was decided among all parties to move forward with Swain County asking for an increase to its room tax as opposed to Bryson City establishing its own, which would require the town to establish its own TDA board.
Clampitt told The Smoky Mountain News back in March that he'd included Bryson City in the legislation because he heard from town officials that the county and the town weren't working well together — or in other words the town didn't feel like enough TDA funds were being spent on the right projects in town.
Clampitt decided to remove the town from the legislation a few weeks later following some heated correspondence from TDA Treasurer Ed Ciociola. The emails from Ciociola — who outlined the many projects the TDA has done in Bryson City — made it clear to Clampitt that the town and the county had some communication issues to work out before he would be willing to include the town in further legislation.
Wiggins said the memo sent to commissioners asking for the county to request local legislation to increase the room tax from 4 percent to 6 percent was to show "a good faith relationship" between the TDA and Bryson City to work together.
Wiggins said the TDA is expecting another record year of room tax collections — $1.8 million for 2020-21 fiscal year.
"That's a huge number," he said, adding that it could be one of the highest per capita in the state. However, experts are predicting tourism revenue will return to historic baselines in the next 18-24 months as the U.S. recovers from the pandemic.
"The Cherokee casino is under pressure — the Catawba are building a casino outside of Charlotte that could threaten their growth and our social benefits — jobs, wages, insurance, etc., so it's incumbent upon the TDA and the board to make the resolution to raise our income from 4 to 6 percent," he said.
County Manager Kevin King told commissioners that the TDA, town and county had all agreed to work toward establishing a memorandum of understanding between the stakeholders so that there is more collaboration and communication regarding what projects need funding. Once there is a draft MOU, he said the commissioners can hold a work session with the TDA and town officials.
"We recognize that moving forward together is a good option," King said.
Commissioner Kenneth Parton said he'd rather see the commissioners support a resolution to change how occupancy tax revenue can be spent by counties than to ask for more money under the same formula. As the law is currently written, TDAs are required to spend two-thirds of room tax revenue on marketing and advertising.
"We have no issue with marketing. The higher we raise it, the more money we're going to spend on marketing," he said. "I don't see the necessity to raise more money at this time. We should change the law to spend money on the adverse effects of tourism that nobody talks about. We've talked about it a lot — we have more cops because of tourism, more inspections because of tourism, more trash because more people are coming here."
Wiggins said he agreed that the law as written makes it difficult for Swain County to spend the funds on the most pressing infrastructure needs. In his one year on the TDA board, he said he's learned about what other counties have done with the revenue and thinks Swain could be a little more flexible with spending.
"When I see what other TDAs have done, they've been a little more aggressive with the interpretation and able to do a lot of things we haven't considered in the past," he said. "Buncombe created a tourism product development fund and had $30 million available for infrastructure and recreation projects in the county."
While Wiggins said the TDA is worried about what its marketing budget might look like in five years, Parton said he wouldn't mind seeing marketing efforts decline.
"I'm more concerned how it will look in five years when people move out because we're spending this much on tourism. It impacts their properties, it's changing the dynamic of people in this county," he said. "I would like a slow down so I can go to Deep Creek like I used to."
Commissioner Danny Burns said he was open to the increase because it's a tax that is paid by tourists and not by the residents.
Commissioner Roger Parsons agreed.
"I don't want to overburden the locals, so it seems in this way passing the need for help with infrastructure onto the tourists," he said. "They helped create the problem so in this way they can help us to resolve the problem."
The board approved the resolution with a 4 to 1 vote. Parton voted against the measure.