Archived Outdoors
Cherokee enter partnership to save the chestnut tree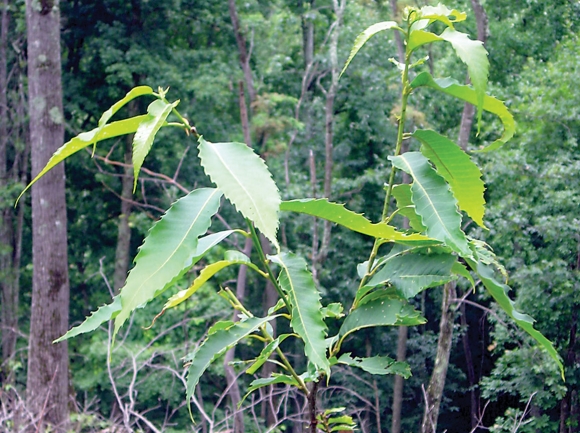 The chestnut blight erased mature American chestnut trees from U.S. forests, but sprouts can survive for short periods of time. File photo
In a mountaintop signing ceremony on Wednesday, April 21, The Eastern Band of Cherokee Indians and The American Chestnut Foundation entered into a partnership to establish a demonstration orchard for restoration of the American chestnut tree.
The effort will use local genetics and collaboration on management requirements for sustaining repopulation of the American chestnut. The partnership began through a friendship between EBCI elder Jimbo Sneed and the late father of TACF's director emeritus Rex Mann, who grew up in the mountains of Western North Carolina.
"As we continue forward, we embrace cutting-edge technology, so that we can understand the genetic basis of local adaptation in American chestnut," said TACF's Director of Science, Jared Westbrook, Ph.D. "Ultimately the goal is to represent enough genetic diversity in the breeding program so that American chestnut restoration populations can adapt to the changing climate."
Towering American chestnuts have been absent from North American forests for the better part of 100 years, after a blight accidentally imported from Asia killed the aboveground portions of these trees. Today, young chestnuts can still be found sprouting from the stumps of once-towering trees, but the blight overtakes them before they can mature and reproduce. TACF has been working for decades to create a hybrid chestnut tree capable of withstanding the blight and reclaiming its place on the landscape.
The Cherokee had many uses for the chestnut tree, including making cough syrup from its leaves and treating heart trouble with an infusion of year-old chestnut.
"I hope that one day in the future — 200, 500, a thousand years from now — those generations can stand next to a 6 or 8-foot diameter chestnut tree in our mountains and be able to trace the story of that tree back to today," said EBCI Secretary of Agriculture Joey Owle.
Leave a comment
2

comments
We have several in my neighborhood in Canton, Ga.

Tuesday, 05/18/2021

Thank you so much for doing this, EBCI and TACF! Science can do wonders.

Friday, 05/14/2021