Archived Reading Room
Insight into the power of listening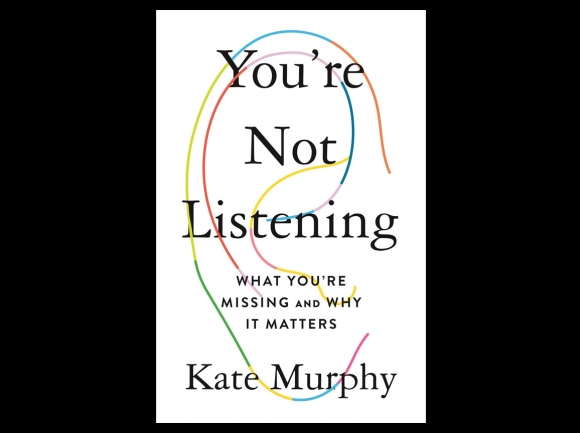 Have you ever engaged in a political argument where instead of listening to your opponent your mind is furiously creating counterpoints to your adversary?
Have you ever listened to someone talking, and then you wander away to think of some extraneous matter, and when you return to the conversation, you realize you have lost the thread of your friend's point? Have you ever pretended to listen to someone, muttering the appropriate "Hmmm" and "Yes, yes," while all the while you're thinking what you might prepare for supper that evening?
As for me, guilty, guilty, and guilty as charged.
I believe I am a reasonably good listener. I frequently interview people by phone, for example, and have learned to let them talk to their heart's content rather than interrupt. One of my pet peeves about talk radio is that the hosts so frequently cut off their callers just when they are making their main points, butting in with their opinions before the callers have finished speaking. The talk show hosts may have valid arguments of their own, but they clearly aren't listening at times to the people they've invited to their shows.
Yet after reading Kate Murphy's You're Not Listening: What You're Missing and Why It Matters (Celadon Books, 2019, 279 pages), I realized how much more I might improve my own listening skills.
You're Not Listening is crammed full of statistical data, academic studies, and anecdotal tales of the poor state of listening today. Many of us are great at talking, at dropping our opinions into a conversation at a moment's notice, but not so hot on hearing, really hearing, what others have to say.
All too often we like to do the talking. The funniest example of this tendency in Murphy's book has to do with "the late Dick Bass," a wealthy man "known for ambitious mountain-climbing expeditions and talking about them, at length to anyone within earshot …." Once on an airplane Bass regaled his seat companion with his tales of climbing Mount McKinley, Everest, and the Himalayas.
"As they were about to land, Bass realized he hadn't properly introduced himself. 'That's OK,' the man said, extending his hand. 'I'm Neil Armstrong. Nice to meet you.'"
This failure to listen, or even to try to listen, is a part of our present corrosive politics. In her chapter "Listening To Opposing Views," Murphy writes,
"In today's world, to associate with someone who holds opposing views is seen as an almost traitorous act. A landscape designer who leans left politically told me she would never speak to a childhood friend again after she saw on Facebook that he had attended a Trump rally. 'He can't take that back,' she said. 'There is no explanation he can give me that would make that okay.' Likewise, a corporate pilot told me he will not fly with copilots who are supporters of far left politicians like Bernie Sanders or Alexandria Ocasio-Cortez. 'Shows they have poor judgment and lack basic analytical skills,' he said."
Throughout You're Not Listening, Murphy offers numerous tips on how to improve our listening skills. Besides telling us that we must be in the moment, that we actually need to try and hear what others are saying, our responses need to be measured and on target regarding the speaker's problem. An example: If a friend tells us he's just lost his job and isn't sure how his wife is going to take that news, we should avoid "Gee, that's tough," and ask him instead how he's going to break that news to his spouse and family.
Silence, too, can be a part of listening. In one of my favorite scenes from this book, we meet Greg Hopf of Houston's Gallery Furniture, a top salesman who allows for long silences in his conversations with clients and who has learned that "when you hear people's stories, you tend to want to do right by them." According to Murphy, who sat in on at least one of his sales, Hopf "doesn't interrupt, wheedle, cajole, correct, or interject." Instead, he listens to his clients, allows them time to ponder what they need and want, and only then steps back into the conversation.
Murphy concludes her book at the Basilica of Our Lady of San Juan Del Valle in San Juan, Texas, where thousands of people daily stream into the church. Though many come to make offerings, "the longest lines are for the confessionals …." Priests man these six confessional booths, often for three-hour shifts. As Father Jorge Gomez tells Murphy, "When the people come here, it's like they are going to a field hospital. They so badly need to be heard, it's like a wound; they are in a critical state." Later he says, "There are a lot of people who want to talk but very few who want to listen, and we are seeing people suffer from it."
Listening, Murphy says in her "Conclusion," "is actually the more powerful position in communication. You learn when you listen … how one responds is the measure of a good listener, and arguably, the measure of a good person."
Enough said in this review. Maybe it's time to listen.
(Jeff Minick reviews books and has written four of his own: two novels, Amanda Bell and Dust On Their Wings, and two works of nonfiction, Learning As I Go and Movies Make the Man. This email address is being protected from spambots. You need JavaScript enabled to view it.)