Archived Arts & Entertainment
This must be the place: Ode to 'Lucinda,' ode to busted front bumpers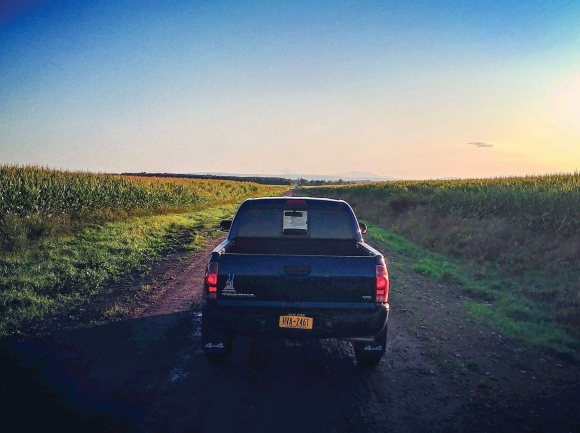 'Lucinda' up in the North Country. (photo: Garret K. Woodward)
Sitting in the waiting room of my hometown mechanic last week, I knew it wasn't good when he called for me to come into the repair bay. The rusty, musty Toyota Tacoma pickup was up on the rack. And the look on the mechanic's face wasn't one of optimism.
"I can't pass your truck for inspection this time around — the frame is cracked," he pointed at the extremely rusted undercarriage of the vehicle. "There's a fist-sized hole in the frame underneath the passenger's side door. I give this truck about two months before the whole thing snaps in half and it's totaled."
Shit. Not the news I was hoping for, especially in the midst of an economic downturn. Not to mention those college loans still lingering after all these years that eat up a good portion of my paycheck from this newspaper each month. I wasn't in the market for new truck. But, now I was forced to be.
Goodbye to "Lucinda," the 2005 Tacoma with 193,000 miles on the odometer. Over 100,000 of those miles were put on by yours truly in three years and four months of ownership. Averaging in the neighborhood of 33,000 miles a year.
Crazy, right? Up and down the interstates, highways and backroads of America — eternally in search of the next story and adventure to put forth through the written word of this fine publication.
I named the Tacoma "Lucinda" after beloved singer-songwriter Lucinda Williams. I've owned several trucks over my 20 years of legal driving, to which I tend to name them after some of my most favorite female singers, to honor their music and legacies.
Many of y'all reading this column may remember good ole "Grace," my infamous 2001 GMC Sonoma (named after Grace Potter) that initially brought me to Western North Carolina from my native Upstate New York when I accepted this newspaper position in 2012.
I had Grace from 2007 to 2017. It was my grandfather's trusty mode of transportation before he passed away in June 2007. And I saw every corner of this country post-college in that truck, the engine ultimately blowing up in a gas station parking lot less than a mile from my Waynesville apartment. Last that I heard, Grace ended up in some junkyard on the Kentucky/Virginia state line.
So, in mad scramble to find a replacement vehicle (which is, in all sincerity, my true "office"), I came across the 2005 Tacoma that became Lucinda. I'd always wanted to own a Tacoma, something I think we truck freaks aspire to acquire at some point in our respective lives. Incredibly reliable. Functional. Great on gas. Heck, the only real maintenance one needs to actually do for a Tacoma is oil changes and new tires every-so-often.
In essence, Lucinda was a pretty basic ride. Yes, there was four-wheel drive. But, no power locks or windows. A/C never worked. No cruise control, either. No matter, though. As a minimalist who could care less about the "bells and whistles" of a vehicle, I was just happy to have a 4x4 that could go the distance on a single tank of gasoline.
It wasn't long before Lucinda and I went on haphazard adventures. Pretty much immediately, heading down to the St. Augustine, Florida, to visit my parents' during spring break, onward through the rest of the Southeast amid that spring of 2018. I always looked forward to the first signs of spring warmth while cruising in that truck — windows cranked down, fresh air and a warm breeze swirling around the cab, stereo blasting some Grateful Dead or Radiohead melody.
Spring turned into summer, which, for me, means attending and covering music festivals. That Tacoma brought me to dozens and dozens (and dozens) of gatherings throughout the last three or so years. FloydFest (Virginia). DelFest (Maryland). Albino Skunk (South Carolina). Suwannee (Florida). RailBird (Kentucky). Bonnaroo (Tennessee). MerleFest (North Carolina). Adirondack Independence (New York). The list goes on forever.
Countless adventures and shenanigans. From the mountains to the beach, and seemingly everywhere in-between. Chasing down story leads. Meeting deadlines and appointments. All of those first dates (and last dates) with femme fatales and ex-girlfriends. All of those trailheads and shorelines where I'd joyous disappear into the depths of Mother Nature.
And all of those moments on the tailgate. Sitting with new friends, best friends, and long-gone friends. Sitting many-a-time by myself, thinking, as per usual, about nothing and everything. Pondering the mysteries of the universe over a cold beer on a tailgate parked in some empty cornfield, dead-end road, beachside bungalow driveway, etc.
The most ambitious trek with Lucinda came last year, during the shutdown, when I headed out to Bozeman, Montana, to visit family and friends, and to, well, try to once again find myself in the grand scheme of things, in this new reality we're still currently trying to navigate.
Montana was transformative, as are any road trips taken in haste, and in the name of irresponsible enlightenment. Bleeding, never-ending Wyoming sunsets. Hearty Kansas prairie winds. Colorado blue skies that roll on forever. And the hike to Lava Lake, between Bozeman and Big Sky, where I felt as connected to cosmos as ever, only to frolic down the trail to Lucinda, to crank the engine and make my way back to Haywood County.
It was tough to finally accept that I had to junk Lucinda. For every dent and scratch on the paint, a whirlwind tale either recounted in this column or in the blurry conversations of the midnight hour. Faded festival stickers on the windshield and back bumper. A glove box filled with trinkets, a handful of Subway napkins, and unused mustard packets from some truck stop in Pennsylvania.
But alas, it is what it is. And that's just a simple fact of life. The only constant in your existence is change itself. Onward. Put Lucinda in the rearview mirror of your journey, only to eventually track down a 2013 Tacoma a few days ago, fully equipped with power windows and locks, working A/C, Bluetooth touchscreen and backup camera — my transition into the modern age of vehicles now complete.
Life is beautiful, grasp for it, y'all.