Archived News
Funding coming for telepsychiatry in schools — if N.C. budget passes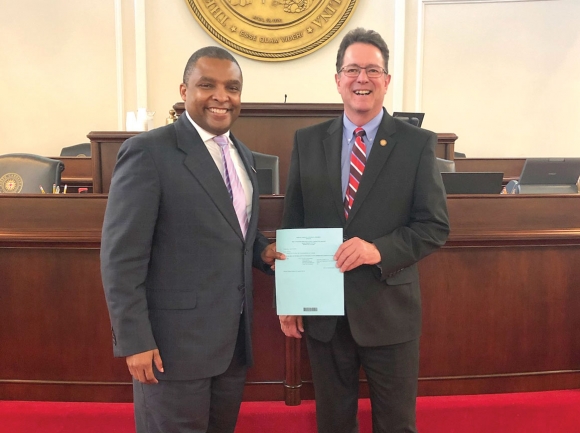 Sen. Kevin Corbin, R-Franklin (right), stands with Sen. Don Davis, D-Greene, in Raleigh. Donated photo
A conversation between Sen. Kevin Corbin, R-Franklin, and North Carolina Gov. Roy Cooper, D-Rocky Mount, seems to indicate that Cooper will likely abandon his hard stance on Medicaid expansion and pass a budget this year.
If that happens, not only will millions in funding finally be freed up for schools and state employees, but a $1 million appropriation for telepsychiatry services in schools shepherded into the budget by Corbin will help address the lack of psychiatrists in rural North Carolina counties.
"I had over $10 million for each of the school systems in my district for construction, and it went away," Corbin said of Cooper's budget vetoes over Medicaid expansion, which have left the state without a true budget for several years. "Everybody had stuff in the budget."
But a brief conversation with Cooper a few weeks ago leads Corbin to believe that Cooper, who is term-limited and can't seek reelection, may indeed sign something in the coming weeks.
"There were about four senators standing around just to chit chat, small talk, and here comes the governor walking out and he kind of walked up in our circle," Corbin said. "We exchanged pleasantries and he said – this is a quote from him – 'I would really like to sign a budget this year.' We all kind of looked at each other and said, 'Well, we would too.'"
Corbin said he asked Cooper if he would veto the budget over single issues.
"He said no," Corbin said.
That may be a good sign for underserved communities in North Carolina; Corbin reached across the aisle and across the state to gain support for S161 , which appropriates $1 million in nonrecurring funds for each year of the 2021-2023 fiscal biennium to be allocated to East Carolina University Center for Telepsychiatry to support a program called NC-STeP.
"A psychiatrist group in North Carolina came to us through their government relations person and expressed that there were a number of counties in North Carolina that were underserved," said Corbin, who sponsored the bill with Greene County Democratic Sen. Don Davis. "There were several counties that were completely unserved for the schools. Full disclosure, my home County of Macon was not one of them. It is in good shape, but my other six counties, including Haywood and the others, were being underserved or not served at all."
Leave a comment
1

comment
Telekenesis should DEFINITELY be taught in schools

Wednesday, 05/12/2021