Archived News
'The lady behind the scenes': Carmaleta Monteith named Beloved Woman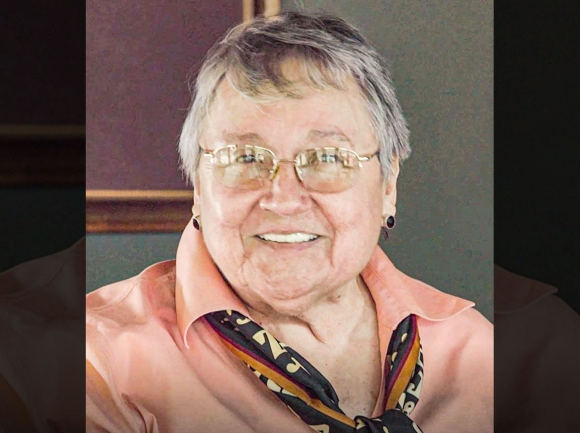 Carmaleta Monteith. Donated photo
Carmaleta Littlejohn Monteith has worn an impressive number of titles over the course of her life.
She chairs the Cherokee Indian Hospital Authority Governing Board and has filled various roles within the North American Indian Women's Association over a span of five decades. She serves on the Yogi Crowe Memorial Scholarship Fund advisory board, has been involved with the Yellowhill Community Club for nearly 20 years, spent 10 years as Internal Audit Chair and for more than two decades has actively supported efforts to create a tribal constitution.
The list goes on, but on May 6, the Cherokee Tribal Council bestowed Monteith's most important title yet — the body named her a Beloved Woman of the Eastern Band of Cherokee Indians.
The Beloved title is the highest honor the tribe can give to one of its own. Monteith is now one of three living people to wear it.
Traditionally, the title of Beloved Man or Beloved Woman was reserved for Cherokee people who had proven themselves valiant warriors in battle but had grown too old to fight anymore. They would come home to an honored place in their tribe, serving their community in new ways, off the battlefield. In modern times, the title has come to recognize people whose lives are an outstanding demonstration of Cherokee core values and cherished characteristics.
"She is first and foremost a servant," Principal Chief Richard Sneed said of Monteith during the May 6 Tribal Council meeting. "When you think about when Jesus said, 'Whoever desires to be greatest among you must be servant to all,' Carmaleta embodies and personifies a servant. When she sees a need, she answers the call and puts the work in."
Monteith "has demonstrated the Cherokee core value of Education in abundance," reads the resolution granting her the title. She received her bachelor's degree at a time when only 5.8 percent of women obtained a college degree and only 2,000 Native Americans — of any gender — were enrolled in college. She "defied the odds" once more in 1985, obtaining a Ph.D. in American studies. Even today, only 0.003 percent of Ph.Ds are held by Native Americans.
Monteith has put that education to work for the good of her people. She served on the Cherokee Boys & Girls Club Board for 15 years, during which time she raised funding for new construction and program development. Her "most significant educational impact" was her work to secure the land for the present-day Cherokee Central Schools and govern CCS's development, the resolution reads.
Sneed, who was once a teacher at that school, remembers the time he built homemade hydroponic units with his high school students to grow lettuce and spinach. Monteith saw what he was up to and took it upon herself to write a grant that funded 120 "amazing" hydroponic grow sites.
"It just shows the kind of person she is," he said. "When she sees a need, she immediately does the work to fulfill that need."
Monteith has also worked hard to nourish and preserve the Cherokee tribal identity, contributing to multiple culturally oriented films and publications and spearheading a multitude of projects, including eight years of work on the Cherokee Leadership Development Project through the Cherokee Preservation Foundation, which led to the development of the cultural leadership programs now housed at the Ray Kinsland Leadership Institute.
"This was really the one nomination that we received of several great ones that we felt needed to be heard before you all today," said Kim Smith, chair of the Beloved Woman Committee.
While pandemic protocols hampered Tribal Council's ability to celebrate Monteith as it normally would a newly recognized Beloved Woman, Smith said the committee hopes to hold an official induction ceremony at the Cherokee Indian Fair this fall.
Monteith is the first person to receive the Beloved title since the Beloved Woman Committee was formed in 2018. Smith petitioned Tribal Council to create it on the heels of a three-month period in early 2018 during which three Beloved titles were given. The nominations were approved unanimously after various Council members introduced resolutions requesting them, but Smith wanted to form a committee to evaluate future nominations based on an agreed-upon set of criteria in order to avoid "saturating" the community with enough people bearing the title to take away from the honor of wearing it.
On May 6, Tribal Council members all agreed that Monteith was more than deserving of the Beloved Woman title, taking a unanimous vote to bestow it by standing around the horseshoe rather than simply raising their hands, as they typically do to signal assent to proposed resolutions.
"Every generation has seen her work and been a part of that, so we really appreciate all her dedication to this community and this tribe," said Vice Chairman David Wolfe, who represents Monteith's community of Yellowhill. When the resolution was read at a recent community club meeting, Wolfe added, everybody stood up in support.
"She's one of the ladies that she never asks for recognition like this, because it comes from the heart," said Big Cove Representative Richard French. "She does everything for the tribe and for her people."
The tribe needs more people like her, said French — people who will step up to the plate because they believe in the goal, not because they're looking for a pat on the back.
"She's the lady behind the scenes that makes everything happen for all of us," said Vice Chief Alan "B" Ensley. "Carm, I'm just glad that I'm standing here watching you get this great honor."
"You had a direct impact on the lives of everybody sitting around this horseshoe and everybody listening to this, whether they know it or not," added Big Cove Representative Perry Shell.
When it was her turn to speak, Monteith focused her comments on thank yous — to Western Carolina University Cherokee Center Director Sky Sampson, who put the nomination together; to the committee, whose members worked "long and hard" to develop the criteria and standards for the award; and to the women who preceded her, bringing honor and integrity to the office she now joins. Monteith also recognized her mother, who showed her the importance of service and led several of the organizations in which Monteith is now instrumental.
"We're not islands unto ourselves," she said. "It takes a family. It takes everybody in the community to achieve things, so I'm deeply honored."
Sneed plans to sign the resolution honoring Monteith once the mandatory 10-day waiting period has passed.
Leave a comment
5

comments
Dr. Monteith worked at Marist school as dean of studies for approximately 20 years during my first years there. Knowing her then was very satisfying and very much a joy to consult with about academic ideas and problems. After she moved on she was very much missed as no one who filled that spot later came close to bringing the same level of professionalism and stature as Carmaleta did.

I would love to hear from her how she is doing now.

Peace,
Joe Prevost

Tuesday, 08/30/2022

Dr. Monteith worked at Marist school as dean of studies for approximately 20 years during my first years there. Knowing her then was very satisfying and very much a joy to consult with about academic ideas and problems. After she moved on she was very much missed as no one who filled that spot later came close to bringing the same level of professionalism and stature as Carmaleta did.

I would love to hear from her how she is doing now.

Peace,
Joe Prevost

Tuesday, 08/30/2022

Carmelita is the most outstanding person. I graduated from The Lovett School in 1969 and University of Georgia in 1973. Carmelita was by far the best teacher and one of the best people I have ever met.
My time as a student of hers at Lovett in the 1960s will always be a highlight in my life.
Carmelita is a "Beloved Woman" to me always.

Wednesday, 05/11/2022

Carmelita is the most outstanding person. I graduated from The Lovett School in 1969 and University of Georgia in 1973. Carmelita was by far the best teacher and one of the best people I have ever met.
My time as a student of hers at Lovett in the 1960s will always be a highlight in my life.
Carmelita is a "Beloved Woman" to me always.

Wednesday, 05/11/2022

I used to work with Dr. Monteith at Marist school in Atlanta, Ga.
I have very fond memories of those days and would love to get in touch with her.

Friday, 02/11/2022