Archived Outdoors
Making it happen: Swain County teen chases professional mountain bike career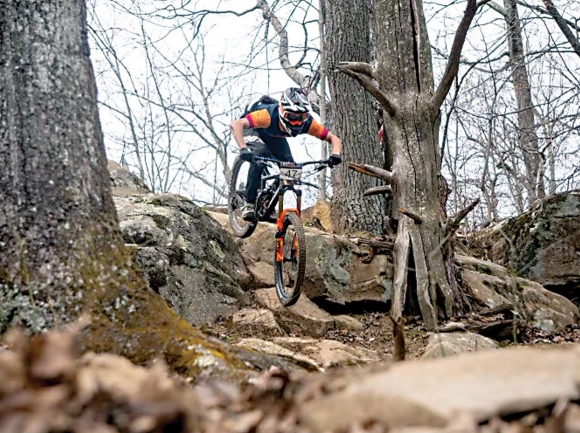 Austin San Souci rides in the Tennessee National Enduro March 14 in Windrock, Tennessee. Ryan Little photo
Austin San Souci was just 2 years old the first time he rode a bike.
"He never had training wheels. He just took off," said his father, Tyler San Souci. "We sort of supported that all along."
Now 16, Austin has expanded his aspirations far beyond the backyard of his parents' Bryson City home. The Swain County High School student spends much of his time on the road, working toward his ultimate goal of becoming a professional mountain bike rider.
Last year was Austin's first racing downhill, his chosen genre within the mountain biking family. The results were encouraging, to say the least. In 2020, during the four-part Downhill Southeast Series, he posted first, second, third and seven-place finishes, delivering an overall first place ranking based on total points earned during the series.
But 2020 was a weird year for everyone, and that includes mountain bikers. Most national races were canceled last year, so Austin could only compete in regional events.
"There's definitely a bunch of riders that he's up against in his class this year that he wasn't last year, because nobody traveled," said Tyler.
Pursuing the dream
This year will be different. In addition to traveling longer distances to compete against riders from a wider geographic area, Austin is competing against more experienced athletes. In 2020, he was a Category 2 racer, but this year he is racing in Category 1, which includes the most skilled riders in his age group.
The season is just beginning, but Austin has already competed in two Category 1 races this year, placing ninth out of 26 at the March 13 Pro GRT race in Windrock, Tennessee, and fifth out of 27 during his most recent competition, the YEE-HA! Downhill Mountain Bike Race in Massanutten, Virginia, which was the first stop on this year's Downhill Southeast Series.
His ultimate goal is to compete in the Junior World Cup competition next year, which will be the first year he's old enough to enter. To participate, athletes must either be part of a Union Cycliste Internationale team or receive an invitation. The San Soucis are working that problem from both ends. Austin's coach hopes to get the team UCI status sometime this year, and by traveling and competing as much as possible, Austin aims to attract enough attention to merit an invite even if the UCI status doesn't come through.
Despite his early affinity for biking, Austin's early competitive efforts focused on motocross, not cycling. He competed from fourth through seventh grade.
He tried his first bike race just three years ago, when he was 13 years old. That was the 2018 Fire Mountain Inferno, held at the then brand new Fire Mountain Trail System in Cherokee.
The experience proved pivotal.
"That's where I realized I wanted to start racing mountain bikes more and really found my love for the sport," he said.
Competitive mountain bike racing is a diverse field consisting of several different genres. Austin's Fire Mountain ride was an enduro race, a competition in which the downhill segments of the course are timed and added up at the end of the race, while the uphill segments are mandatory but not timed. The rider with the fastest cumulative downhill time wins.
These days, Austin competes in a related but distinct genre known as downhill racing. These courses don't have any untimed uphill portions — they're all downhill. Athletes ride the course one by one, and each ride is timed. The fastest time wins.
"Downhill is a really physical sport," said Austin. "Most people think that riding your bike down a hill is probably the easiest thing to do, but downhill consists of extremely technical courses full of rocks, roots and really hard features. It can be anywhere from really, really fast, high-speed and shattery, to super slow and technical."
Beyond the ride
A self-described "adrenaline junkie" Austin loves the high-risk feel of the downhill genre. Or, to put it simply, "I really like to go fast."
But he's learned the hard way that there's a lot more to it than hopping on the bike and gathering speed. He's had only one serious injury so far, a fall that resulted in a concussion and broken arm right before a race. It was his own fault, he said — he'd been riding all day without eating or drinking enough, and as a result he was riding sloppy, making small mistakes that added up into one big injury.
San Souci negotiates a downhill at during a race at Windrock Bike Park in Tennessee, where he does much of his training these days. Jack Rice photo
"It really taught me that I can't just go out and ride," he said. "Going out and riding is fun, but you also have to pay attention to your body, or otherwise you won't be riding."
There's more to success in the professional mountain bike world than solid riding. Racecraft, said Austin, is "probably one of the most important aspects" of his riding. It includes how he handles himself at events and personal routines he observes to boost his performance — everything from shaking hands to eating healthy.
"It's more than just the sport," he said. "It's how people see you as a person that will probably take you pretty far."
It's also about the village surrounding him. Austin is candid in admitting that he'd never be able to pursue his dream of a professional mountain biking career without strong parental support. When he's traveling, training and riding, his dad is right there with him, supporting his son while also balancing his business and his marriage to Austin's mother, who typically stays home with their 11-year-old daughter while he's on the road.
There's also the local bike shop, Tsali Cycles, which has consistently supported Austin's dreams, giving him advice and discounts and connecting him with Canfield Bikes, his current bike sponsor. Swain County High School is in on it as well — Austin's missing a lot of school as he travels between competitions, but the school works with him so that he can keep up with his studies while on the road.
"I love watching his progression," said Jeremy Hyatt of the Eastern Band of Cherokee Indians, an avid mountain biker and driving force behind the Fire Mountain system. "We're very proud of him, and we're glad that Fire Mountain got the spark started for him."
Local opportunities
Western North Carolina's robust portfolio of mountain bike trails certainly played a role in Austin's early development in the sport. That initial experience at Fire Mountain sparked his love for downhill competition, and riding the trail system at Tsali Recreation Area was a convenient way to indulge his passion close to home.
While he spends more time these days riding the downhill courses at Windrock Bike Park in Tennessee, Austin still maintains a fondness for his local trails. For beginners especially, proximity is key, and Hyatt has seen lives changed through the close-to-home trails at Fire Mountain.
"I've seen over and over and over again cases of folks that hadn't been on a bicycle in 20 years racing for the first time," he said.
Biking is a lifetime sport, he said, and going forward he'd love to see team opportunities for young people who don't have much interest in ball sports but may thrive on the thrill of enduro and downhill racing.
"I think we can leverage Fire Mountain," he said. "I think we can leverage this groundswell of activity into something."
Which, on an individual level, is exactly what Austin hopes to achieve this year. His momentum is growing, and he aims to ride it to the finish line.
"If I'm going to put all my eggs into this basket," he said, "I really need to make something happen."
Get out and ride
You don't need to be an elite competitor to enjoy life on two wheels. Check out these local opportunities to plug into the cycling community.
A no-drop group ride leaves from the Tsali Recreation Area Trailhead in Swain County most Wednesdays at 6 p.m. Call Tsali Cycles in Bryson City ahead of time to confirm the week's schedule. 828.488.9010.
A group road ride will leave at 6 p.m. Tuesdays through the end of October from Motion Makers Bicycle Shop in Sylva to tackle a 25-mile out-and-back ride to the Balsam Post Office. Organized by Motion Makers. 828.586.6925.
A women-only mountain bike ride starts at 6 p.m. Mondays from the Ledford Parking Lot at Bent Creek Recreation Area in Buncombe County. Join the private Facebook group for Motion Makers Women's Group Rides at bit.ly/3urZ2zq for more information.
A women-only, beginner-friendly mountain bike ride meets at 10 a.m. Wednesdays at the Rice Pinnacle Trailhead at Bent Creek Recreation Area in Bryson City. This no-drop, social ride is beginner-friendly and will return to the parking lot no later than noon. Expect 6 to 8 miles. Join the private Facebook group for Motion Makers Women's Group Rides at bit.ly/3urZ2zq for more information.
A two-hour night ride through Asheville leaves at 8 p.m. Thursdays from the corner of Craven Street and Emma Road. This social ride is suitable for all skill levels and typically covers 10 to 15 miles. Bring lights and plan for hills and a slow pace. Organized by Asheville on Bikes. Membership starts at $25 per year. www.ashevilleonbikes.com.
The Nantahala Bike Club will sponsor a community social ride 10 a.m. Saturday, June 5, on the Little Tennessee River Greenway in Franklin. Friends of the Greenway will have hot dogs, drinks and food for sale and a social ride will follow. The event aims to highlight improvements and future vision for the greenway. www.nantahalabicycleclub.com.
A newly formed mountain biking club for teens in eighth through 12th grades is now meeting in Haywood County. Perfect for riders with little to no experience, the group meets three times per month, with one of those meetings held at Bent Creek Recreation Area in Asheville. Some loaner bikes available. Limit of 30 members with one-time $10 club fee. Ian Smith, 828.452.6789 or

This email address is being protected from spambots. You need JavaScript enabled to view it.
Leave a comment
1

comment
Go Austin!

Thursday, 05/06/2021