Archived Opinion
Insightful and beautifully written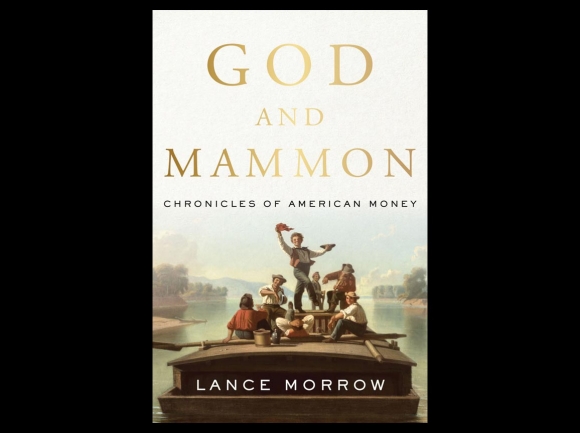 Thirty years ago or so, perhaps in Time Magazine where he was a long-time essayist, I read a Lance Morrow article on the subject of honor. His piece so impressed me that I read it multiple times, and later photocopied it and passed it on to the students in my Advanced Placement English Language and Composition class as an example of stellar writing.
Over the years since then, I'd lost track of Lance Morrow until now. I didn't follow him on his website, www.lancemorrow.com, which includes descriptions of his books and quite a few of the essays he's written in the last 30 years. Only when his latest book, God and Mammon: Chronicles of American Money (Encounter Books, 2020, 169 pages) arrived in the mail did I recollect what pleasure I took in reading his words.
In God and Mammon Morrow examines the role of money in American culture by looking into the lives of persons as diverse as Booker T. Washington, Ernest Hemingway, Henry Luce, and Edith Wharton, and then noting their thoughts and actions regarding wealth. He seeks to demonstrate that throughout American history money and morality have often walked hand in hand, a union that is in a sense the quintessential core of the American Dream.
Not all of the figures and events he brings into play are from the past. Here is Oprah Winfrey, once poor and now one of the richest women in America. Here is Donald Trump with his brash ambitions and millions of dollars. Here are the pandemic and the death of George Floyd.
And here is Lance Morrow himself, slipping in and out of this long essay, sharing bits and pieces of his own life and writing always in that wonderful prose that has made him a national treasure.
Morrow's description of the beginning of the coronavirus pandemic reveals this man's immense talents:
"But, all at once, the narrative line of Trump's presidency, the money success in which he gloried until a moment ago, has been disrupted. The coronavirus overwhelmed Wuhan, where it started, and spread to Italy and Spain and elsewhere on the globalized planet, crisscrossed by 93,000 flights daily (the flight paths as densely interwoven as the string around a baseball), and Trump in the Oval is delivering an address to the nation in which he sounds like a sullen adolescent who has just wrecked his father's Cadillac.
"The country goes to sleep in a mood of foreboding."
Crammed full with facts, striking similes, and concise language, that paragraph is typical of the writing we find in the rest of God and Mammon.
In addition, Morrow also brings a lifetime of learning to these pages. On the first page of Chapter 12, for instance, he mentions George Floyd, Joe Biden, Thomas Jefferson, the stock market, Donald Trump, and the upcoming election. He weaves all of these people and events together, takes a quick look at why both the Left and the Right believe for different reasons that the United States may be facing a coup d'état, and segues into some observations on people leaving the larger cities from fear of violence and crumbling infrastructures. He concludes by noting that one morning, when he and his wife got out of bed, they found their kitchen door, which they always locked, wide-open. Nothing was missing in the house, "but now I sleep with the shotgun standing in a corner — loaded, with the safety on."
All of this in just two pages.
Finally, Morrow offers readers a feast of information by providing several dozen sketches of famous Americans and events from the past. His defense of Ulysses Grant, who according to Morrow, belonged to "an American Culture of Character," is a brilliant five-page synopsis of the man who defeated the South and who was later maligned as overseeing a corrupt government. In discussing our shift to "an American Culture of Personality," he looks at Bob Dylan, Ernest Hemingway, Donald Trump, and others who invent themselves through what F. Scott Fitzgerald once called "gestures of personality."
God and Mammon is the type of book that acts like fireworks in my brain. As I read it, those explosions livened up my mind, sent my thoughts in all sorts of directions, and brought revelation after revelation. An example: though I have read Booker T. Washington's autobiography Up From Slavery and a biography about him, and have researched him a bit online, I never understood how brilliant he was in pushing blacks to excel in the manual arts and the professions. He saw more clearly than most, especially his critics, the connection between money and resources and greater freedoms for his people.
In his Epilogue, Morrow ends with a couple of questions that did give me pause. He first quotes "two famous exit lines:" The Great Gatsby's "So we beat on, boats against the current, born back ceaselessly into the past" and Gone With The Wind's "Tomorrow is another day." He then writes:
"We have had enough of the past.
"We have had far too much of the present.
"Into what strange world will the future lead us?
"And will it be wonderful?"
Time will tell.
(Jeff Minick reviews books and has written four of his own: two novels, Amanda Bell and Dust On Their Wings, and two works of nonfiction, Learning As I Go and Movies Make the Man. This email address is being protected from spambots. You need JavaScript enabled to view it.)