Archived News
Transparency concerns hobble DWA contract renewal bid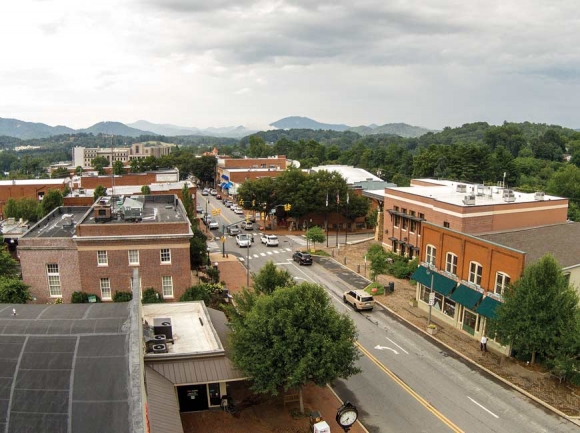 Despite more than three decades of service to Waynesville's downtown municipal service district, the organization charged with managing it now finds itself in the fight of its political life.
"I moved here because it's not a Disney World. It's not a Pigeon Forge. It's not an Asheville," said Mike Coble, a former Marine and current downtown business owner. "I love the fact that it's still kind of a quiet, sleepy, elegant town and for me to be successful we have to keep our expectations high. We have to be a little bit proactive. We don't want to change just to change, but if we don't do something, we're not going to be as successful."
Coble has emerged at the forefront of a group of concerned citizens that recently announced it would compete with the Downtown Waynesville Association for the contract to manage the town's municipal service district, which expires on June 30.
Concerns about the performance and the leadership of the DWA aren't new, but have increased in recent weeks with confusion over longtime Executive Director Buffy Phillips' employment status as well as a marked lack of transparency in regard to finances and board actions.
During a meeting on March 23, Phillips purportedly gave notice of her intent to resign at some future date. Multiple phone calls made by The Smoky Mountain News to Phillips and DWA board Chair Carolyn Brunk from March 24 through March 26 were ignored and have yet to be returned, almost six weeks later. The board's secretary, Olivia Carver, has since resigned but declined to comment on the proceedings of the March 23 meeting when reached by SMN.
On March 27, a story in The Mountaineer reported that Phillips would indeed step down.
A more recent Mountaineer story continues to assert that Phillips will soon retire, but neither Phillips nor Brunk have confirmed that to SMN, and minutes from the March 23 meeting have yet to be produced. Mountaineer Publishing CEO Jonathan Key is vice-chairman of the DWA board.
A public records request made by SMN on March 24 for meeting minutes and financial documents was only partially fulfilled on April 27, one day before a public hearing on the DWA's performance was held by Waynesville aldermen.
That meeting saw several DWA board members, including downtown business owner Teresa Pennington and Haywood County Commissioner Kirk Kirkpatrick, speak positively about the DWA, but also saw some criticism over the DWA's apparent lack of direction.
"I've been part of the DWA for 20 years. I wanted to hear some of the other people make some comments because I would like to understand some other concerns of the citizens. As part of the statute, you as the town can actually take this on as yourself or contract with a private entity," Kirkpatrick told aldermen, asking for greater oversight. "I think it's important for whoever you appoint as the private entity to provide some specific direction as a town board."
When Coble addressed the board, he said he'd formed a nonprofit that was about to take on a minor beautification project on Waynesville's quaint but neglected Wall Street because he'd seen no results from the DWA over the past few years.
"One of the things I'm concerned about here in Waynesville is I do not see a clear direction. I do not see transparency in regards to our downtown association. I am not against the DWA, I think it's a great organization, I think they've done some great things in the past," he said. "I'm not negating the fact of what they've done but I do support a bid process, I do have a 501(c)(3) that is ready to do the RFP for it. I've looked at the budget extensively and I think we can do a lot more with the money we have."
Coble said he wasn't quite ready to reveal the board members on his nonprofit, called Start Now LLC, because of fears of retaliation.
During the meeting, Alderman Anthony Sutton honed in on the transparency problems. When reached later, Sutton expressed concern.
"I came away feeling that even though there was large support for the DWA, there was also large support for holding them more accountable for what they've done in the past and what they might or might not do in the future," he said. "So during that meeting, I did request five years' worth of meeting notes so that we can judge what they have done during this last contract period, so I'll be able to do a personal evaluation to see if it is a good fit for the coming five years."
If he doesn't receive the records he requested, Sutton said he wouldn't support a contract renewal for the DWA.
"If they do not comply with the public records requests, then I feel like they are not showing in good faith that they are willing to work with the town," he said. "I would not vote to give them the contract."
Sutton also said that if SMN's public records request of March 24 isn't fulfilled, he'd take the same course.
Alderman Jon Feichter, who has a long family history of involvement with the DWA and once served on its board, said he was encouraged by the passion of people for the downtown district during the meeting.
"I think that the request for proposals is going to generate a fair number of responses and it will be up to the board to figure out which one represents the best vision for downtown over the next four or five years," Feichter said. "I think that the competitive process is going to demand that anybody who submits a proposal is going to have to put their best foot forward, they're going to have to come with their 'A-game' and ultimately that's gonna be good for downtown Waynesville."
But Feichter also expressed concern over the lack of transparency on the part of the DWA and said it would be a factor when the DWA submits its proposal for contract renewal.
In North Carolina, the only remedy for a public records request that isn't fulfilled is in a court of law. According to Frayda Bluestein, the David M. Lawrence Distinguished Professor of Public Law and Government at the School of Government at the University of North Carolina-Chapel Hill, the DWA is a public body subject to the same public records and open meetings laws as municipal governing boards.
Guidance provided by the North Carolina Department of Natural and Cultural Resources says that records of the sort that have been requested by Sutton and SMN — meeting minutes, agenda packets and the like — are to be retained permanently by the custodial organization. Statutes also provide criminal penalties for the destruction of records, which could mean trouble for the DWA if they're not available for production.
Feichter said the possibility of the DWA expending its limited funds on an avoidable legal defense instead of downtown revitalization is an unacceptable outcome.
"There is no gray area in this question. It is cut and dry. Black and white. Produce the information that is requested," Feichter said. "Unless there's some kind of unique circumstances, like the records were swept away in a flood or something like that, the fact they have not produced those records is unacceptable."
Aldermen are expected to consider the wording of the RFP at the next meeting, scheduled for Tuesday, May 11.
Leave a comment
3

comments
I noticed in other situations when one person has some authority and on a functioning board for too long they become complacent and think they run the whole organization like the comment made about one member accusing the dance team and replacing them without real truth and calling one of them a liar is truly unprofessional and maybe she needs to go action like this gives the whole board a bad name to folks that might be interested I. Doing or opening something in Waynesville. Get this person off your organization get fresh people with fresh insight.

Friday, 05/21/2021

I'd love to see what the follow up will be with regards to the records request. I too have asked questions of the DWA over the past several weeks and gotten nothing more than a cold shoulder. For an organization whose intent is to support our small businesses and the main street program, I certainly do not feel that silence is the key. Mr. Coble said it well- the DWA has served this town very well over the past years but it is time that we consider something new- more transparency, more support, board term limits and an actual voting process. All of these things could be accomplished by the current organization but the rules need to change!

Friday, 05/07/2021

Buffy Phillip's is the problem, she is bias and is not approachable. After our team had danced for many years at town events, she listened to the wrong person and accused us of something we did not do without any willingness to clarify. Basically calling my wife a liar. She hired a new team to dance instead.

Friday, 05/07/2021