Archived News
Sylva board mulls Allen Street solution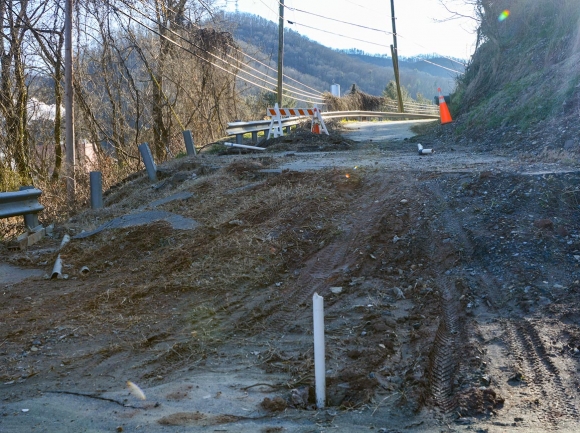 A trouble spot that appeared last spring is more severe than the area near Bobwhite Lane, requiring closure of a portion of the road since April 2020. Holly Kays photo
Despite their proximity to multiple slope failures on and around Allen Street in Sylva, two trouble spots that appeared in late 2020 are unrelated to the others, according to a recently released engineering report.
"At this time we believe the tension cracking showing up is more related to a localized failure associated with the fill slopes that form Allen Street in that location," Ian Johnson, senior engineer for Kessler Engineering Group, told the town board April 22. "We did not feel at this time that they're related to other failures that are happening on the property below."
The Town of Sylva has been facing an expensive remedy for Allen Street since last spring, when minor road cracks on the portion of road uphill from Bryson Park turned into major vertical displacement, causing a 150-foot portion of the road to remain closed ever since. At the town's request, KEG performed a study of the situation, and staff researched potential repair costs, estimating that a solution — to include horizontal drains and soil nails — would cost nearly $500,000.
Then, in the second half of the year two more areas of tension cracking appeared, both immediately downhill from properties on Bobwhite Lane. In response, the town commissioned a second study from KEG, this one focused on the newer failures.
According to data KEG gathered in November and December, tension cracks in the new slope failure area were 15 to 25 feet long and included multiple cracks roughly parallel to the slope face, but no vertical displacement was observed. It's a less severe situation than the first one studied, and Johnson recommended addressing it with soil nails or ground anchors but said that dewatering measures such as horizontal drains were not necessary.
At least not yet.
Potential for future movement
Engineers also observed a bowl-shaped failure located downslope between Allen Street and Chipper Curve Road. It exhibited a scarp 10 to 15 feet high and extended downhill to Chipper Curve, where concrete jersey barriers along the roadway retain its lower portion. This failure is located on private property and so outside the scope of KEG's investigation — but it proved impossible for engineers to ignore.
While that failure does not appear to be related to the cracking below Bobwhite Lane, there is significant potential for the instability surfacing downslope from Allen Street to cause the town-owned road issues in the future.
"Speaking with the property owner down there and figuring out a long-term game plan with them is likely an important part of the overall solution for that area," said Johnson.
While the current cracking on Allen Street doesn't appear to be related to what's happening downslope, future shifting there could impact the situation on Allen Street — a key consideration for commissioners who could be asked to spend $1 million or more in road repairs on behalf of a town whose annual budget has never exceeded $5 million.
"For me that's the tough thing," said Commissioner Ben Guiney. "Do we want to spend all this money and stabilize Allen Street and just have it collapse from underneath?"
"I think that conversation would need to be had in conjunction with the other property owners," said Johnson. "They certainly have a problem with their property, and if it exacerbates and moves up the hill, it will affect yours."
The thin, wooded strip of land between Allen Street and Chipper Curve Road is owned by Jackson Paper, whose factory sits on the other side of Chipper Curve. Public Works Director Jake Scott told commissioners that, while Jackson Paper is "willing to explore options," the company is not willing to do any remediation at the moment.
"I don't know why they would," said Guiney. "It's going to be a lot of money. The worst-case scenario is Chipper Curve Road is not usable, and they don't use Chipper Curve Road much anyway. I wouldn't be surprised if they just did nothing."
Chipper Curve is a state-maintained road, so the next question is whether the N.C. Department of Transportation is prepared to chip in to keep it open, should the landslide issues progress. A statement from DOT Division 14 Maintenance Engineer Wesley Grindstaff indicates that the department is willing to participate to some extent.
"NCDOT has committed to removing the material as it is deposited into the state maintained roadway, and also may participate in cost-sharing of the portions of the repairs within our maintenance right-of-way," he said.
Commissioner David Nestler asked about Jackson Paper's legal responsibility in the matter.
"What obligation does a property owner have to maintain their property to where it doesn't wash out a publicly owned street?" he asked.
In response, Town Attorney Eric Ridenour pointed out that because unstable fill slope from the road cut appears a major contributor to the issues on Allen Street, that question could be turned around toward the town.
"If the failure is a result of the road being cut, then that would be on us, because technically we created it," he said.
Planning action
The town board has yet to decide how to proceed with the project and has not yet seen any cost estimates for the proposed remedies. Completing the report was a necessary first step before requesting bids, as contractors typically require documentation regarding the extent and source of the problem before submitting bids to fix it.
Because the slope failures appear to be unrelated to each other, Nestler asked whether it would be possible for the town to take care of the initial, larger one first and then work to get more stakeholders on board before working on the area below Bobwhite Lane.
From an engineering perspective, said Johnson, the projects could indeed be done separately, though the town might realize a cost savings if it did them simultaneously. But Scott said that, practically speaking, it would be a bad idea to separate them.
"I think it would be foolish to assume that the second failure won't continue to worsen, and repairing one without the other would be foolish in my opinion," he said. "It would cost less, certainly, but I don't know that gets us any further down the road."