Archived Arts & Entertainment
On my way: A conversation with Grace Potter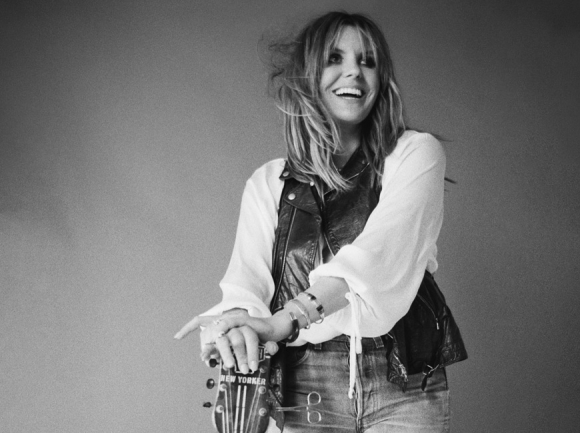 Grace Potter. (photo: Pamela Neal)
At 37, Grace Potter has already positioned herself as one of the finest stage performers and singer-songwriters of the early 21st century. A signature blend of soul, rock, folk and pop sensibilities, she left her native Vermont as a teenager and never looked back.
After a short stint at St. Lawrence University, she soon found herself fronting a rock ensemble (Grace Potter & The Nocturnals), a group that quickly garnered a large following — rumbling across every big stage and major festival from coast to coast, atop opening for the likes of The Black Crowes and The Rolling Stones.
But, The Nocturnals eventually broke apart in recent years. As did her marriage to the drummer, who also co-founded the band with Potter. The melodic walls she spent countless tours and endless miles building up came crumbling down. It left Potter retreating from the spotlight, disappearing from behind the microphone until she could find her true self again.
In conversation, Potter is candid and introspective, a presence of genuine sincerity and unrelenting passion. Nowadays, she's wiped the slate clean of her personal and professional demons, finally embracing her awe-inspiring, intricate and sometimes turbulent musical past — all while moving toward her artistic destiny of stardom with a clear head and fresh vision.
Smoky Mountain News: You've been a touring musician most of your adult life. What was your takeaway from everything coming to a halt this past year?
Grace Potter: It came at a really interesting time. I had just crawled out from under the rock that I'd been living under for four years. I took this big step back from music, one in which I really didn't have any intention of ever coming back to music.
When I started pulling away [from music] after [The Nocturnals] broke up and everything sort of fell apart, it felt whatever was unraveling in my life was caused by music.
Then, when [my 2019 solo album] "Daylight" was finally was released, I worked myself up into being excited about getting back out on the road, sharing this album and processing all of it with the world, because that's how it's always been — out on the road, seeing where the songs land in other people's lives.
It was a pretty devastating moment when the [2020] tour got postponed indefinitely because I had already postponed my whole career indefinitely. In some ways, it was even more jarring than it needed to be.
But, in other ways it was kind of a return to form because I really love being home. And I found an incredible depth to my private life. I was able to retreat back into that in a way that felt not too crazy for me.
SMN: So, there was a point where you were actually tempting the idea of walking away from everything?
GP: Yeah. When the band broke up and my marriage had fallen apart, my relationship with music was less than awesome. It was this thing where I felt like I didn't ask to be "musically gifted."
I have a gift and it's not something that I worked very hard at. It's just there. It's just the thing I do. I can't explain it, but it's something that, when I was a really young kid — four or five [years old] — people were picking up on the fact that I had this kind of inherent musical ability. [And] it turned into a little bit of a performing monkey thing, you know? So, I had this weird resentment toward music.
I didn't ask for this, and suddenly [as an adult] it's my responsibility to acknowledge and share my gift with the world. The whole thing is so completely narcissistic and leads to awful sort of self-isolating emotions.
[And yet], it's just not true. It's not music's fault that things fall apart. But, in my mind, at the time, I hadn't had a chance to process everything. And so, that four-year window was really an open window that I had left for myself to just understand my relationship with music, understand my talent, my sort of perverse attitude towards it, because it was wrong.
At the end of the day, music came back as a healing messenger. More than anything else, it was the tool I used to help me process everything that had happened.
SMN: How much of you still identifies with that young girl coming out of Vermont [in the early 2000s], just starting out as a performer?
GP: Oh man, more than ever now. It's crazy, dude. These [current] solo shows? I feel like I'm 15, 16, 17 [years old again] at my first Farmer's Market gigs — it's so similar.
[The audience now] is in their pods, which is exactly how a Farmer's Market is laid out. And those are the first gigs that I ever played, in the Mad River Valley and up in Stowe, [Vermont], playing arts and crafts fairs and Farmer's Markets.
I also feel that indulgent ability as an artist to play the crowd better. I can hear what everybody wants. I can invite them to make requests and have this conversation with the audience, as opposed to having a conversation with a band where I'm like, "Do you guys know this song?" or "Can we do this song?" I don't have to ask anybody. It's just me again. It's such a return to form. I didn't expect it, but I was really excited when it happened.
And as a songwriter, my journey has been a to find my own voice again, which was the last five years of my life — [it's] moving forward [knowing] that I'm the only person who can create this voice, this perspective.
Want to go?
A special intimate drive-in performance by Grace Potter will be hosted by The Grey Eagle at 7:30 p.m. Friday, May 7, at the Maggie Valley Festival Grounds.
A socially-distanced concert, all Covid-19 safety protocol will be followed and enforced. The show is all ages. Gates open at 6 p.m.
For more information and/or to purchase tickets, go to www.thegreyeagle.com/calendar/, click on the "Calendar" tab.
Leave a comment
1

comment
love her !

Wednesday, 05/05/2021