Archived Outdoors
Transforming gardening: Book details Webster man's design for a better, cheaper greenhouse
Wednesday, April 28, 2021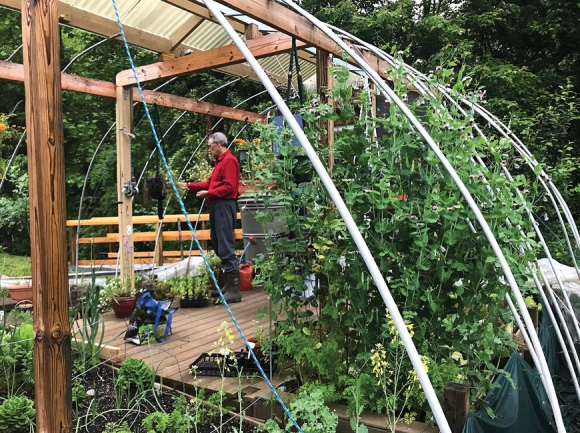 Houghton tends his summer garden, plastic lowered for the season. Donated photo
On cold January days, Bob and Janaye Houghton prefer to eat outside.
"If it's 20 degrees in the sunshine, it's Miami," Bob said.
The Houghtons aren't abnormally adapted to cold weather. But their greenhouse is.
Or rather, greenhouses, plural.
The origin story
Bob built the first one 20 years ago after Janaye asked him to build her a raised bed so she could grow some flowers at their home in Webster. He obliged, they planted some flowers, and they bloomed. Fall drew nearer, and Bob began to wonder if he could keep the growing season going a bit longer if he stretched hoops and plastic over some of the plants. He tried it, and then began to think bigger. Bob wanted a greenhouse. But when he researched prices, the unfortunate conclusion came quickly.
"No way I was going to pay $15, $20,000 for a greenhouse," he said.
That wasn't the end of it. Until his retirement in 2014, Bob was a professor in Western Carolina University's education department. He was used to chewing on — and solving — difficult problems. After some thinking and some tinkering, he developed the Transformer Greenhouse, an innovative design that allows four-season gardening for pennies on the dollar compared to traditional metal-and-glass greenhouses. At today's prices, materials for a 12-by-18-foot Transformer Greenhouse total about $800.
"I really wanted to be able to have a greenhouse where when it's raining, I can have access to the rain. And when the wind's blowing and I want to be inside and working in the greenhouse, I can close the thing out," Bob said. "I realized a couple of door hinges was really all I needed."
The Transformer Greenhouse — so named because it converts in seconds from a fully covered greenhouse to open garden beds — uses solar plastic stretched over plastic ribs and attached to a wooden frame, which connects to the main structure with door hinges. A rope easily raises or lowers the plastic, allowing the beds below to act as greenhouse rows in the winter or open-grown beds in the summer.
In March, Bob published a book detailing exactly how to build one, titled Transformer Greenhouses: Multi-season Food for All.
Today, the Houghton home boasts three greenhouses, all with slightly different designs but all based on the same concept. In the front yard, a greenhouse with a walkway between the two sets of beds makes it clear to any passerby that this is a home occupied by plant lovers. A second greenhouse located to the side of the property on a site the Houghtons dubbed Blueberry Hill — it's aptly named, as the hill is indeed planted with blueberry bushes — includes a deck area large enough to pull some chairs around a small lunch table. Finally, a third greenhouse hugs the back wall of the house, enjoying some passive heat as it traps warmth escaping from the building.
A couple low tunnels, a native plants garden and a hill full of daffodils claim much of the remaining land on the two-third-acre plot.
"We don't like to mow," Janaye said.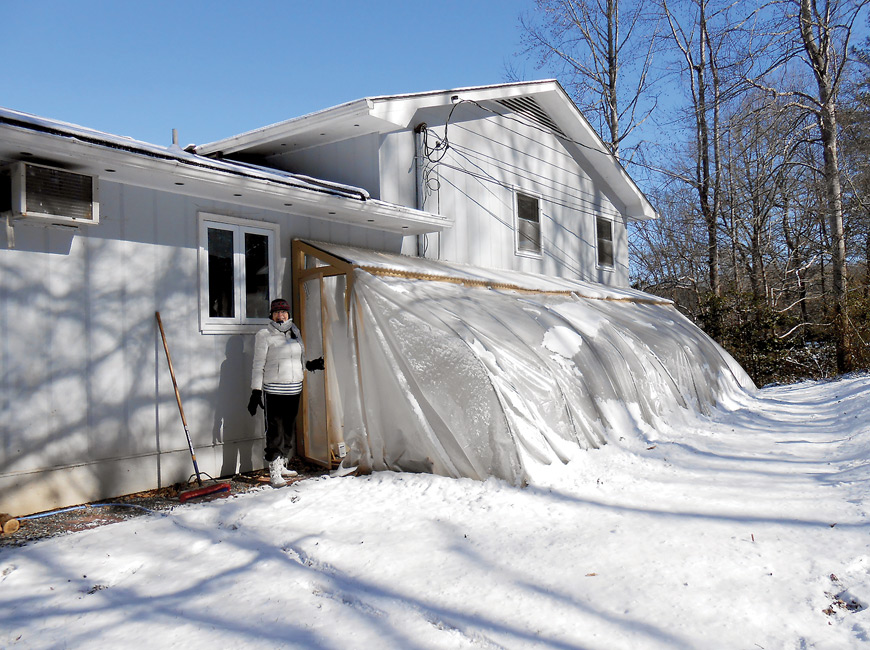 The greenhouse keeps the soil warm enough that even in the dead of winter, cold-tolerant plants can thrive. Donated photo
Living with a transformer
In a traditional greenhouse, the grower starts young plants in the spring and then moves them to an outdoor garden as the weather warms. On the Houghton property, the greenhouse is the garden, and winter is considered prime growing season.
"Once you get planted in the fall, everything slows down," Bob said. "You don't have that summer rush of, 'I've got to weed.' What other people think of as the offseason to us is the best season."
When it's cold or wet, he can pull up the roof and stay dry and warm while he tends the garden. Bugs stay away over the winter, and even when it's frigid outside, he and Janaye can sit on the Blueberry Hill deck and enjoy that Miami-like climate when the outside temperature is somewhere south of freezing.
And all year round, they eat. By late April, Western North Carolina gardens are at best just beginning to yield some cold-weather crops. Some gamblers might have set out their peppers and tomatoes already, but most will play it safe and wait for the frost-free date in early May.
The Houghtons' harvest never stopped. They've been eating broccoli, Brussels sprouts, cabbage, lettuce and all manner of cold-tolerant veggies throughout the winter. Their greenhouses aren't heated, so like the rest of the region, frost-sensitive crops still have to wait. But before long they'll be pulling an abundance of zucchini, eggplant and tomatoes from the beds as well.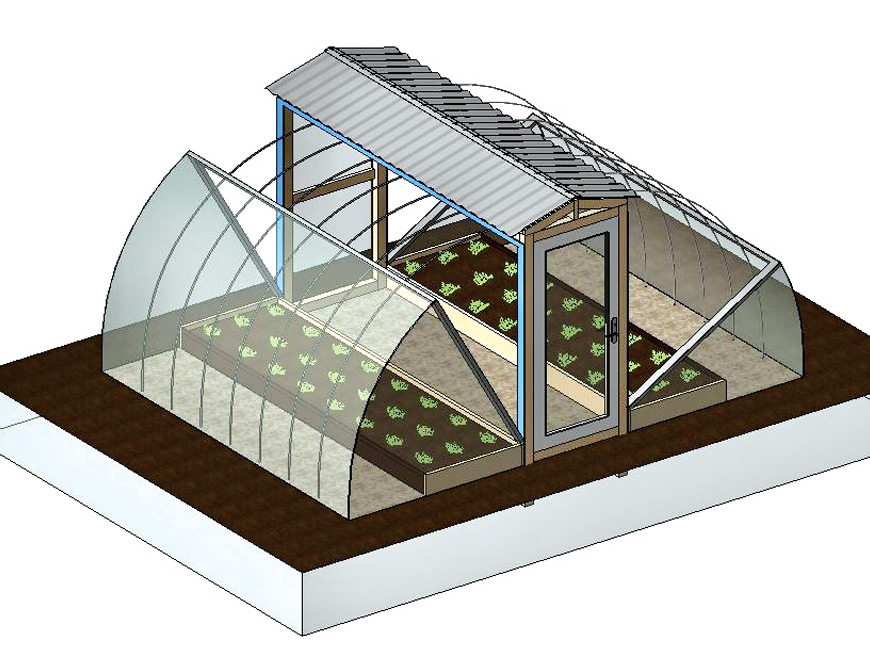 This diagram shows a Transformer Garden in the process of transitioning from open to closed. Donated image
When Janaye cooks, she doesn't make a shopping list of ingredients to satisfy a pre-selected recipe. Instead, she asks Bob what's in the garden and makes a meal that uses those ingredients. She likes to think it's a system akin to the one earlier inhabitants of this land depended on.
Helping the community
The greenhouse has changed the Houghtons' life for the better, and Bob thinks it could change the community, too.
"My vision would be multiple greenhouses on multiple properties where everybody is contributing some percentage of what they grow to The Community Table," he said.
He's already doing that with his operation. Throughout the year, his greenhouses produce far more food than he and Janaye can eat alone, so he packs up the harvest and takes it to Sylva's soup kitchen. His eyes light up when he talks about the low-cost design's larger potential to grow healthy food for people who need it.
"I could see community groups of volunteers putting these in for people who were needy and wanted to grow some of their own food," he said, "or I can see combinations of things."
Perhaps somebody who has the land for a greenhouse but no time to manage it could partner with somebody who has the time but not the land. Perhaps community outreach centers could install them, bringing neighbors together to aid the effort.
Forever an educator at heart, Bob can't help but think about how schools might use the greenhouse to aid learning. During his career, he often advocated for gardens as teaching tools.
"A lot of schools wanted to do things with gardening, teach science and teach math and other kinds of things, but their concept of the gardening season was that it's in the summer," he said. "But school isn't in session in the summertime."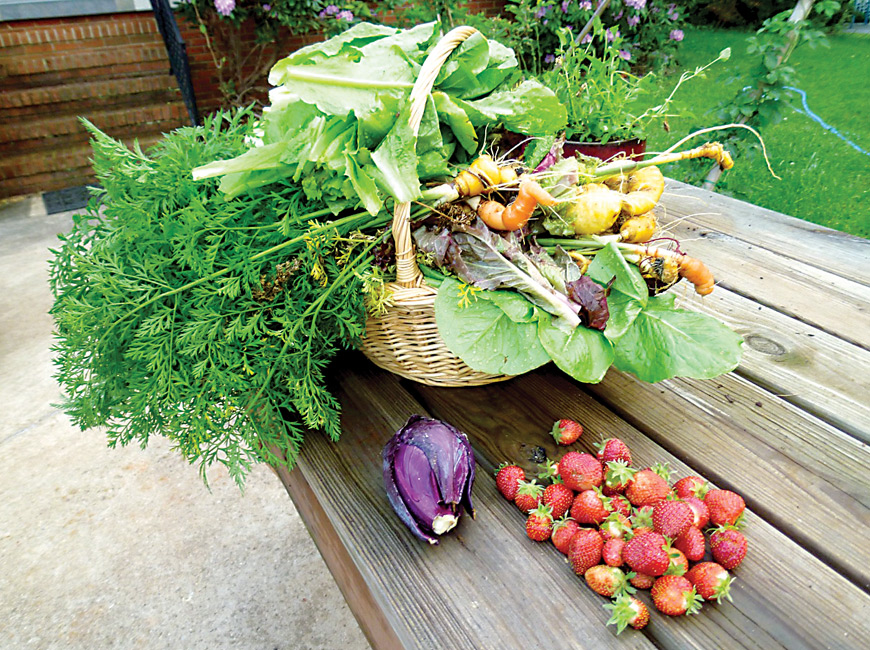 The Houghtons regularly pull more food from the garden than they can eat, so they give it away. Donated photo
The Transformer Greenhouse allows the growing season to last all year long.
Which, for Bob, brings it back to his main conclusion after 20 years of using a Transformer Greenhouse.
"There's a huge opportunity to go in multiple directions with a greenhouse like this," he said. "And I think you ought to build one."
Get the book
Learn all the ins and outs of the transformer greenhouse with Bob Houghton's new book Transformer Greenhouses: Multi-season Food for All.
In addition to a detailed overview of the greenhouse's features and uses, the book includes complete construction directions and a shopping list for the materials needed. It retails for $20 and is available at City Lights Bookstore in Sylva. It can be ordered upon request to any independent bookstore.