Archived Opinion
I'll take growth over stagnation any day
Wednesday, April 28, 2021
While not a surprise to anyone in Western North Carolina walking around with their eyes open, new Census data released this week confirms that North Carolina and this region are gaining population. Net migration — how many people are moving in versus how many are moving out — was the primary engine of growth for the state, allowing it to pick up a 14th congressional seat. The U.S. population now stands at 331.5 million, and in North Carolina we have grown by 9.5 percent since 2010 to 10.45 million residents today.
Here in WNC we can see it all around us. While the natural growth in many of our counties — births versus deaths — is negative, the migration of new residents from other states is fueling population growth, an economic surge and an overall housing shortage while exacerbating an affordable housing crisis.
Despite what's happening in this region, many are pointing to America's slowing growth rate as a national problem of unrealized proportions. According to Census figures, from 2010 to 2020 the U.S. population grew by just 7.4 percent, the second slowest rate since counting began. It's just barely faster than the 7.3 percent rate in the 1930s that was attributed to the Great Depression.
The Census Bureau credited lower birthrates — especially following the Great Recession of 2008 — and the slowing of legal immigration to the U.S. as the primary factors.
"This is a big deal," Ronald Lee, a demographer who founded the Center on the Economics and Demography of Aging at the University of California, told The New York Times. "If it stays lower like this, it means the end of American exceptionalism in this regard."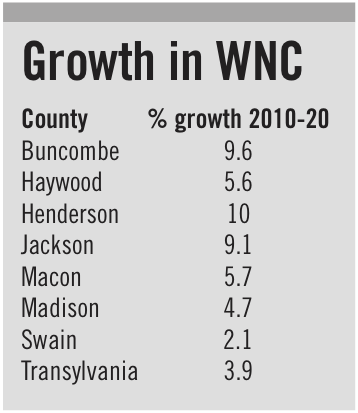 By that, he's referring to the fact that for decades the U.S. had one of the highest birthrates among industrialized countries. Now, the U.S. rate of growth is akin to those in Europe and far eastern industrialized countries like Japan and South Korea. That means fewer young workers and an increasing aging population.
Here's part of the problem: according to research, it's not just modern contraception and increased education among women that's driving lower birthrates. It's also happening because young couples say they can't afford children. Data shows that worries about the cost of childcare, uncertainty about future economic conditions, college debt and not having the money to raise them are forcing young couples to put off having a family or simply choose not to. In the richest country in the world, economic insecurity is rampant among the young.
If population begins declining, which it has in several countries, then there are fewer people to make things and less consumption. That sounds great, especially from an environmental perspective, but there are consequences — rising unemployment, lower GDP, more burdensome taxes to take care of an aging population. Science Daily says immigration policies to attract workers from Southeast Asia and Africa — where birthrates are much higher — could be among the major policy debates for the remainder of the 21st century. It predicts the earth's population will peak in 2064 at 9.7 billion and then decline to 8.8 billion by 2100.
While we sit in our bubble in this mountain region dealing with growth and housing and living wage issues, other counties in North Carolina and many states are losing population. With growth, we have the resources to cope with many of the problems it causes. Once populations start declining and you have negative growth, new problems occur but the resources to deal with them dry up.
I'll take the growth and a vibrant economy any day. Let's just hope our citizenry stays engaged and our leaders make the right decisions on the challenging issues facing this region.
(Scott McLeod can be reached at This email address is being protected from spambots. You need JavaScript enabled to view it.)
Leave a comment
1

comment
Unlimited population growth is killing everyone. In the meantime, it's stressing everyone.
What are these bogeyman "new problems" we would see with fewer people swarming the landscape, the housing, and the jobs?
Why would we actively import workers from Asia and Africa while still blocking immigration at our southern border?
Why not just convert our counterproductive military budget to useful issues like health care and infrastructure?

Wednesday, 05/05/2021