Archived Arts & Entertainment
Rivers, rains and runaway trains: Tim Surrett of Balsam Range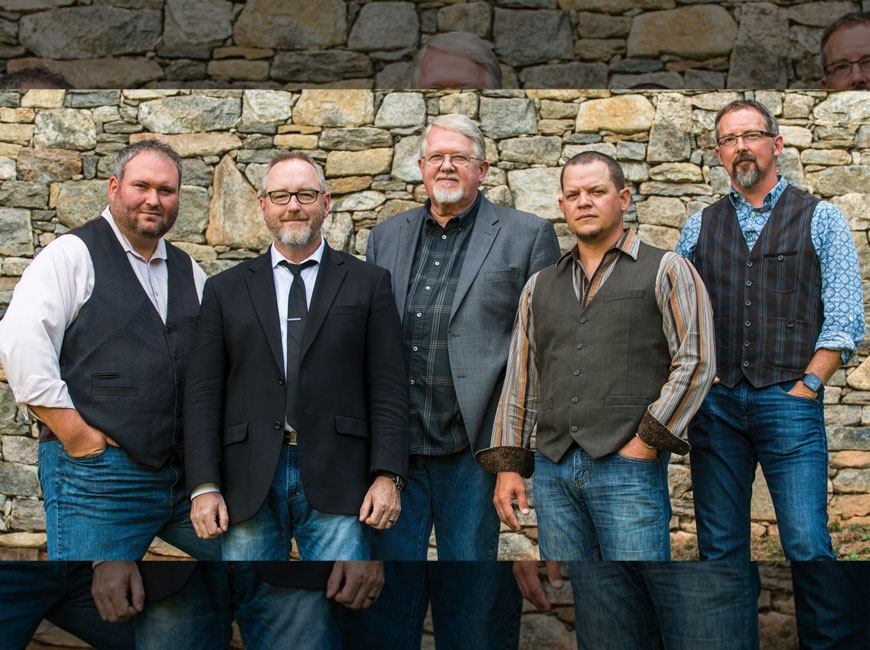 Balsam Range is Darren Nicholson, (from left) Tim Surrett, Marc Pruett, Caleb Smith and Buddy Melton. (photo: David Simchock)
In its 14 years together, Haywood County's own Balsam Range has risen into the upper echelon as one of the marquee acts in the national and international bluegrass scene — this once in a generation blend of songbird harmonies and lightning fast finger pickin'.
Dozens of No. 1 hit songs on the radio, with three more added to the list since the shutdown of the music industry last year ("Richest Man," "Grit and Grace," "Rivers, Rains and Runaway Trains"). Some 13 International Bluegrass Music Association (IBMA) awards in seemingly every category, including "Entertainer of the Year" (2014, 2018), "Album of the Year" (2013, 2017), "Song of the Year" (2011, 2015) and "Vocal Group of the Year" (2014, 2015).
And yet, the most impressive feat by the quintet remains the band itself. The same five members (a rarity in the music business), still the best of friends and bandmates. Each just as passionately and creatively driven today as that first impromptu kitchen jam session in Canton that caught melodic fire just about a decade and a half ago.
Smoky Mountain News: After a year of the shutdown of the entire music industry, y'all recently played your first shows of 2021. Was it kind of like learning to ride a bike again? Surreal?
Tim Surrett (bassist, Balsam Range): Yeah, especially the first one, down in Walhalla, South Carolina. When we walked out, we were nervous and excited. But, the crowd was just so happy to be out and going to a show. When we walked onstage, they just blew our heads off.
And it was just like that the whole night. It took [away] the fear, because all of us [backstage] were like, "Gosh, I hope I can remember the words [to the songs]." [Laughs]. It was a great load [that was] lifted — it's just been really good.
SMN: Is there kind of a justification when you're in that moment of why all the blood, sweat and tears are worth it, and why you love performing?
TS: There is for me. That hour and a half or two hours [onstage]? The little trip you take with that crowd, that bond? If you don't love that, then I'm not sure what the payoff is?
[On the way to Walhalla], I told the guys, "This will be one of two things. We'll either say, 'Lord have mercy, we've missed this' or 'Good Lord, why did we start this in the first place?'" [Laughs].
You know, it's not easy [touring and performing]. Lack of sleep. Long travel. But, it's all worth it. If you don't have that love of those two hours [onstage], then I'm not sure what you're doing.
SMN: Exactly. And, at the same token, the shutdown has proven to people that music is not just entertainment, it's a healing force.
TS: Oh, absolutely. There was an old fellow I used to travel with [when I was in] The Kingsman Quartet. He said, "Boys, in our job, we don't have the authority or the power to change the world, but our job is to make them forget their car payments that's due Monday." It's definitely a much-needed diversion, something to take your mind off what's going on [in your life and] in the world.
SMN: Balsam Range has won pretty much every big award in bluegrass, played every big stage and festival, collaborated with countless legends. After 14 years, what is it that still keeps the band motivated and coming back to the creative waters?
TS: We still have the desire to make as good a body of music as we can. And the process is fun. Getting together at [lead singer/fiddler] Buddy [Melton's] house and jamming out. The process of putting songs together, recording them — we enjoy that. The same thing that put us together in the first place is still there.
SMN: What does it mean to you that, after all these years, it's still the same five guys up there onstage and in the studio?
TS: We may be the longest running [bluegrass] band with the same personnel, [at least] that I can think of anyway. And that's amazing because it's flirted with disaster numerous times for whatever reason. Every one of us has thought about doing something else or quitting — it's not an easy existence.
But, especially in the last two or three years, it's settled into a really good, long-lasting marriage or something like that. We're very comfortable. Everybody knows what everybody else's reactions are going to be to whatever happens.
[These days], the travel is so much more fun. We pick the shows we want to play and the places we want to go. There's a lot of laughing and carrying on. We've been together so long, we think of something that everybody remembers, like "that show we played on a flatbed trailer in somebody's pasture," you know?
It's a lot of fun still, and that's a big deal to us.
Want to go?
Balsam Range will once again hit the stage at 5 p.m. Sunday, April 25, at the Hazel Robinson Amphitheatre in the Montford Historic District of Asheville. Doors open at 4 p.m.
All Covid-19 safety protocols will be followed and enforced. Tickets start at $25 per person for single seating pods. There are also VIP pods available, which includes special entry to the band's sound check, among other amenities.
For more information, click on www.hazelrobinsonamphitheatre.com. For tickets, go to www.etix.com/ticket/p/5999305/balsam-range-asheville-hazel-robinson-amphitheatre.