Archived News
Organization Builds on its Veteran Programs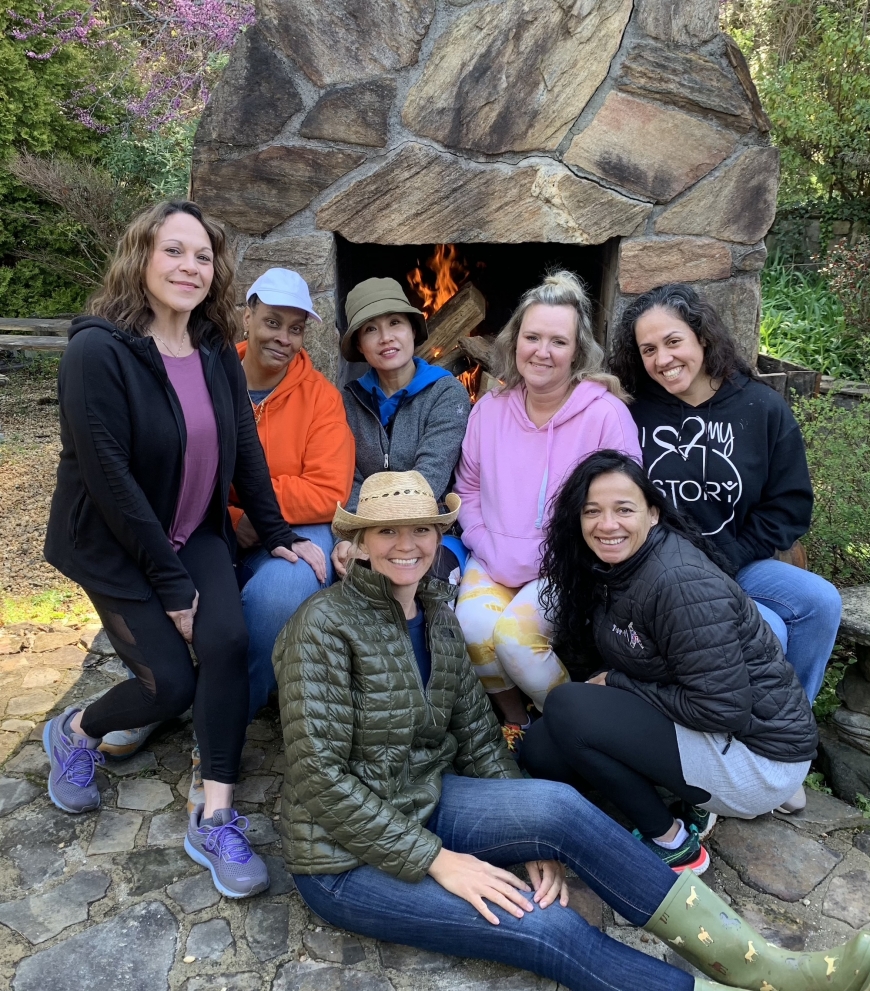 Participants pose for a quick photo by the Franklin-based Special Liberty Project's outdoor fireplace with co-founder Jessica Merritt (sitting) during SLP's first monthly Vitality Retreat for Gold Star Widows.
FRANKLIN – For the first time in its five-year history, the national veteran and Gold Star organization Special Liberty Project, which expanded here in September, completed an onsite Vitality Retreat on its own property.
This weekend's event launched the organization's new monthly healing, nature-centric program specifically designed for Gold Star Widows at its Farm and Retreat Center in Franklin.
Six attendees, whose husbands gave the ultimate sacrifice while on active duty, travelled across the state to focus on renewing their own much-needed, personal mental and physical health after the death of their spouses.
"The retreat was emotional because of the struggles these courageous ladies face in the absence of their husbands who died as a result of their service to our nation. Yet, it was all so rewarding because these women got to be the focus of healing attention which is rare for single mothers and widows," said Jessica Merritt, SLP co-founder and chief executive officer. "Each served their country too and we're so thankful to be able to bring some relief and revitalization to their lives."
Special Liberty Project expanded to the Western North Carolina area by moving its headquarters from San Diego. Over the past six months, local volunteers joined the family of Jessica and Cory Merritt to build "glamping" style tents and platforms, an outdoor shower, clear hiking paths and prepare pastures for SLP's Healing with Horses Program.
SLP depends upon donations from individuals and businesses to provide its free services. This weekend's retreat was sponsored by Franklin business leader Fred Drexler and his company Sulky. Combined with peer support, attendees enjoy four days and three nights of nature-centric activities such as hiking, journaling, pottery and sewing workshops, herbal remedies, yoga and more. Room and board during the retreats are offered at no charge for Gold Star Families.
"To meet a group of women who share a tragedy and feel each other's pain is an overwhelming, but satisfying experience," said Crystal Cochran, a Sylva resident whose husband died on active duty. "The retreat gave us one-on-one opportunities to share our stories, grief, and happiness while finding peace, being in nature and enjoying activities to promote the healing process. Whether it's been five months or 20 years, grief is something you deal with differently at each stage in life. When I left, I felt refreshed, renewed, and ready to come back to everyday life as I know it."
With more than 60 military bases in the surrounding six-state region, a VA clinic in Franklin and medical center in Asheville, and families reaching out from all over the country, Special Liberty Project expects the need for its services to grow.
SLP is currently the only non-profit serving the entire veteran family - Gold Star Parents, Spouses and Children, Veteran Suicide Surviving Spouses and Healing Veterans. The Farm and Retreat Center in Franklin allows the organization to serve the veteran family in one location.
Founded in 2016, Special Liberty Project serves Gold Star Families, Healing Veterans and family survivors of Active Duty and Veteran suicides at its locations in North Carolina, Southern California and Arizona. SLP's nature-based programs and experiences provide therapeutic healing, peer support and skill development. The combination of environment, nurturing programs and fellowship helps each cope with the struggles of losing a family member or with wounds from service. Veterans also regain the much-needed camaraderie they miss most from their time in the military. SLP is a 501c(3) non-profit organization. Visit speciallibertyproject.org.