Archived News
Former SCC Trustee receives state's honor
Wednesday, April 14, 2021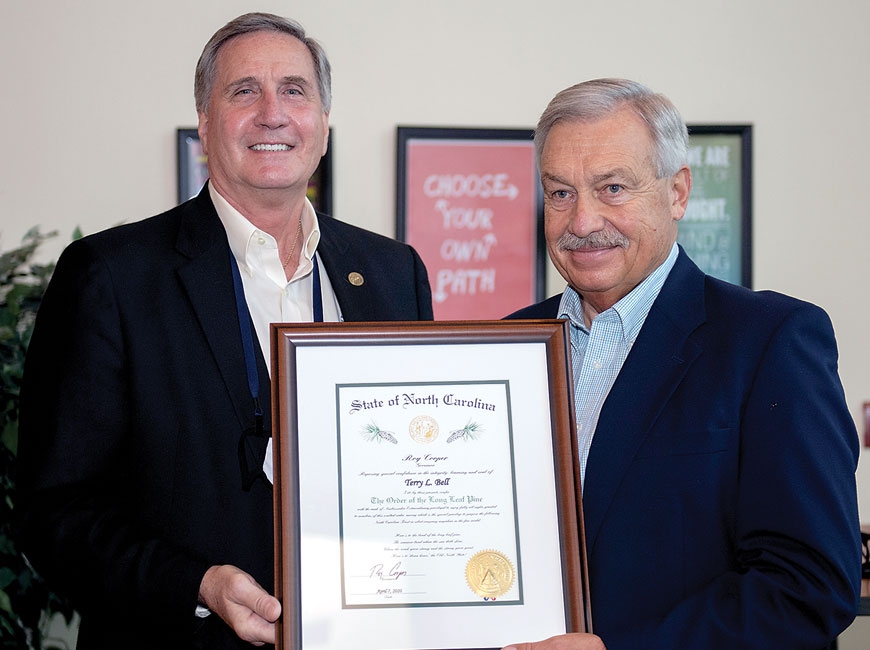 Terry Bell (right) receives The Order of the Long Leaf Pine from SCC President Dr. Don Tomas.
The Order of the Long Leaf Pine is the highest award the state of North Carolina can bestow upon an individual. It is awarded to individuals who have shown extraordinary service to the state.
Nominated by Southwestern Community College President Dr. Don Tomas, Macon County native Terry Bell received the award on Wednesday, March 31, at the SCC Macon Campus.
"It's a privilege and an honor to present this award," said Dr. Tomas. "Not everybody can achieve this level of recognition from the state. Mr. Bell has humbly left a lasting legacy of service to the residents of western North Carolina."
Bell worked for almost 50 years as an instructor at Haywood and Macon County schools, a principal at three different schools and an assistant principal at Franklin High School. After retiring in 2009 as Chief Operations Officer for the Macon County School System, he has continued to work in a special consultant capacity as Director of Human Resources at Macon County Schools until his recent retirement from that position.
Dedicating his career to education and public service, Bell graduated from Southwestern Community College's Emergency Medical Technology program, giving him the opportunity to serve as an emergency medical technician and volunteer firefighter in Macon County. He also worked as Project Manager to help the county construct new schools and renovate existing buildings.
"He has impacted thousands of Western North Carolina students and families, and he continues to do that," said SCC chairman of the board Lambert Wilson. "He's definitely one of a kind."
From 1995 to 2019, Bell served on SCC's Board of Trustees — the last seven as chair.
Through his service, Bell has made a lasting impression for generations to come.