Archived Arts & Entertainment
Rowdy heart, broken wing: A conversation with Drew Holcomb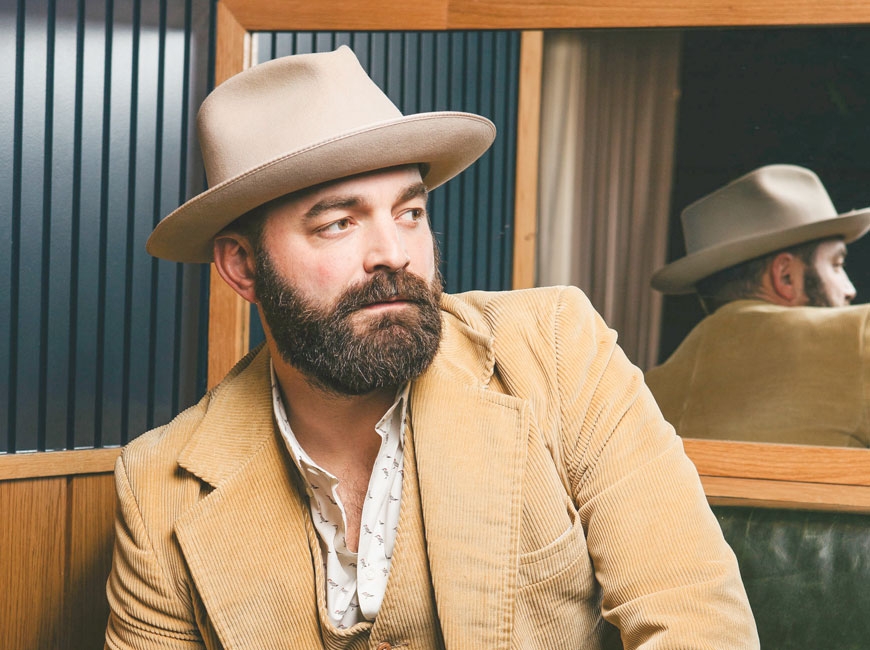 Drew Holcomb.
If there ever was a 21st century musical ambassador for the state of Tennessee, it would be Drew Holcomb.
Born in Memphis. Attended college in Knoxville. Lives in Nashville. And puts on an annual festival in Chattanooga with his band.
Recently celebrating 15 years together, Drew Holcomb & The Neighbors have emerged as one of the cornerstone Americana/roots acts currently pushing its way into the mainstream — the result of endless cross-country tours, never-ending miles along the hard pavement of life on the road as an artist in pursuit of long-held dreams.
Holcomb has immersed himself in the waters of the Delta blues and stood in the depths of the country/folk sounds of the Great Smoky Mountains. He's a melodic sponge, always observing and absorbing his surroundings — phrases and tones meandering within his magnetic being, ultimately radiating from his uplifting voice and fingertips rolling along the fretboard.
Smoky Mountain News: Are you mulling over song ideas, then you sit down and crank them out, or are you constantly just inspired and keeping a piece of paper nearby?
Drew Holcomb: With kids, I do have to often block time for writing, but I'm always collecting thoughts and phrases on my phone, whether it's voice memos or notes and writing down things, singing something into the phone.
And then I keep a journal of phrases I'll sometimes pull out or buy a newspaper and read through it [for inspiration], all these writing exercises with words and phrases that I like.
So, it's this mixture of hard work and inspiration — you kind of have to always be paying attention. But, then for me, I actually make it happen. I've got to go block the time to pick those bones and put some meat on them.
SMN: Whether you're a writer like myself or a musician like yourself, when you're younger you think you have to wait for the lightning or chase the lightning, but you can actually conjure it when you get older.
DH: That's right. Exactly. You learn to [discover] and find great delight in yourself [and your past experiences to dig through for songs].
SMN: When you think about those early days of the band, when y'all just graduated from college in Knoxville, starting to hit the road and play shows, what really sticks out vividly?
DH: Oh man, the thing that I think about those early years is just how much we worked. I mean, I was playing 200 shows a year. About half of them were solo acoustic shows all over the country, coffee shops and college towns. The other half were shows with the band.
We were hustling. We were playing every [place] that would have us in. And only [about] one out of every five shows felt like we were actually making any fans. A lot of times it was just people at the bar, nobody really paying any attention.
So, when I look back on those days, I'm proud of them. But, I'm glad they're over, you know what I mean? [Laughs]. It's much more fun to make music when you have fans that already know your music, than is when you're trying to make fans that don't know your music.
Probably around 2010, I put out this song "Live Forever." Five years earlier, this producer told me, "Once you write the right song, it'll do a lot of work for you." I didn't really understand what he meant until that happened for me when I put that song out.
Next thing you know, our crowd sizes we're going from 50 to 80 people to more [than] 200 people. And they all knew the words to that song. It was a bellwether moment for us. We knew that we were onto something.
At the time, we were borrowing friends' cars to travel around the country because we didn't have money to afford our own, our minivan had broken down. Then, ["Live Forever"] got picked in the TV show "Parenthood." They paid us pretty well for it and it was enough to go buy a used touring van. That's the moment where we really accelerated our touring, accelerated our writing and recording because we kind of had a little bit of wind at our back.
SMN: Talking with you now, it seems like that humble nature has never left you.
DH: No, I definitely remember where I came from. I don't take much for granted. It took us so long to get our footing. Honestly, I got into music because it meant a lot to me as a fan, and I wanted to do the same — make music that helped other people sort of tell their own stories and understand their own lives, the way that music had done for me. I've tried to never let that get away from me.
SMN: When you look at how distracted, chaotic and fast-paced the world is today, what is the role of the songwriter amid that noise?
DH: I'd like to think that's part of our job — to slow people down. That's why I love the [live] show so much because people sort of block off this time to go sit and listen to music, to live it.
The songwriter's job is to tell the truth as they see it, to tell good stories, try to make something good, make something valuable — a good song always stands the test of time.
Want to go?
Drew Holcomb & The Neighbors will perform at the inaugural Bear Shadow Music Festival, which will take place April 23-25 in Highlands.
Other headliners will include Mandolin Orange, St. Paul & The Broken Bones, Chuck Leavell, The War & Treaty, Jamestown Revival, Robert Ellis, and more. There will also be a wide-array of music-related activities, fine dining and outdoor recreation opportunities throughout the weekend.
All Covid-19 safety protocols will be followed and enforced. For more information, a full schedule of performances and events and/or to purchase tickets, click on www.bearshadownc.com.