Archived Reading Room
It's National Poetry Month: Join the party!
Wednesday, April 07, 2021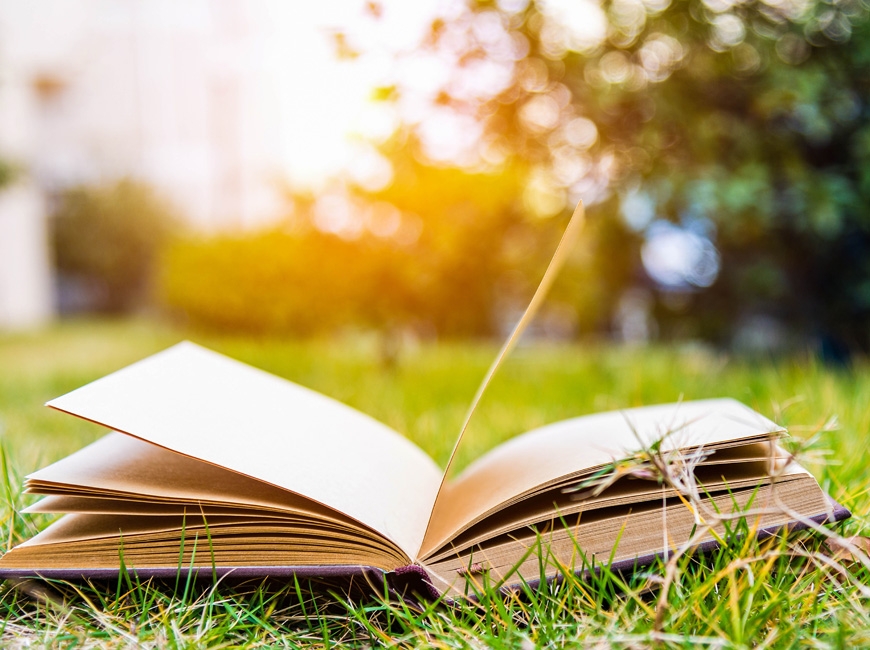 Time to party, everyone!
April is here, and along with warmer weather, blossoms and flowers, and grass grown green, April is National Poetry Month, and this year marks the 25th anniversary of this celebration.
Dreamed up by the Academy of American Poets back in 1996, this literary fest is now the largest in the world, involving millions of students and teachers, booksellers and publishers, and of course, poets. The Academy offers all sorts of resources and activities: virtual learning for the classroom, a poem delivered daily to your email, a Poetry and Creative Mind Gala on April 29, and other helps to bring readers and poetry together.
Although poetry has made a bit of a comeback in recent years, the majority of American adults report that they never read verse. Of course, they listen to it in music, and most parents of small children surely read nursery rhymes to their children, but they rarely read poems aimed at older men and women.
Doubtless, there are reasons for this neglect. Perhaps back in their high school literature classes they disliked the selections found in their textbooks or the way the teachers presented the material. Perhaps they've tried reading poems that made no sense to them or left them cold. More likely, the idea of reading poetry has simply never occurred to them.
I've had students and adults tell me they don't like poetry, but what they really mean is they don't like certain poems and poets. How could anyone dislike an entire realm of literature, a vast kingdom stretching from the ancient world up to our own time? Who could not find Robert Service's "The Cremation of Sam McGee" funny or laugh aloud at some of the verbal antics of poet Shel Silverstein? Who might not be moved by some of Emily Dickinson's verses, or those of Dylan Thomas, or certain poems by Langston Hughes?
To those who this April may want to give poetry a try, here are some pointers.
First, I recommend starting with short pieces, like "Dreams" by Langston Hughes:
Hold fast to dreams
For if dreams die
Life is a broken-winged bird
That cannot fly.
Hold fast to dreams
For when dreams go
Life is a barren field
Frozen with snow.
Here's another short one, Edwin Markham's "Preparedness,' which is a particular favorite of mine:
For all your days prepare,
And meet them ever alike:
When you are the anvil, bear—
When you are the hammer, strike.
Style is another consideration. Perhaps you prefer verse with rhythm and rhyme, as I do, to free verse. Perhaps you prefer the formality of a sonnet to the looser verse of a Walt Whitman or a Mary Oliver. Poetry is a promenade with as many styles as there are poets, and we can all surely find some in this vast choir of voices whose songs appeal to us. My own tastes are all over the board; I like the rollicking verses of Rudyard Kipling, the blank verse of Tennyson, the use of imagery by T.S. Eliot in so many of his pieces.
Finally, like literature written for the stage, poets mean their work to be read aloud and performed. They write for the ear as well as for the eye, perhaps even more so, and for the tongue as well. They want us to hear and taste their words instead of seeing them only as objects on a piece of paper.
We can bring those words to life when we read poetry to our young people. Nursery rhymes, historical pieces like "The Midnight Ride of Paul Revere" or "The Charge of the Light Brigade," humorous poems like "I Never Saw a Purple Cow" or Lewis Carroll's "Jabberwocky:" we can make these readings fun and memorable by going a bit overboard, becoming amateur actors enthusiastically adding sparks and pizzazz to the poems.
That verse becomes more powerful when read aloud can be seen in numerous offerings online. There we can listen, for example to Johnny Cash reading "The Cremation of Sam McGee" or to some of the various readers of Kipling's " The God of the Copybook Headings." There, too, we can find poets of the last 100 years reading from their own work: Robert Frost, Edna St. Vincent Millay, even an old wax recording done by Walt Whitman.
Some may still wonder: Why read poetry at all?
Well, there are many reasons: amusement, edification, a love of the tumble and whir of words and lines. But a central reason to acquaint ourselves with this ancient art form has to do with our humanity. Poetry broadens and deepens our hearts and souls.
In the movie "Dead Poets Society," literature teacher Mr. Keating (Robin Williams) orders his students to "huddle up" in the classroom, kneels among them, and gives them these words of wisdom: "We don't read and write poetry because it's cute. We read and write poetry because we are members of the human race. And the human race is filled with passion. Medicine, law, business, engineering — these are noble pursuits and necessary to sustain life. But poetry, beauty, romance, love: these are what we stay alive for."
Mr. Keating nails it. Try some poetry this month, some food for the soul. After the events of this past year, heaven knows we can use all the nourishment we can get.
(Jeff Minick reviews books and has written four of his own: two novels, Amanda Bell and Dust On Their Wings, and two works of nonfiction, Learning As I Go and Movies Make the Man. This email address is being protected from spambots. You need JavaScript enabled to view it.)