Archived News
The facts on the vax: Survey shows widespread support for COVID-19 vaccination
Wednesday, April 07, 2021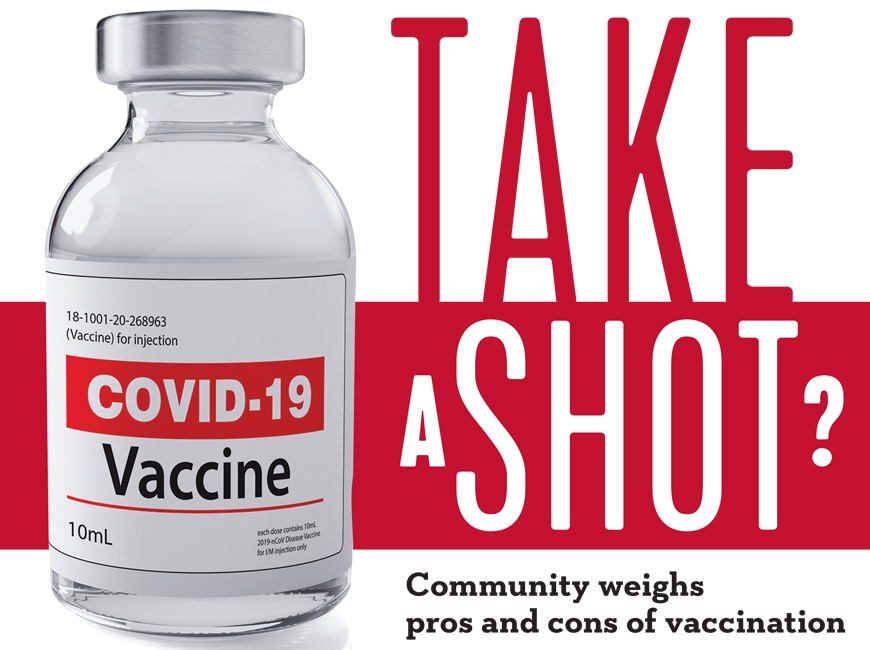 More than 80 percent of Smoky Mountain News readers have already received at least one dose of the COVID-19 vaccine, and less than 10 percent say they'll refuse altogether, according to the results of an unscientific survey conducted by SMN from March 24 through March 31 of this year.
The SMN survey was distributed through The SMN Xtra — The Smoky Mountain News' free weekly email newsletter — and promoted on Facebook as well.
The 376 people who responded to the SMN survey ranged from 19 to 86 years of age, with an average age of 55.9 years. Women made up 77 percent of the group, with one person identifying as non-binary.
Together, they all paint a picture of a population that widely supports the massive, ongoing vaccination efforts currently underway across the nation.
Of the group, 319 people (84.8 percent) said they'd already received at least one dose, but many who left comments said they'd already received two shots, if necessary — the Johnson & Johnson vaccine requires just one.
Out of the 57 people (15.2 percent) who said they hadn't yet received any doses, 23 percent said they'd get it as soon as possible, and 28 percent said they'd get it "eventually." Comments left by respondents on this question indicated wait times of anywhere from two months to two years.
But nearly half of those who hadn't received any doses said they never would, citing concerns over a rushed rollout, lack of data on long-term side effects, religious convictions or even big-government conspiracy theories.
The survey also asked readers how close the virus had come to affecting them and their loved ones. Only 7.8 percent of respondents reported contracting COVID-19 themselves, while more than 37 percent said that either they or someone close to them became seriously ill from the virus.
The unscientific results collected by SMN show a slightly better outlook than a scientific national survey conducted by the Kaiser Family Foundation during the same time period, when 32 percent of those surveyed said they'd already received at least one dose, and 13 percent said they'd never agree to receive one of the four commercially available vaccines.
That survey, however, conducted a much more granular analysis of the issue of vaccine hesitancy. While 32 percent said they'd already received at least one dose, another 30 percent said they would get it as soon as possible and another 17 percent said they'd wait and see.
A further 7 percent said they'd get it only if required, and 13 percent said "definitely not."
As far as adoption, the older a person is, the more likely they appear to want the vaccine, and get it if they don't have it. Conversely, the younger a person is, the more likely they will only get it if required or will refuse altogether.
On a similar note, 79 percent of Democrats say they've been vaccinated or want to be, with 57 percent of independents and 46 percent of Republicans in agreement.
Just 5 percent of Democrats say they'll never get it, compared to 9 percent of independents and 29 percent of Republicans.
Men and women across all demographics were nearly identical in their thoughts on vaccination, but perhaps the biggest disparity of opinion on vaccination preference is reflected in educational achievement.
More than 70 percent of college graduates said they had been or wanted to be vaccinated, compared to 57 percent of people with an education level described as high school or less. A full 16 percent of high-school level respondents said they'd never get the vaccine, while 10 percent of college graduates said the same.
Based on the results of both the Kaiser and SMN survey, this week we'll explore the topic of vaccine hesitancy through a series of stories that seeks to understand why people are choosing (or not choosing) to become vaccinated against a virus that to date has killed 2.9 million people across the world, including 570,000 Americans and more than 12,000 North Carolinians.