Archived News
Vaccine hesitancy could impact employers, employees
Wednesday, April 07, 2021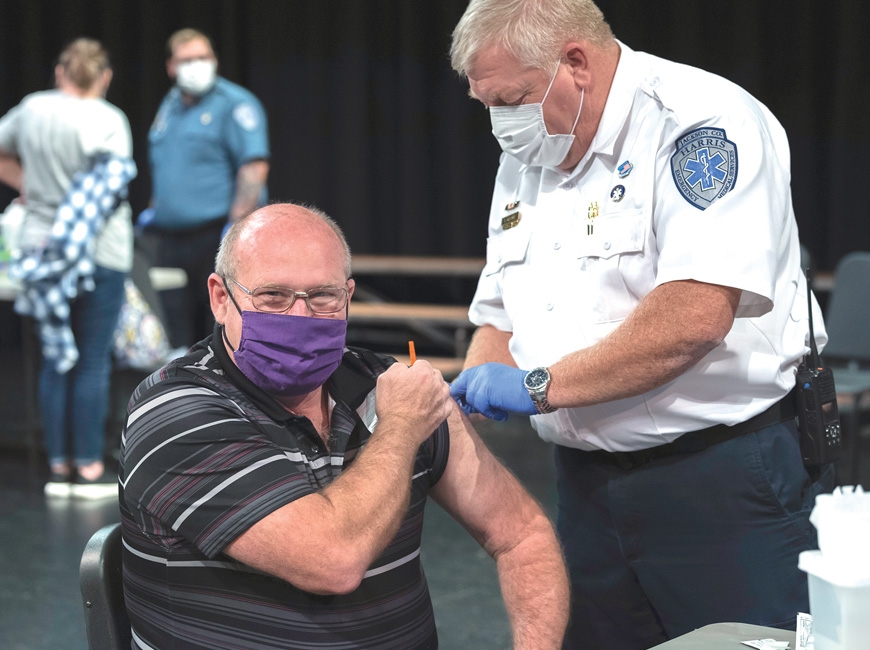 EMS Supervisor Toby Moore vaccinates Mike Taylor during a January clinic for employees of Jackson County Public Schools. David Profitt/JCPS photo
The last time Americans lived through a global pandemic, the field of employment law wasn't nearly as developed as it is today. That's led to an overwhelming number of unanswered questions surrounding the rights and obligations of both employers and employees when considering the massive COVID-19 vaccination effort currently underway.
"Oh, it's been 24/7," said Jonathan W. Yarbrough, a partner in the Asheville office of Constangy, Brooks, Smith & Prophete who has practiced employment law for almost 30 years. "I told somebody the other day, I can't wait for a week where my time sheet doesn't have 'COVID' written on it."
In North Carolina, a number of statutes make it illegal for employers to discriminate on the basis of age, disability, sex, race, religion, color, national origin, or HIV status, but there are no such protections for people who are unable or unwilling to be vaccinated against COVID-19, which begs the question — can you be fired for being unvaccinated?
"That's a big maybe," Yarbrough said. "I'd love to give you a bright-line 'yes' or 'no' answer, but it's really a 'maybe.'"
According to Yarbrough, an employer could require that employees receive the vaccine, but the employer would need to consider a few issues first.
One issue is if the employee has any medical issues rising to the level of a disability under the Americans with Disabilities Act that would preclude them from being vaccinated. Unlike the medical exception for the mask mandate, which needn't be proven, an employee asserting a medical exemption for the COVID vaccine would essentially need to prove that they've been diagnosed with a condition that makes vaccination inadvisable.
Another issue is if the employee has a religious belief that would prevent vaccination. Almost no mainstream religions currently practiced in the United States expressly prohibit vaccines, but in the workplace, it's a much thornier issue.
"For the religious piece, I tell folks all the time, there's no law book I can look at and go, 'Yep, it's OK, you're a Baptist, you're a Muslim, you're Jewish or you're whatever,'" Yarbrough said. "Religion under the law is any sincerely held religious, ethical or moral belief. It's often very hard to challenge an employee's religious beliefs."
A third consideration is pregnancy. According to the U.S. Centers for Disease Control and Prevention, there's still limited data on the safety of the COVID-19 vaccines for women who are pregnant, but experts don't think they pose a specific risk and testing on animals has shown no issues with the Moderna, Pfizer-BioNTech, or Johnson & Johnson vaccines.
"Absent a religious belief, absent a medical condition and maybe pregnancy — although the medical data seems to indicate that pregnant females can get the shot, so — absent religion or a disability, if the employee doesn't get the shot and the employer mandates it, then yes, the employer could terminate the employee," Yarbrough said.
As widespread vaccination continues, emerging data on vaccine hesitancy says that there will always be a certain number of people who will refuse the COVID-19 vaccine, for whatever reason. A poll conducted by the Kaiser Health Foundation in March suggests that number is around 13 percent. A Smoky Mountain News survey (See SURVEY, p. 6) puts that number at around 7.5 percent.
With the unvaccinated at least somewhat immune to workplace retaliation, Yarborough also gets questions about the rights of vaccinated employees who feel that their unvaccinated co-workers make the workplace less safe.
Generally, if an employee quits citing intolerable working conditions due to the presence of unvaccinated individuals, they may be able to collect unemployment benefits, but they may not be able to sue their employer.
"I have actually had some situations where the employer has been put in a pickle because they have a highly skilled position, mainly in more rural parts of Western North Carolina, where you don't have a huge applicant pool with the skillset necessary for the work. The employees there basically thought [COVID-19] was kind of a joke. Nobody was social distancing, nobody was wearing masks," said Yarbrough. "Despite the employer's effort to enforce the policies, they didn't want people to quit because they needed to keep running the business and couldn't replace employees if they quit, or it would take a while to replace them. Now, if an employee in that situation says, 'These folks are not doing anything to protect me' and quits, I think that person would probably get unemployment benefits in that circumstance, but could they sue the employer? Probably not."
Thanks to a limited immunity statute enacted last summer, employees also can't sue their employer if they somehow contract COVID-19 and believe it happened in the workplace.
Questions about COVID in the workplace will continue to pop up as the pandemic continues to evolve, but all in all, Yarbrough thinks the state is prepared to handle them, as they arise.
"North Carolina has a fairly robust statutory scheme that gives guidance to employers and protects employees. I don't know that there's anything we're not necessarily doing that we should be," he said. "I think we need to focus more on education and incentivizing employees to get the vaccine. If we're not going to mandate vaccination in North Carolina, we need to really, really push them as hard as we can. But as far as workplace safety and employment law, we do have a pretty robust system of statutory and case law here in North Carolina."