Archived News
More COVID-19 survey respondent comments
Wednesday, April 07, 2021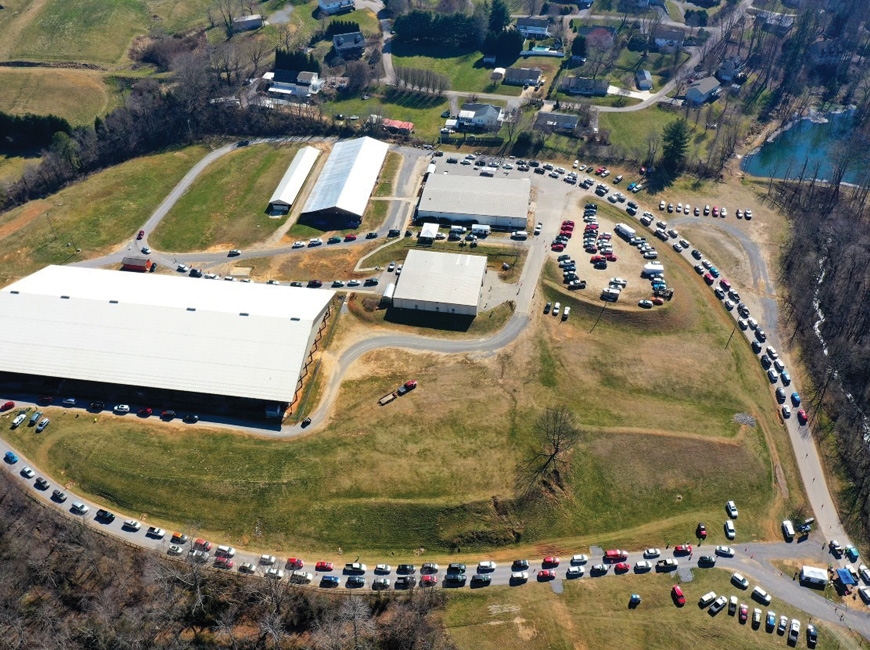 An aerial shot shows the massive COVID-19 vaccination clinic happening at the Smoky Mountain Event Center in Haywood County. File photo
Kudos in order
We have had great vaccine service in Jackson County with the Health Department and WCU providing clinics.
The Haywood County Health Dept. has done a fine job of scheduling and administering shots. I especially appreciate Dr. Jaben's video updates.
I want to congratulate Macon County for how well they are organized with giving the vaccine.
Happy to be vaccinated
I do support a right to choose to get the vaccine or not but strongly urge all that are able, to get it. I really want to hug my Mom on Mother's Day!!
I am very grateful for the shots that are available to us to prevent COVID. HCHD has a smooth-running plan in place to deliver the shots, which was nice! We are delighted to get to see our three grandsons in a couple of weeks. It's been 18 months she we've had sweet hugs!!!!
It was such a weight off my shoulders to get my vaccinations. Knowing I had done everything I could to protect myself in order to continue to care for and support family members who depend on me, meant everything to me.
Looking forward to hugging my parents, it's been over a year since I was last able to.
Being an only child and the primary caregiver for my mother who has moderate Alzheimer's disease, my family and I have been diligent about the steps we have taken to stay healthy and well. If I were to become ill, then there would be no one readily available to help with the care of my mother. We have consistently been wearing masks, limiting our trips to the grocery store/shopping, and have not physically eaten in a restaurant in over a year (we have picked up takeout). I am also an instructor in an allied health program, so I am fully aware of the benefits of taking all the necessary precautions to protect myself as well as others.
Get the vaccine! It will prevent a horrible disease. And they need to quit showing people getting vaccinated with that really long needle! I literally did not feel the vaccination.
I wasn't going to until my aunt died of it at Christmas and my uncle is still in bad shape. That scared me.
This virus is real. Doesn't matter how it got here. The fact is we need to get rid of it. One death is too many, especially when we have the power to stop the spread.
Covid has lasting side effects, vaccine side effects over in a couple days. Faith over fear ... have faith not fear of vaccine.
After taking care of many people that became very ill and died, I became very sick too. It's our personal responsibility to be vaccinated to protect ourselves and anyone we have contact with.
I did not sign up for my vaccination immediately even though I am 77, because I do not have any underlying health issues and I live in the country. Many of my friends of the same age were one to three weeks ahead of me in getting vaccinated. I felt there were others who needed the vaccination before I did.
Vaccine hesitant
It is sad these days that we as a society have gotten so far from our Source that we would even consider the injection of a toxic cocktail as being healthy. And strong opinions and popularity aside, how is it that ANYONE can suggest another person participate without honestly knowing what the long-term effects are? Sorry but just being told something like this is safe ain't cuttin' it for me and mine.
Any medical procedure that carries a known risk should always be a choice and not forced.
I'm very concerned and scared of the virus but equally concerned and scared about any long-term effects from vaccine. It's still not FDA-approved, only approved for emergency use. That's what scares me.
It's very annoying how people who have gotten the vaccination act like they are better and smarter than those of us who are not getting vaccinated.
I have never feared contracting COVID-19 in fear of me getting sick. I took precautions to keep vulnerable people in my family protected and so I could keep on working and not be a burden on my co-workers.
Science states there is very little data for pregnancy and nursing moms. It is also very disturbing to me the reactions people I know have had to the vaccine such as full body itching, fatigue and anxiety.
I have medical friends who teach in countries abroad that warn against certain types of folk from vaccines, but America is like, 'everyone take it and let science sort 'em out.'
Just concerned that pharmaceutical companies cut corners in the making of the vaccine.