Archived News
A woman with vision: Barbara McRae leaves her mark on Macon County
Wednesday, April 07, 2021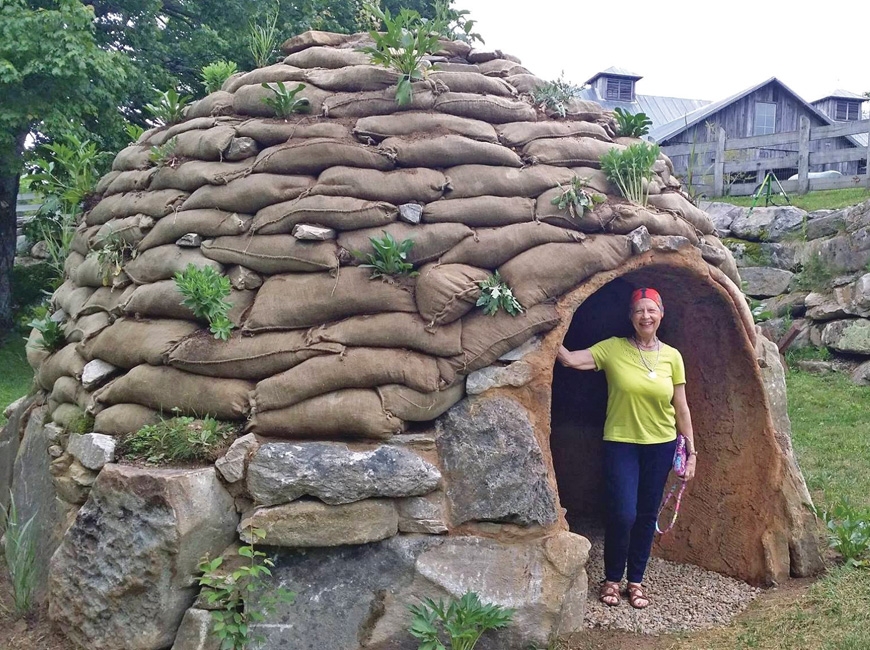 Barbara Mcrae stands in the doorway of one of a sculpture at The Bascom in Highlands. Donated photo
Barbara McRae loved history — learning about it, sharing it with others and making it herself.
The long-time community organizer lost a long battle with cancer on March 2, but the projects she set in motion in Macon County will live on for generations to come, including the Macon County Women's History Trail and the Nikwasi Initiative, both of which were created to preserve parts of Appalachian history that have gone untold for generations.
"Franklin and Macon County will continue to be better because of Barbara's life and work here. Barbara will be remembered by many, many people as a gifted journalist and historian, an amazing naturalist and a true force for women's history," said Mary Polanski, a dear friend of Barbara's and one that was by her side in her final days. "We will remember her smile, dry humor, unending curiosity, and her drive to do the right thing, always."
McRae was not a Macon County native, but she probably knew more about Macon County history than most. She made it a point through her newspaper columns and personal passion projects to bring the county's history to life and make it relevant to today.
"Barbara brought our local history to light. She never let us forget who we are and what life was like to shape us. Yet she was not a native. I certainly believe she is now qualified as one," said Franklin Mayor Bob Scott.
McRae grew up in a military family that moved around often. She graduated from St. Louis University with a biology degree but went to work for IBM as a systems engineer in Atlanta, Georgia, during the 1960s.
She married an artist, Jim McRae, and together they chose Franklin as their home in 1973. She worked for The Franklin Press as a reporter and then for Nantahala Power & Light/Duke Power in corporate communications/marketing. After retiring from Duke in 2003, she became editor of The Franklin Press, continuing in that position for 10 years before retiring again.
Retirement didn't mean time off for McRae. She continued to be a community fixture with her regular columns in the Press and her tireless work on historic preservation projects, community redevelopment, revitalization and women's history. She was also elected to her first term on the Franklin Town Council in 2013 and was re-elected to a second term in 2017.
"I can say we lost an irreplaceable personality in our community. An irreplaceable positive presence. Barbara was a force for good in our world, still is actually, as the things she helped set into motion will continue to make our community better," said fellow Councilmember David Culpepper. "I overheard a person once say that Barbara was playing chess while everyone else was playing checkers. She recognized possibilities and advocated for future ideas before most folks realized what was happening in the present."
Indeed, McRae was always looking at the long game. When a plan didn't pan out, she didn't give up — she readjusted and came up with a new plan because she understood the importance of community buy-in if something was to be successful well into the future.
"Barbara was dedicated to Franklin and her role as vice mayor. She was active in attending classes and seminars on municipal government. She represented the Town in several groups including the Economic Development Commission," said Mayor Scott. "She was the founding voice in the Nikwasi Initiative. She was a leading authority on the Nikwasi Mound, the oldest human made structure in Franklin. If it was anything to do with history, Barbara was on the front row telling it."
Barbara McRae and Mary Polanski, co-chairs of the Women's History Trail, discuss the research that went into the project before it launched in 2018. Jessi Stone photo
McRae co-chaired the Nikwasi Initiative board of directors with Juanita Wilson, an enrolled member of the Eastern Band of Cherokee Indians. Along with Wilson and the rest of the board, McRae set out to do something no one else had been able to accomplish — getting the Nikwasi Mound out from under the town of Franklin's ownership.
Ownership over the native mound had been a source of contention for years between the town and the EBCI. The Cherokee people wanted the mound back under the tribe's ownership, but the town of Franklin and many Macon County residents believed it was the town's responsibility to care for the mound since it was deeded to Franklin back in 1947.
Despite strong feelings and arguments on both sides of the issue, McRae stood firm in her belief that the mound needed to be better preserved and promoted and that Nikwasi Initiative was in the best position to take care of it. Since the newly formed nonprofit had representatives from Franklin, Macon County, Cherokee and Mainspring Conservation Trust, the idea was that everyone's interests would be brought to the table.
After several contentious board meetings regarding the Nikwasi Mound deed transfer, town council voted unanimously to hand the deed over to Nikwasi Initiative in May 2019. With that historic decision, the Nikwaski Initiative has been moving forward with plans to place educational kiosks near the mound, develop a cultural corridor from the Georgia state line to the Qualla Boundary and redevelop the parcels surrounding the mound.
The current plan is to recreate the agrarian native community that once occupied the same land. The redevelopment includes a Cherokee-themed restaurant, farm stand, working garden, an apple orchard and educational center. The idea would not only be a tourism draw but it would create a variety of direct and indirect jobs and provide economic development opportunities on the eastside of Franklin.
Wilson said she's thankful for the six years she worked alongside McRae to realize the same vision for the future of Nikwasi.
"Knowledgeable, dedicated, are the words I hear most when others describe Barbara McRae," she said. "A delightfully devilish and creatively curious woman and forever coming up with ideas that would make you think, 'I wish I had thought of that!' I will wait to hear from her with every visit to the mound, and as I walk the apple orchards, which will soon be planted in her namesake."
Elaine Eisenbraun, executive director of Nikwasi Initiative, said it was only fitting that they name the heritage apple trail that's being designed on the greenway in Franklin after McRae.
"The beauty of Barbara is that she continues to shine. She had such a wise way of influencing good in all of us. Nikwasi Initiative has named the heritage apple trail that is being designed on the Greenway for her because it absolutely reflects her ability to embrace history, people, and nature all into one tight circle of positive action," she said. "Barbara's dreams will live on in her community. I think really, she was a spirit in all our hearts during her life and remains that bright spirit today. Whether you knew her for an hour or a decade, she added to your life."
McRae's other recent project would combine her passions for women's history, art and community redevelopment. A few years ago, Anne Hyder, chairwoman of the Folk Heritage Association of Macon County, said she received a call from McRae to go to lunch. At that gathering, McRae shared her thoughts about starting a Women's History Trail in Macon County under the association. Hyder agreed, and the WHT committee formed with McRae and Mary Polanski as co-chairs to start fundraising efforts.
The Women's History Trail is the first of its kind in the state of North Carolina — a walking trail throughout town with plaques to tell the untold stories of the women that helped make Macon County what it is today. While women's perspectives are often left out of the history books, McRae wanted to find a way to bring their contributions to the forefront.
"When I think of Barbara, I smile. I have known Barbara for many years and always knew when we gathered, I would learn something from her. She had knowledge of many things including plants, history of Macon County families, birds, and tidbits of knowledge that always inspired me. She always was a positive spirit that seemed to be contagious to others," Hyder said. "She will leave a void but will be a part of our community forever with all the wonderful projects and historical data she has given us. I will miss my friend very very much but feel so blessed to have had her friendship."
McRae co-chaired the WHT committee with her friend Mary Polanski. Based on the research McRae had done over the years, the committee started its work on putting together these powerful stories of women no one had yet heard of, including Arrah Belle Wilson Johnson — the first female publisher and editor of The Franklin Press.
Barbara McRae pictured out in nature with her camera in hand. Donated photo
McRae found out about Arrah Belle while trying to get her Franklin home listed on the National Register of Historic Places. The home once belonged to Arrah Belle, and McRae was disappointed when she was turned down for the historic designation.
"There were almost no women in journalism in the U.S. at that time (1930s) and even in 1987 only 5 percent were publishers, so she was way ahead of her time," McRae told The Smoky Mountain News in 2018. "They turned me down for the National Register because Arrah Belle was not in the Women in North Carolina book. Actually no women west of Asheville are in the book. Someone needs to write a WNC Women's History book, but that's another project."
That is what inspired her to put WNC women on the map with the history trail project, which was unveiled in October 2018. Hyder said the history trail project then evolved into the idea to install a public art piece to honor a few of Macon County's early influential females.
"The sculpture — 'Sowing the Seeds of the Future' that is being designed now — is due to Barbara's historical knowledge and hard work," Hyder said.
The design developed by sculptor Wesley Wofford shows three women of the time that represent three cultures that overlapped in Macon County — the African American woman named Salley, the Cherokee woman named Rebecca and the European settler woman named Timoxena.
"The hands of the women are touching, illustrating the sisterhood of women that transcends cultural divides. The details of each figure reflect specific historical elements of each woman's culture and the place in society each woman held. The sculpture is a metaphor for the evolution of modern society, a narrative about three very specific local women, as well as a history lesson with embedded historically accurate details including basketweaving and clothing," Wofford explains in his statement about the public art piece.
The 7-foot bronze statue, which costs more than $300,000 to commission, will be placed somewhere near the Nikwasi Mound when it is completed.
"There's a powerful story based on these three real women that knew each other and have connections to the Nikwasi Mound in Franklin," McRae said in a 2018 interview.
The committee is getting closer to their fundraising goal and is making payments on the sculpture as it moves through the process. Hyder recently came before the Macon County Board of Commissioners in March to request $15,000 worth of funding for the project to match the contribution from the town coffers. After explaining that the WHT owed $19,000 toward the sculpture immediately, the board approved funding $19,000 in honor of McRae's memory.
Polanski said McRae would always be her number one "shero."
"A true visionary, I believe there was never a time we shared that she did not tell me an idea that was percolating in her incredible mind. Her heart was full of love and hope for our community, and she made so many wonderful, positive things happen," she said.
"I am grateful to have known her and even more so that she left a trail for all to follow. She was an inspiration," said Kathryn Sellers, who is involved with the WHT project. "All her knowledge shared with us like the stars in the night sky; they show their splendor and enormity, direct our path and give us comfort. May we always look to the stars and be still, listening for the sweet voice in times of discernment."
The Franklin Town Council approved a proclamation Monday night in memory of McRae. As an influential writer, photographer, historian and naturalist, the proclamation recognizes her as a dedicated public servant to the town through her terms on the council but also her service to the Main Street Program, WHT, Nikwasi Initiative, Macon County Community Foundation, Macon County Arts Council, Macon County Library and other local organizations.
To honor McRae's memory, folks are encouraged to support one of her projects. Visit www.folkheritageassociation.org/womens-history-trail-franklin-nc to donate to the public art project or visit www.nikwasi-initiative.org to donate to Nikwasi Initiative's efforts.