Archived Arts & Entertainment
Just like the days: Papadosio celebrates milestone with Haywood drive-in show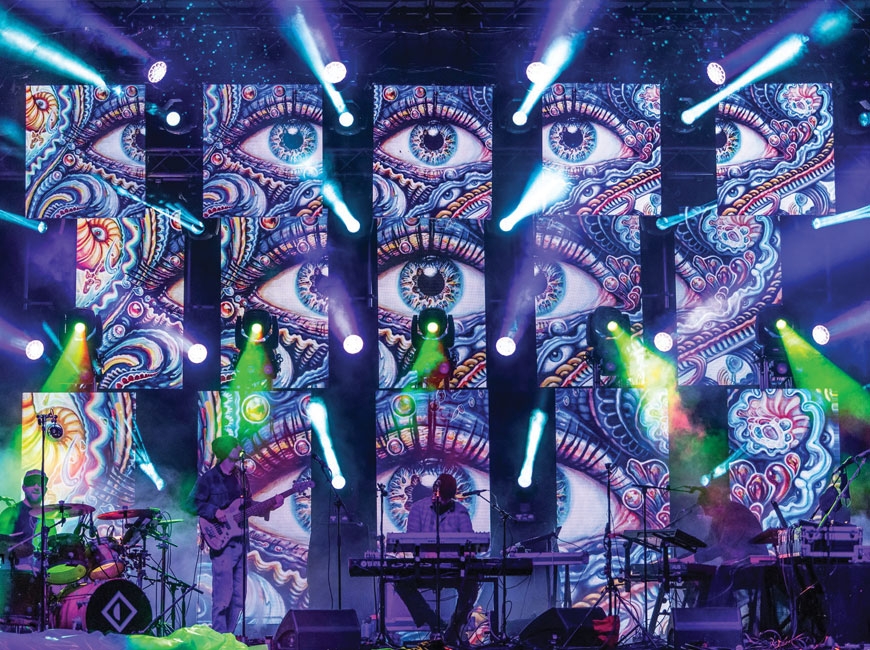 Papadosio.
In its 15 years together, Papadosio has remained on a steady, upward trajectory as one of the premier jam-bands currently roaming the innovative and ever-evolving live music scene.
Formed while college students in Ohio, the entire quintet pulled up its stakes those many years ago and headed for Western North Carolina on a whim. In search of fresh start, the ensemble eventually put down deep roots in Asheville, personally and professionally.
A heady blend of jam-rock and electronic-fusion, the melodies contain very intricate and free-flowing soundscapes, these sonic peaks and valleys that transform the listener (from wherever they're standing and whatever they're pondering) into new realms of thoughts and emotions, and interactions with others who seek new and ancient truths alike — especially in the midst of a live performance, something signature to the Papadosio brand of gyration and improvisation.
If anything, the band is a celebration of what it means to truly be alive and in the moment, to connect with strangers of the night who become lifelong friends, and what it feels like to chase after your dreams in real time — a deeply-held sentiment and long-term vision not lost on Papadosio keyboardist Billy Brouse.
Smoky Mountain News: When you look back — from the beginning to where you're at right now — what do you think about the idea of 15 years of touring, creating and wandering?
Billy Brouse: It sounds weird, but it does feel like yesterday. And when people say time is a flat circle, it feels like it's still happening. It's been so many years that it's hard to talk about.
It's hard to quantify how much we've done, because it never stopped until this [past] year [with the shutdown]. I'm grateful that we're able to do it for that long.
And I can't explain it to anyone [about] what that's like, unless they've done it. It's kind of like trying to explain how you felt at your summer camp when you were 10 — you went for the first time, and you didn't want to go home, but you did want to go home. You know what I mean?
It's this weird, magical place that only a few people have — and that's a cool bond to have. Looking back on it, it's this really action packed [thing], almost like a movie trailer in my mind of all the crazy stuff, all we've done and been through. And we're proud of that.
SMN: It feels like time is all one moment, you know? It's a combination of everything, just one big image of something.
BB: That's exactly what it is. It's all happened, all at once to me now. A lot of times when I think back, I can see really bright lights, which is kind of cool, but kind of confusing. It's been a big blinking, flashing stage all over the world pretty much.
SMN: What do you remember most from those early days? What really sticks out when you think about those first couple of years?
BB: I remember how gung-ho we were about it — no matter what the outcome.
Sometimes you tell people you're in a band and you're going to do this full-time, and they [don't seem to take you seriously]. And I would try to say, "No, this is what we're doing. You don't understand."
From the very beginning we were like that. You just go, you just live [that life of a musician] a hundred percent [to achieve your dreams] — there's nothing else happening.
In those early years, you have to do everything, even if it's playing at an Indian restaurant at 130 BPM (beats per minute), dance music to a crowd of people who didn't necessarily want to hear it. Or when we played St. Patrick's Day at this packed bar and they ran out of Jameson early into the show — that crowd was not stoked in that moment. [Laughs].
But, you know what? You're up there "doing it" now. Sometimes that made us new fans. And if it didn't, it definitely made us stronger because we have those moments where we remember what it was like in the beginning [to now playing to large, enthusiastic audiences].
SMN: It's one of those things where you, at some point early on, probably had a conversation with yourself — whether consciously or subconsciously — that hell or high water, this is what you're going to do. And everything else is just details.
BB: Oh yeah. We sat down and had that conversation. That's probably the only serious moment I had at college. I graduated from college, but that was the moment when we sat down and talked about [doing this] — it was more serious than any term paper I had.
I can't believe it, but we're still going. And there was never a question [that we wouldn't do this]. I never thought for a minute about [doing another job]. My brain doesn't work that way.
SMN: Persistence and determination makes all the difference. That's why you're still in the band 15 years later.
BB: Right. I've had plenty of people ask me, "What do you do when you go on tour?" And I'd tell them that it's a contest in being uncomfortable. And if you can be uncomfortable for 10 years — and sometimes it's longer — then it will pay off depending on how long you're uncomfortable and grinding it out. You're not delusional. You're going "after it." You just need a little bit of that [discomfort] and then it'll work out — you've just got to go after it, man.
Want to go?
Hosted by the Asheville Music Hall, the 2021 drive-in concert series will kick off with a special two-night performance by Papadosio (jam/fusion) at 6 p.m. April 9-10 at the Smoky Mountain Event Center (aka: Haywood County Fairgrounds) in Waynesville.
The show will celebrate not only the 15th anniversary of the inception of Papadosio, but also the 10th anniversary of the Asheville Music Hall.
One- and two-day car passes are now available for purchase. These performances will follow any and all local/state Covid-19 safety standards. All concerts adhere to social distancing protocols.
For more information on this show and others in the drive-in series (and to buy tickets), please go to www.ashevillemusichall.com and click on the "Live Music Calendar" tab.