Archived Arts & Entertainment
Interested in metal art?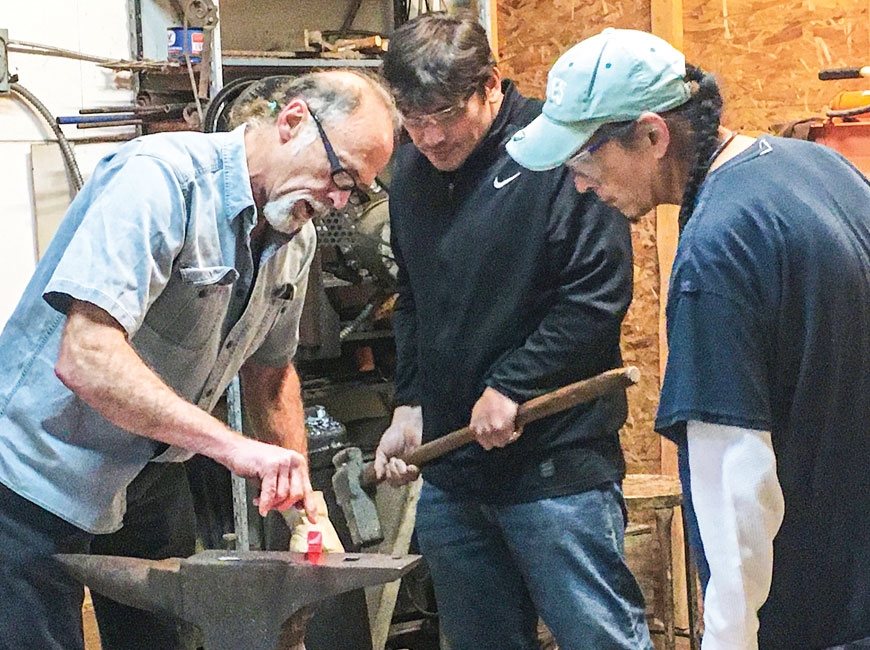 William Rogers (far left).
A new grant from the Center for Craft is supporting an effort to share traditional metal working techniques with the western North Carolina community.
The grant was awarded to William Rogers of Rogers Metals and two Eastern Band of Cherokee Indians enrolled members who have been working with him for the past six years.
James Wolfe, from Big Cove, and Snowbird resident Nathan Bush met Rogers when he was teaching hammered copper on the Qualla Boundary. Now both former students will have a chance to extend their own experience to teaching.
The grant provides funding for a series of introductory workshops available to the community at no cost. The three-hour workshop courses will begin in late April and extend through May.
Each workshop is open to anyone interested in learning more about hammered copper or blacksmithing. Class openings are limited due to COVID protocols. A prospective student will work one-on-one to learn techniques of working either copper or steel from Wolfe and Bush, who will teach at Rogers Metals studio in Cullowhee.
Class space is extremely limited and will be filled on a first-come/first-serve basis. To sign up for a class, contact This email address is being protected from spambots. You need JavaScript enabled to view it..