Archived News
'My place in life': Nursing student finds peace in COVID-19 response
Wednesday, March 17, 2021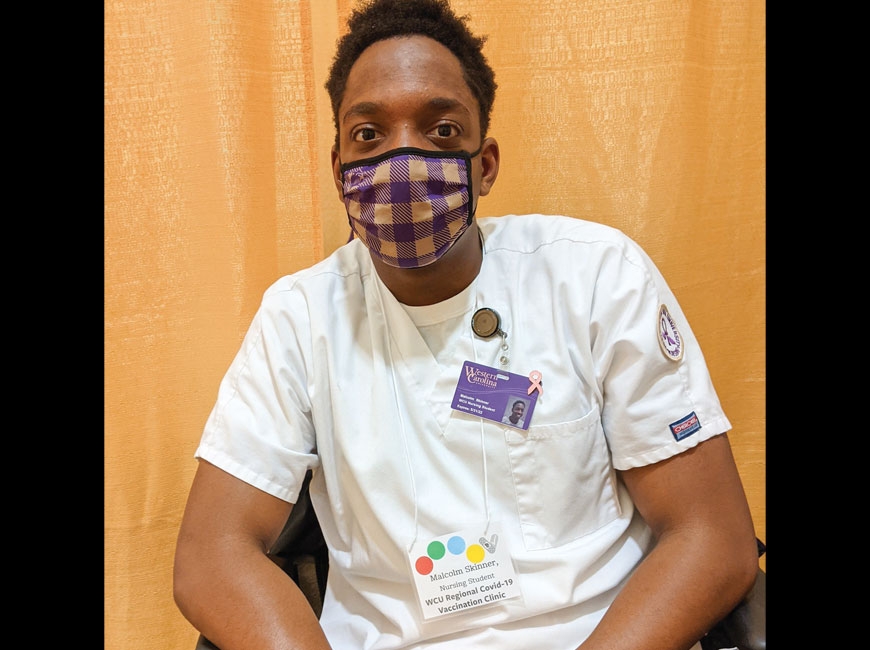 Malcolm Skinner, a nursing student at Western Carolina University, is getting hands-on experience in his chosen profession by working at the school's COVID-19 vaccine clinic. Holly Kays photo
For Malcom Skinner, the pandemic was not a pause, but rather a call to action.
"I've been trained up to this moment," he said.
Skinner, a junior nursing student at Western Carolina University, spoke while sitting in stall seven at the WCU vaccine clinic, located at the university's Health and Human Sciences Building. The picture of Catamount pride, he wore a gold-and-purple mask, purple scrub pants and a white scrub shirt, the golden curtains surrounding him separating his stall from the adjacent spaces where people from around the region were receiving their first Pfizer doses. Minutes earlier, he'd given me mine.
This was Skinner's second shift at the clinic, then in its third week, and when asked how it was going, his answer came quickly.
"It's amazing," he said. "I love it."
In many ways, the global vaccination effort now underway has given Skinner a built-in time to shine. But just like nearly every other college student in America, for him the pandemic began with an order to pack his bags, go home and start a Zoom account. Skinner was a sophomore in Spring 2020, and he'd just been accepted into the nursing program. He was excited to start moving toward his future, but instead he had to move back in with his parents in Huntersville.
"It was kind of stressful, because my mom, she had had breast cancer, so she was pretty immunocompromised," he said. "I had to stay safer at home."
Despite the risk, each day both his parents went to work in health care settings where there was always some chance they'd catch the virus. The unsaid "what-ifs" hung heavy around the home.
Now Skinner is back at school, and in keeping with the family tradition, he's back in the trenches as well.
"I always love reaching out to the community, and as a nurse that's my main priority, is how do we touch the community," he said. "This is the perfect example of it."
Even before COVID-19 and before his acceptance into the nursing program, Skinner sought out opportunities to serve. He's in the Honors College and participated in the program's Book Buddies volunteer project, taking time out of his day to go over to Smokey Mountain Elementary School and read books with the students.
But COVID-19 has accelerated the pace of Skinner's community involvement, and these experiences of getting out, helping patients and actually doing the job he's training to do have only confirmed his convictions. Skinner remembers the "sense of calmness" he felt earlier this year, while doing a clinical rotation at Harris Regional Hospital.
"I felt like this is my place in life, this is my calling in life, to help people get better," he said.