Archived News
Using humor, finding purpose during a pandemic
Wednesday, March 17, 2021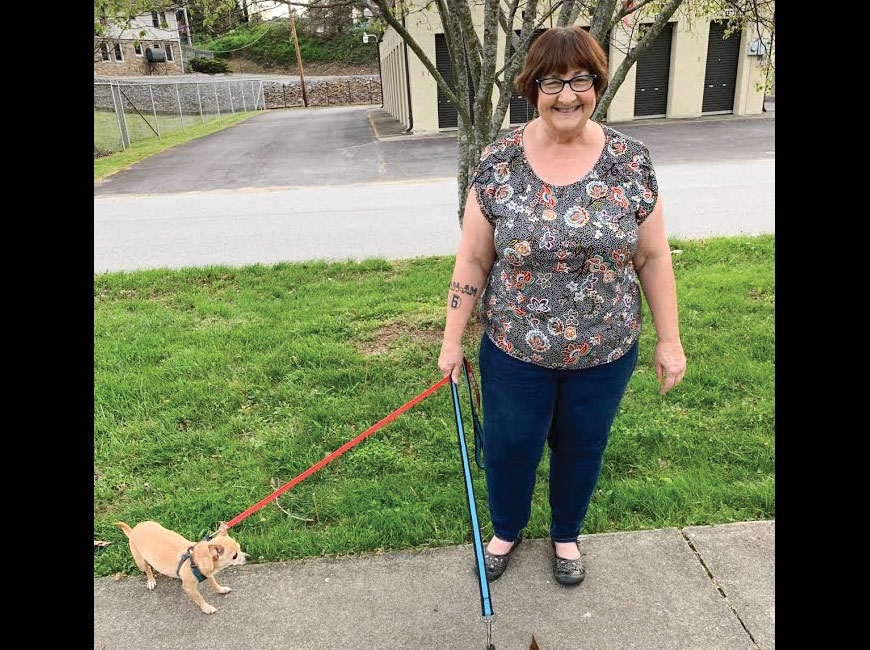 Virginia Wall of Waynesville walks her two dogs around the greenway. Donated photo
Many people in the high-risk category for COVID-19 began isolating themselves at home last March to wait out the pandemic, but not Virginia Wall.
Having spent her career as a child protective social worker, no one would have blamed her for staying safe at home until restrictions lifted, but that wasn't going to work for someone who thrives off helping others.
"I really did enjoy my work as a social worker and even after I retired from that I was a teaching social worker through the state of North Carolina," she said. "I guess I knew I wanted something where I wasn't sitting behind a desk all day. Something where I could move around and be involved with people."
Thinking back to the beginning of 2020, things were going well for Wall. She has lived in Waynesville for 20 years and is a dedicated Guardian ad Litem volunteer advocating for children in the court system and serves on the Women of Waynesville Board of Directors. She also continues to do contract work for Jackson County DSS.
"I started hearing about COVID in the news in January and by March it was starting to get scary," she said. "I worried because I'm in the older population and I didn't know if I got it how bad it would be. Would I end up in the hospital? Could I die from it?"
With the state placing restrictions on movement in North Carolina in March, no one knew what the future would bring. Wall's WOW meetings went virtual, GAL went virtual and court proceedings were put on hold. For Wall, it was a tough time not being able to hug her friends, not being able to physically check in on the child she represented or even enjoy an afternoon happy hour at her favorite downtown Waynesville spots.
"I would say the hardest thing for me has been going through some cycles where living alone is hard and it can be lonely, but I don't want to feel sorry for myself," she said. "Not gathering is hard. I want to meet with my WOW ladies and give everyone a hug."
In July 2020, Wall's 30-year-old daughter Mary was diagnosed with cancer — Hodgkin's lymphoma. She had to start chemotherapy in Greenville, South Carolina, and she had to do it alone because of strict hospital COVID-119 protocols. As a protective mother who wanted to be there for her daughter, it was difficult for Wall not to be by her side on those days.
"I was doing a lot of traveling to Greenville during all that. It was very hard. I would hold up signs at her window sometimes during her treatments and helped her at home. She couldn't do anything — anything she needed, we had to get for her," she said. "She's a different person now, but I guess we all are."
Mary's last chemo treatment was Dec. 15 and today she is cancer-free, her hair is growing back and so far she is showing amazing progress in her recovery, something Wall is so grateful for in the midst of so much chaos and loss during the pandemic. She's also grateful that she's continued to help people in need. For her, staying home during COVID wasn't an option.
I just couldn't make the decision to stop with what I'm doing as a volunteer if I'm taking all the precautions," she said. "Some of the Guardian ad Litems we haven't even seen in a year and they haven't contacted their children and I don't understand that. It's extremely important. I have two cases now because we're short on volunteers, but I can't do them justice if I take on anymore."
In recent months, she's been able to visit her cases at their homes — mostly outside and masked — to ensure she's keeping an eye on the children and their families. She's also been working closely with local women being assisted by WOW, whether that means taking someone to a doctor's appointment, the grocery store or simply taking a walk together to get some exercise and sunshine.
"It does me just as much good to get out so it's a reciprocatory relationship helping people," Wall said.
After receiving the second dose of the COVID-19 vaccine last Friday, she is relieved and feels like she can finally get back to some form of normalcy.
"Since I've gotten the shots, I'm much more confident to be around people and volunteer without all the anxiety about it. I'll still wear my mask and do what I need to do, but it lifted a lot of my anxiety," she said. "Mary was here visiting after my first shot and she started crying because she said she was so happy for me."
She's glad she got it and glad she didn't suffer any lingering side effects — something she said she just didn't have time for with her schedule.
"I'm tough and I said to myself I'm not going through all that," she joked.
Wall admits that the pandemic is probably the craziest thing she's experienced in her lifetime, but she's seeing the light at the end of the tunnel now and plans to carry an important lesson into the future.
"I guess I want to emphasize that you have to persevere. You can't just stop everything — you have to keep going if you're doing something you feel passionate about. You just have to find a way to make it work."