Archived News
Unusual COVID case wreaks havoc on Macon EMT
Wednesday, March 17, 2021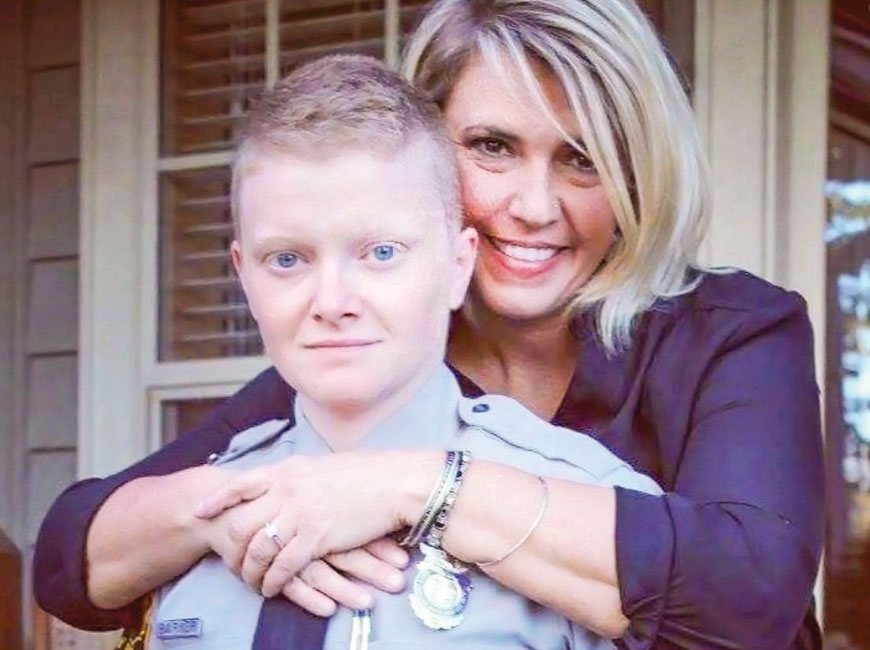 Macon County EMT Wendy Barker (left) and her wife Courtney, who is a state trooper, both contracted COVID-19 in January. Two months later, Barker is still working toward a slow recovery after unexpected symptoms. Donated photo
It's not easy to slow Wendy Barker down. She's been an EMT for 15 years. She's used to working 24 hour shifts under some of the most stressful and strenuous conditions, so she wasn't ready for COVID-19 to put her out of commission for more than six weeks.
"I work with EMS, I've seen it all — patients with muscle aches and problems breathing with COVID but this I didn't expect," she said.
She and her wife Courtney — a North Carolina State Trooper — both showed COVID-19 symptoms on Jan. 17 and went to get testing. Courtney tested positive but Barker's rapid test came back negative. They both quarantined anyway, assuming it was a false negative due to her cough and other symptoms.
In the following days, they both experienced fatigue, diarrhea, fever, no appetite and more coughing. Barker retested on Jan. 21 and the test was positive as they expected. The night of Jan. 22, Barker said a severe headache set in suddenly.
"It lasted probably 12 to 15 hours and it didn't come on gradually — it was the worst I've ever had. I took everything I could for it, but it didn't help," she said. "It felt like my neck wasn't strong enough to hold my head up."
Then the extreme neck pain set in — like big knots that couldn't get worked out. She sat with the pain for a couple of days hoping it would eventually subside with a couple of muscle relaxers, but the neck stiffness turned into nerve pain that shot down her shoulder and arm.
"The best way I can describe the pain is it was like someone had taken a hot metal rod and shoved it down my arm and started electrocuting me," Barker said. "My arm drew into my chest and it looked like I'd had a stroke."
When the pain was too much to bear and she hadn't slept in days, her wife convinced her to go to the emergency room.
"Health care providers make for the worst patients, but unfortunately I experienced the other side of health care," she admitted. "The ER doc was horrible and didn't want to do anything, just wanted to send me home with valium because he said I just needed to relax. I was in so much pain and a fog I couldn't even advocate for myself."
A nurse ended up advocating for her to get an X-ray, which showed there was nothing structurally wrong with her neck — no slipped or bulging discs or anything else that would cause such pain.
She went home, but the valium didn't help her sleep or ease the pain. She went back to the ER two days later for a CT scan that still showed nothing. They tried giving her a host of different drugs to help the pain and even prescribed her Lexapro for her anxiety, but still the pain continued to be unbearable.
"I had four babies, I've had kidney stones and shingles, but I've never had pain this severe before," Barker said. "They did an MRI, I've seen the anesthesiologist at the pain clinic, I tried chiropractic care, I'm doing physical therapy now. I've slept on the couch 21 days because I had to sleep sitting up. Finally, I had a neurologist that say to me 'this is what COVID did to your nerves.'"
Barker has known for 10 years she has had slow stenosis in her neck — a narrowing of the spaces in your spine. While she's never had any trouble with it before, it makes sense that the COVID virus would choose that weakness to target.
Now two months after her first symptoms, she still isn't able to be back working on an ambulance. It's been frustrating for a woman who is so used to caring for others and working all the time. She's tired, her brain has been letting her down and she's been impatient with her slow recovery.
"I'm taking six to eight medications four times a day with no relief. The thought that this was not ever going to stop — I've always felt like a mentally stable person, but — and then I think of those people who didn't have the support system that I had through this and how they could ever navigate something like this," Barker said.
She's finally well enough to do small things like go to the grocery store for a few things, though a recent trip left her in tears after she couldn't recall her pin number at the register.
Barker feels fortunate she had saved up as much sick and vacation time as she could in the past so that she didn't suffer financially during the time she's not been able to work. However, all the medical bills are now rolling in and all those ER visits and tests are adding up quickly.
She's also grateful that during this pandemic, Macon County has other lighter duty work options for her since she can't work on an ambulance yet. She's been working at the COVID-19 vaccination clinics during the week, but still struggles with her strength and energy levels.
"I was used to working 24-hour shifts no problem and now those eight hours at the vaccine clinics are kicking my butt," she said.
Barker made it a point to say she knows others who have had it so much worse during the pandemic, and she didn't want to minimize what people with pre-existing conditions have been through and families who've lost loved ones or had to be on a ventilator for weeks. The point she wanted to drive home is that COVID is showing up in ways that no one ever imagined.
"I lost an uncle in September to COVID, I know what that's like as well — this has been life changing for so many of us," she said. "My main hope for the rest of the year is for people to be kind to each other. If you believe in masks, great. If not, OK. If you believe in the vaccine, wonderful, get it because it will help. If someone told you you had a 95 percent chance of winning $100,000 in the lottery, you'd buy the ticket — those are good chances, and we all want a normal life again. Respect other people in the whole great scheme of things — you don't know their story."