Archived News
Ground breaks on HCC Health Sciences Building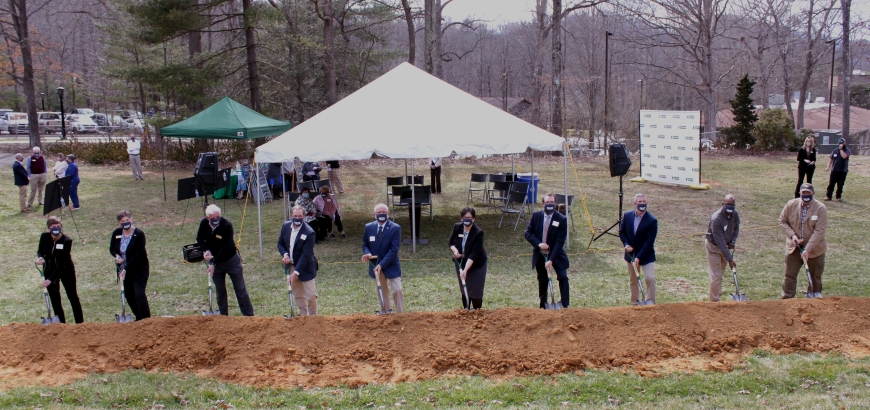 Haywood Community College recently held a Groundbreaking Ceremony on campus for the Health Sciences Education Building. During the ceremony, those in attendance heard remarks from HCC Board of Trustees Chair George Marshall, HCC President Dr. Shelley White, Haywood Healthcare Foundation Chair Anthony Sutton and Haywood County Board of Commissioners Chair Kevin Ensley.
This new 16,000 square foot building will expand, enhance and modernize the student experience while supplying critical healthcare professionals for the region. It will include an 85-seat lecture hall, 40-seat biology lab, 60-seat classroom, 8-bed skills lab and 8-bed simulation lab.
"This vision began a number of years ago as we saw the need for additional facilities for nursing and health sciences," explained HCC Board of Trustees Chairman George Marshall during remarks at the ceremony. "We thank the Haywood Healthcare Foundation and so many others that have helped with this project. This is an economic boost for our community and region."
Now more than ever, our community has seen the important, vital role healthcare workers play in our lives. As a result, HCC has joined with the Haywood Healthcare Foundation and their generous pledge of $5M has enabled the project to move forward. Funds from the NC Connect Bond will also be used to make the new building a reality.
During the ceremony, Chairman of the Haywood Healthcare Foundation, Anthony Sutton, said, "Today marks the start of construction for a state-of-the-art facility. This is inspiring for healthcare for the Haywood County community."
Doubling the space for nursing education, the Health Sciences Education Building will expand access to simulation and increase science lab capacity. Getting an education at HCC in the healthcare field will allow students to learn with the latest technology on the newest equipment. Construction timeline is estimated to last one year, with the first class of students beginning in the fall of 2022.