Archived Outdoors
Prescribed burns planned
Wednesday, March 10, 2021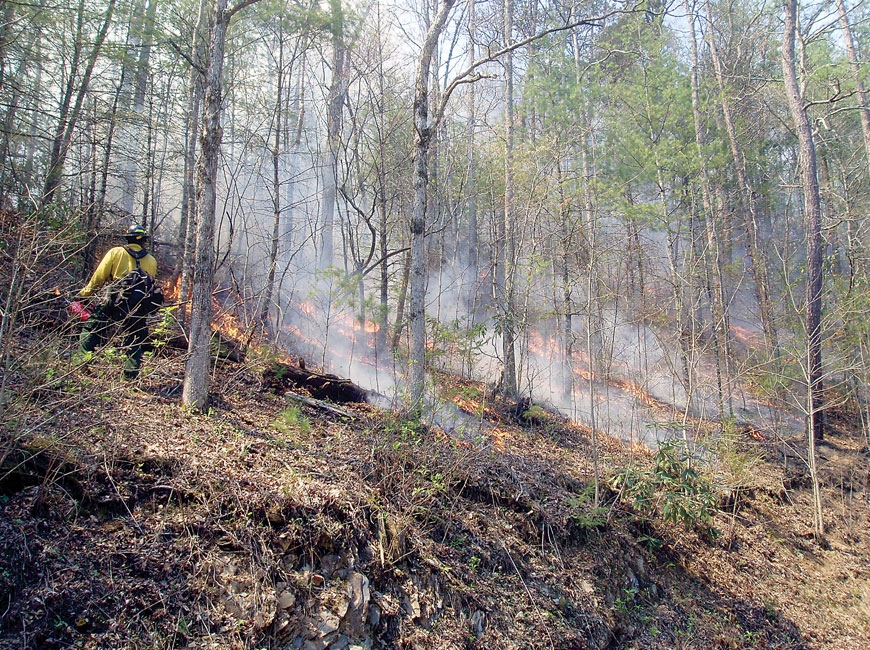 Firefighters conduct a prescribed burn on the area in 2009. NPS photo
A 175-acre prescribed burn is planned for this week along the Great Smoky Mountains National Park in Wears Valley to the Metcalf Bottoms Picnic Area, on the Tennessee side of the park.
The burn will take place between March 8 and March 11, depending on weather. Burn operations are expected to take two days. The project aims to reduce the amount of flammable brush near the residential homes that sit near the park boundary.
For firefighter and public safety, Wear Cove Gap Road will be closed from the Metcalf Bottoms Bridge to the park boundary at Wear Cove Gap. Additionally, a section of Roundtop Trail and the Little Brier Gap Trail parking area will be closed. Smoke will be visible in the area.
Prescribed burns planned for Jackson, Macon counties
Over the coming months, the U.S. Forest Service plans to conduct 10 prescribed burns in the Nantahala Ranger District of the Nantahala National Forest in Macon and Jackson counties.
These low-to-medium-intensity burns aim to create healthier, more resilient forests that are better able to support wildlife while also reducing the risk of wildfire.
Planned burns in Macon County:
• Buzzard Knob unit on Rainbow Springs Road, 695 acres
• Water Shed 31 unit at Coweeta Hydrologic Station, 276 acres
• Bull Pen unit at Bull Pen Road and Chattooga River, 722 acres
• Fire Gap unit at Wayah Road and Rainbow Springs Road, 1,751 acres
• DeWeese Ridge unit in Upper Burningtown, 894 acres
• Panther Knob unit at Siler Bald, 3,000 acres
Planned burns in Jackson County:
• Awl Knob unit in Little Canada, 243 acres
• Sugar Creek Ridge unit in Little Canada, 255 acres
• Rich Mountain unit in Little Canada, 1,201 acres
• Locust Gap unit in the Wayehutta OHV Area, 255 acres
The dates and actual units burned will depend on weather conditions. Crews will wait for proper wind and humidity conditions to conduct the burns, and burns will occur only when environmental conditions permit. Some roads or trails may be closed to ensure safety while the burns take place.
For updates, follow the National Forests in North Carolina on Facebook at www.facebook.com/nfnc or on Twitter at twitter.com/NFsNCarolina.