Archived Outdoors
Partnership will promote Black participation in outdoor rec
Wednesday, March 10, 2021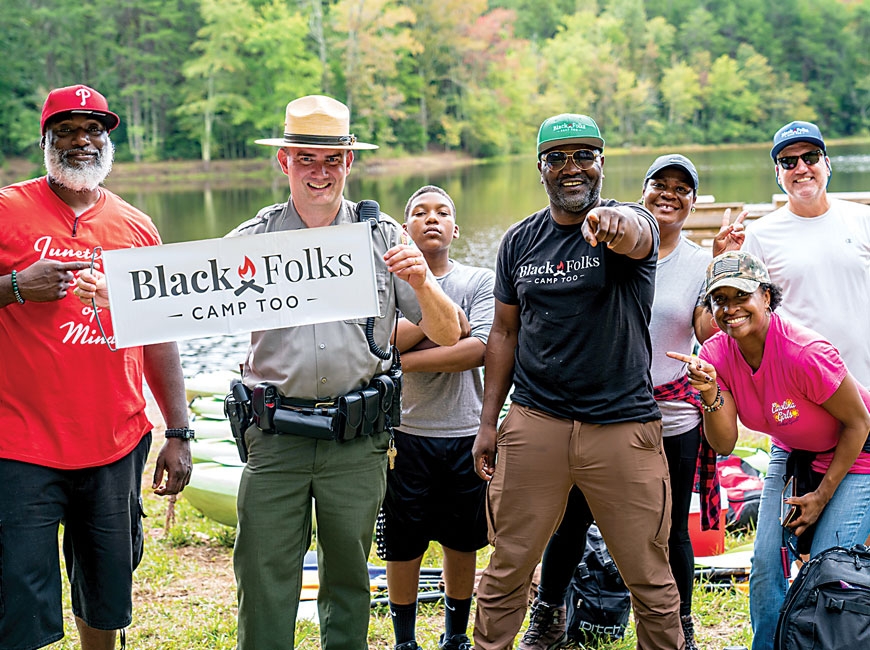 Black Folks Camp Too Founder Earl B. Hunter Jr. joins Crowders Mountain State Park Superintendent Glen George, along with a BFCT adventuring crew. Donated photo
A partnership between the N.C. Department of Natural and Cultural Resources and Brevard-based Black Folks Camp Too is expected to encourage outdoor participation and engagement with diverse communities.
The partnership will be developed through the department's new Parks and Trails for Health initiative, or PATH. PATH combines physical activity in parks, greenways and other outdoor spaces with educational opportunities.
Black Folks Camp Too is a marketing-driven business that aims to increase diversity in the outdoor industry by making it easier, more interesting and more fun for Black people to go camping, accomplished by removing fears, adding knowledge and inviting more Black families to spend time outside.
"It's just a fact — Black folks are not enjoying the life-giving benefits of spending time outside in nature," said BFCT founder Earl B. Hunter Jr. "And outdoor brands have not found a successful way to engage with this valuable consumer. Yes, removing fear is part of the answer, but so is offering knowledge and simply extending more invitations. This is why we are so pumped to be partnering with the state of North Carolina's DNCR PATH initiative."
Hunter founded BFCT in 2019, after his experience as an executive in the RV/outdoor industry showed him the massive missed opportunity for Black folks and outdoor brands. Hunter now promotes "outdoor industry ROI" — return on inclusion.
Positive changes are taking place, though slowly. According to the 2019 North American Camping Report from Kampgrounds of America, the percentage of new campers from multicultural groups outpaced that of white campers, 51 to 49 percent. The 2018 KOA report showed that the percent of Black American campers rose from 6 to 8 percent between 2012 and 2017 and that 14 percent of new campers in 2018 were Black. In the past few years, 34 percent of non-white millennials said they had recently started camping, compared to 18 percent of white millennials. Campers under the age of 25 are the most ethnically diverse, according to the report.