Archived Opinion
Getting my hands dirty and loving it
Wednesday, March 10, 2021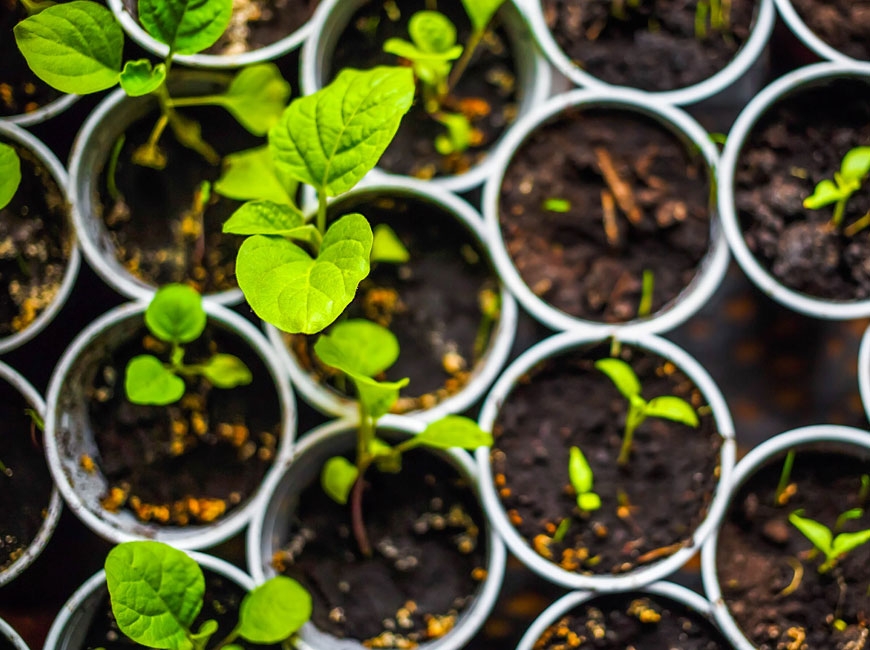 I moved from Maggie Valley to Waynesville last fall. My house in Maggie was on the side of Soco Road where there is little to no sun. While that was great for the summertime utility bill, it wasn't conducive to gardening. I tried hard to make things grow in my shady yard, but photosynthesis is an important part of the growing process. Unfortunately, I had zero control over this life-sustaining force.
It could be that I have a bit of a black thumb, but I'm faithful that's not the case. Our new yard is full of sunshine and the previous owner left raised boxes for us. I don't need a massive garden to be happy, just the staples — a variety of lettuce, tomatoes, herbs, zucchini and maybe some peppers. I'm starting to think having a green thumb may be a myth. Perhaps "green thumb" simply means significant preparation and patience.
When researching for this column and for my new life as a stellar gardener, I Googled "how to be a successful gardener." This is what I learned from the Gardening Channel:
Create a garden plan: Each plant needs different amounts of sun and water, as well as unique values of pH in the soil. Spending time to create a layout and timeline of the garden will prove helpful.
Keep garden records: The previous owners sent us a spreadsheet of their gardening records. I didn't realize people actually did this, but they had great luck gardening on our property so I'm going to follow their lead.
Save seeds: If one is keeping records then it's easy to know which seeds took hold and which did not. For the plants that grew well, save some of the seeds for next year. Store seeds in a sealed container in a cool, dry place.
Soil quality: For smaller gardens, raised beds help maintain soil quality. They also make maintaining the soil more manageable. My boyfriend built raised beds at our Maggie Valley house, and it was a fun project for the kids. Luckily, we'll use the existing beds at our new home.
Go vertical: Whether you have a small or large plot, you can benefit from using stakes or trellises. Vertical gardens are less susceptible to fungal disease and easier to maintain because you can work standing up.
Try succession planting: Planting in stages offers easier maintenance and a longer period with fruitful bounty. With proper planning, you can even plant multiple rounds of the same plant, such as lettuce.
Plant compatible combinations: Plants that don't grow in harmony will rob one another of important nutrients; however, if you plant companion plants, they work together to increase growth. Companion planting can also save time and money.
I'm a lifelong lover of nature and a person who embraces products such as essential oils, herbal teas and farm-fresh vegetables. Gardening and composting are activities I've tried numerous times, sometimes successfully and other times, not so much. As with children and puppies, gardening takes patience. I feel like I'm pretty good with children and puppies, so I just need to pretend like my seedlings and buds are more babies to care for and nurture.
Moreover, the act of gardening offers numerous benefits aside from baskets full of veggies and herbs. Along with physical activity, the contact with the natural world provides a boost in mood and overall well-being. If you're gardening alone, it's a time for thought and reflection, and if you're gardening with family or friends, it offers a chance for bonding.
During the pandemic, many folks have taken on gardening as a way to ease stress and escape from everyday woes. I heard a news clip recently that called 2020 "The year of loss and a lost year." While I do think it's been a year of loss for numerous individuals, I don't think it's been a lost year. Whether gardening or another hobby, the pandemic encouraged people to look outside the box for happiness, relaxation and fun.
I didn't have a ton of success last year in regard to abundance, but we had fun building raised beds and planting veggies and herbs. This year I'm feeling energized on many levels, not merely for my garden but for a lovelier, more hopeful spring all around.
(Susanna Shetley is an editor, writer and digital media specialist with The Smoky Mountain News, Smoky Mountain Living and Mountain South Media. This email address is being protected from spambots. You need JavaScript enabled to view it.)