Archived News
Pandemic exposes fragile childcare system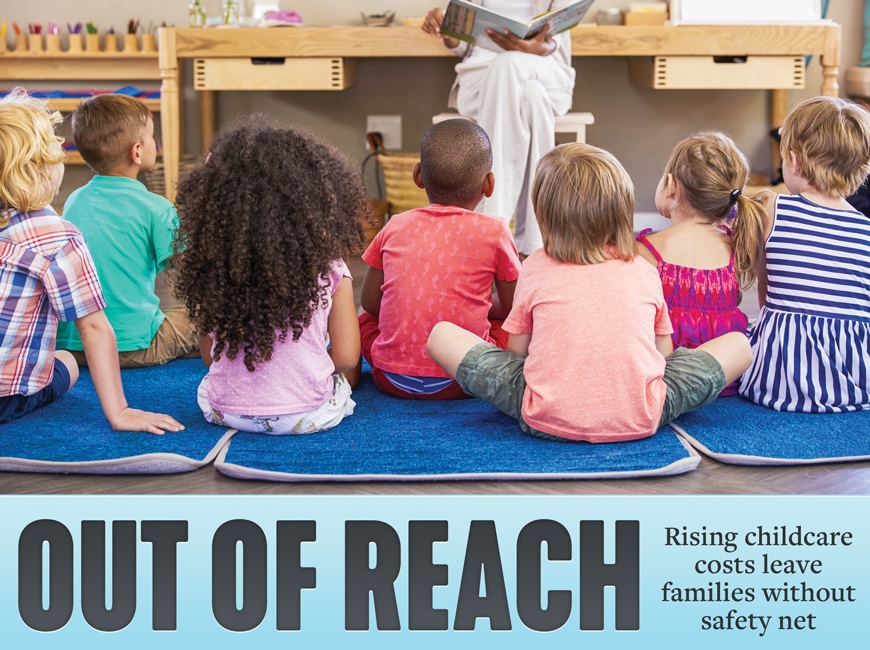 On average, it costs parents $9,480 a year for infant childcare in North Carolina, which is $2,126 more than they'll pay for in-state tuition to a four-year N.C. university.
A single parent working full time and making minimum wage can expect to put 62 percent of their annual income toward childcare in North Carolina.
The average pay for a full-time childcare worker in N.C. is $11.50 an hour — an annual salary of $21,540 — making recruitment and retention within the industry a constant challenge.
These are just a few of the major hurdles parents and providers are facing in the childcare industry, an industry that makes it possible in our modern society for single parents to make a living and for two-parent households to both have careers outside the home. An unstable childcare industry can quickly begin to have a domino effect on working families, early childhood education and the workforce.
Sheila Hoyle, executive director of the Southwestern Child Development Commission, said the childcare industry was already struggling with these challenges before COVID-19 hit, but the pandemic has only exacerbated the problems.
"I hope we can all begin to see the fragility of our childcare system that has only been exacerbated by the pandemic," she said. "It's essential for children and families and it's essential for our economy. I hope the public policy will shift and we'll have an undergirding of the system."
Not only are working parents faced with expensive childcare costs, but now they're faced with juggling their work schedules, shifting public school schedules, quarantining requirements, remote learning schedules and trying to find someone to keep their infants and toddlers if their childcare classroom has to shut down for two weeks when a teacher gets sick.
"Most of the burden has fallen on parents. We know they are planners and they know what their needs are, but what's happening are those unplanned occurrences that they can't control," Hoyle said. "When a teacher tests positive and we have to close the childcare center for two weeks and now that parent's plan is uprooted."
The pandemic has made work and life scheduling more difficult for Annie McCord Wilson of Sylva, even though she feels privileged that she and her husband have been able to work remotely from home. With a seventh-grader and a 2-year-old, though, not much work would be getting done if the couple didn't have retired parents to lean on.
"We both work from home so to avoid the costs of daycare, we've been passing the baby around," she joked. "We rely on grandparents to take her so I can get a couple days of work in every week. I can't imagine what we'd do without that help."
Many families in WNC don't have that family support system they can call upon for childcare. Wilson remembers what that was like as a young mother with her first child.
"With my first daughter I was a single mom and 20 when she was born. I did childcare and thankfully it was subsidized, but our portion was still $300 a month — that's a lot, especially when you're working at the Waffle House," she said.
Now Wilson helps administer a childcare grant to students at Western Carolina University and said the highest payment they award for one child is $1,500 a month.
"It's just outrageous," she said. "I really worry about the future of childcare. I think women especially are always juggling everything to begin with and the whole pandemic has added a lot onto all women. There's been a lot of comparisons to the last pandemic but modern women, most of us have to work now and in the past more women were in the home."
Childcare funding
The Southwestern Child Development Commission is responsible for allocating childcare subsidies that filter down from the federal and state government to 12 counties in the western region, referred to as Region A.
"Before the pandemic hit, childcare was already in a fragile financial delivery service system," Hoyle said. "It's a complicated system because there's no dedicated funding stream for childcare programs."
Some childcare centers are privately owned businesses, some are operated by nonprofits or churches and others are part of a public school system. For example, the nonprofit government agency Mountain Projects operates Head Start, the school system operates Pre-K, but there are also other privately operated centers serving children from birth until kindergarten.
Head Start programs are funded through the federal government and the state Title I funding flows through the public school system to fund pre-K, but Hoyle said there is still a gap when it comes to making sure every family has access to a quality and affordable childcare center. Some families are on a long wait list for a classroom opening while other families don't meet the qualifications to receive subsidies. Even families with two incomes can be strapped to come up with the money without any assistance.
"It's a fractured system and we as a society seem to have a hard time deciding whose responsibility it is to provide childcare — should it be up to the parents? Does government have a role? Or should it be employers who want to support their workforce?" Hoyle questioned.
Southwestern Child Development Commission (SWCDC) tries to work with as many private childcare centers as possible to provide subsidies to make the cost affordable to lower-income families in the region.
Hoyle said the federal government has a program in place to allocate funding to the states for childcare costs. It's about $347 million a year, which seems like a huge amount, but Hoyle said it's still not enough money when there are 15,000 children on waiting lists across North Carolina.
The state allocation for subsidized childcare services goes through the county Departments of Social Services. Hoyle said a dozen western counties contract with SWCDS to administer the vouchers, which ends up being about $20 million a year to spread out over the 12 counties. SWCDC purchases slots at participating childcare centers, and families that meet the financial need requirements receive a voucher to send their child to that center. Families still usually have a copay based on their household income, but it helps make the cost more affordable.
"But if you miss the eligibility for subsidies, the cost is extremely high — it's about equal to a monthly mortgage payment or greater than the cost of tuition," Hoyle said. "Even at that high cost, teachers are still paid low wages because early education is expensive to do — just ask the public schools what it costs to educate a kindergartner."
She said Region A typically receives enough of this state allocation to meet the needs in the western counties, which keeps the waiting list low or nonexistent for subsidized spots.
Annette Shook, SWCDC direct services manager, manages 12 child care facilities in Jackson, Haywood, Swain, Buncombe, Graham and Cherokee counties. Right now, she said the only parents waiting for a spot for their child are the ones who have requested a specific classroom and are waiting for a spot to open.
A child enrolled at the Webster Early Education and Preschool washes his hands. Donated photo
Low-pay, critical work
The pandemic has revealed that many low-paid jobs are some of the most essential in society, and childcare workers were at the top of that list when everything started to shut down last March. While businesses and schools closed, essential workers still needed somewhere to send their children so they could continue to provide those essential services.
However, low wages for childcare workers has created high turnover rates at centers. The average pay for childcare workers in N.C. is about $11.50 an hour. As more big box retailers and fastfood establishments are starting to pay more competitive wages — some at $15 an hour — keeping qualified childcare workers is challenging.
"I feel comfortable saying the total childcare industry in our region is in a staffing crisis," Hoyle said. "There's many reasons for that, but I think the number one reason is low wages. Workers can find other employment that pays greater than a childcare center."
Hoyle said the centers do their best to pay fair wages, but they also try to charge a fee for services that families can afford. It's a difficult balance for the childcare center directors.
"We've always had a hard time getting and keeping staff and the pandemic has made it more difficult, especially finding qualified people that have the needed education," Shook said.
To be a lead teacher at a 5-star childcare center like the ones SWCDC operates, a person must have an associate's degree in early childhood education. To be a teacher at a developmental day school center like the one in Webster, Shook said the person needed a four-year degree in teaching birth to kindergarten ages.
"Childcare is hard work so you have to truly enjoy it to stay with it," she said. "We have a high turnover rate I think because people think they'll just be playing with children, but it's a lot more than that in today's world."
Shook said the market rate — the subsidy amount paid out per child — is still low compared to the actual cost of childcare. An increase to the market rate would help lessen the burden on centers so they could pay a more competitive wage for their employees. The problem is that the market rate is based on what parents without subsidies have to pay, and Shook said they can't afford to pay any more either.
During the pandemic — even though child enrollment is down — Shook said they've needed more staff members just to manage the additional sanitation requirements and the new drop off and pick up protocols. Just imagine every toy, every doorknob, every piece of playground equipment that needs to be sanitized every day.
A toddler enjoys nap time at the Webster Early Education and Preschool, which is operated by Southwestern Child Development Commission. Donated photo
Surviving a pandemic
Last March, the burden fell on childcare centers to stay open to care for children even with such limited knowledge at the time of how much of a health risk it might be.
Hoyle said many centers closed in the beginning because of health concerns, staffing issues or because there weren't enough children needing care to justify staying open. Others stayed open to care for the children of essential medical workers, but it really wasn't until the end of summer that she saw many centers reopening across WNC as parents and students had to return to work in some capacity.
"What we've found during the pandemic is that childcare workers are an essential part of the workforce. It's young families that are doing the essential services in our counties and if their childcare center wasn't open they couldn't work," she said. "We've started using a new phrase around here where we talk in terms of childcare workers being the force behind the workforce."
Hoyle said there are about 5,000 centers in the state and all have reopened with the exception of 56. Funding operations continue to be a challenge for many of them because enrollment is down but they aren't able to cut fixed costs like utilities and the rent or mortgage.
"In childcare, the revenue that comes in is based on the number of kids they serve — so if they're at 60 percent capacity, they only have 60 percent of the revenue coming in," she said. "But if they rent or pay a mortgage, they don't have the option of paying only 60 percent of it."
Shook said most of SWCDC's centers have open spots available for families that are looking. The largest center in Webster had 92 children enrolled last March compared to 40 children enrolled in October.
"We have about 40 to 50 percent of the children we had last March," she said. "We're nowhere near the capacity we were then. Some centers are at capacity just for the number of staff we have there right now."
As an administrator, Hoyle said she hopes the pandemic opens some dialogue about improvements that need to be made within the system. She called the current situation "a cry for public policy" change to create a more stable system. Her suggestion is to keep the service delivery model in place but that it needs to be underwritten with public support.
"For me, the reason that an underwriting of support is so critical is because childcare is essential to working families — there's no question about that — but it's also essential for providing the foundation for early learning activities and builds brain development for young children so they can enter the school system and be successful," she said.
While administering services across 12 counties in the region and coordinating with all the childcare centers can be a daunting task, Hoyle said it gives her a unique opportunity to be a voice in Raleigh for the struggling providers and parents in WNC.
"I'm currently involved in both a state and national effort to rethink how we're doing childcare," she said. "We need a different roadmap and to think harder about how we can support the economy and education so it's not such a struggle for people."
The Economic Policy Institute is calling for policy reform that would cap families' childcare expenses at 7% of their income, which would save a typical N.C. family with an infant $5,527 on childcare costs. This would free up 12.6% of their (post–childcare) annual income to spend on other necessities.
The change would also mean parents would have more opportunities to enter the workforce. If childcare were capped at 7% of income, 44,397 more parents — mostly women — would have the option to work.
EPI says such reform would expand the state's economy by 0.9% — that's $4.8 billion of new economic activity.
Cost of Child Care
• The average annual cost of infant care in North Carolina is $9,480 — that's $790 per month.
• Childcare for a 4-year-old costs $8,113, or $676 each month.
• Infant care in North Carolina costs $2,125 (28.9%) more per year than in-state tuition for four-year public college.
• That makes North Carolina one of 33 states and DC where infant care is more expensive than college.
• In North Carolina, infant care costs just 8.6% less than average rent.
• According to the U.S. Department of Health and Human Services, childcare is affordable if it costs no more than 7% of a family's income. By this standard, only 12.4% of North Carolina families can afford infant care.
• Childcare for two children — an infant and a 4-year-old — costs $17,593. That's 41% more than average rent in North Carolina.
SOURCE: Economic Policy Institute