Archived Arts & Entertainment
Been a long time since I rock and rolled: Facing uncertainty amid the shutdown, WNC bands aim even higher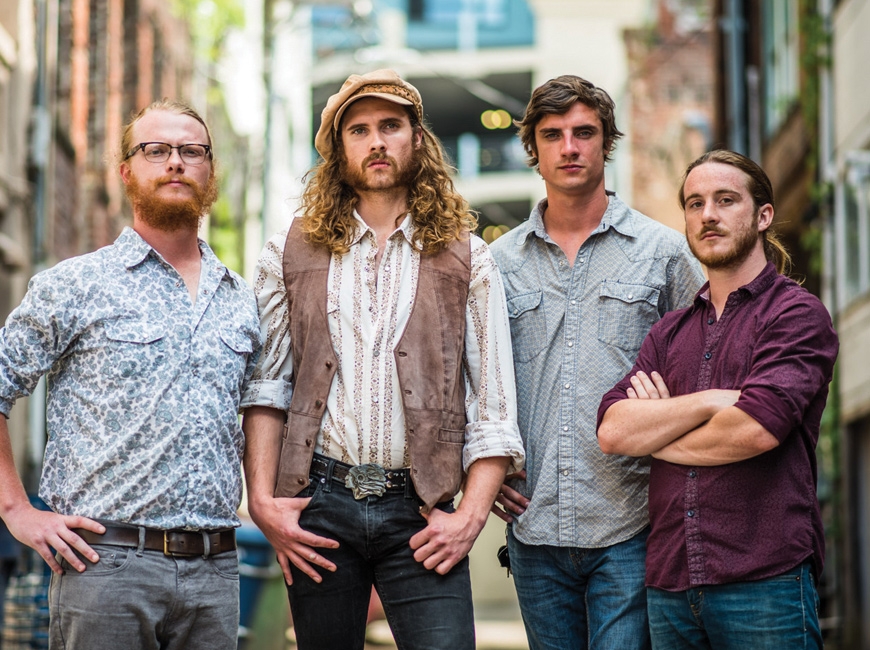 Travers Brothership. (photo: David Simchock)
In the depths of The One Stop in downtown Asheville on Saturday, members of the Travers Brothership and Abby Bryant & The Echoes were setting up and sound checking for that evening's inaugural "Blue Ridge Blues Jam."
The cavernous live music spot sits on College Street, right underneath its sister venue, the storied Asheville Music Hall on Patton Avenue. During the shutdown, The One Stop went through a massive renovation, from redoing its entire front dining area to incorporating a brand-new menu.
The beloved stage area in the back now has (semi-permanent, waist-high) fencing surrounding the musicians as a way to mitigate any issues amid an era of social distancing and state protocols.
Both the Brothership and the Echoes represent the next generation of popular rock acts emerging from Asheville and greater Western North Carolina. Though the Brothership are childhood friends hailing from Black Mountain and the Echoes formed as students at Appalachian State University in Boone, the groups call Asheville home — each now carrying the melodic torch ignited decades ago by rock guitar icon and "local boy done good" Warren Haynes.
The Brothership and the Echoes had an enormous 2019, gaining accolades and mainstage slots at major festivals in Southern Appalachia and beyond. It was a moment to parlay that hard-earned stage credibility into a juggernaut of sound and presence in 2020. But, that was not to be seen with the pandemic and complete halt of the music industry until further notice.
The "Blue Ridge Blues Jam" represents the first night members of the bands are dipping their toes into the unknown waters of live music in 2021, especially indoors and in front of an audience in real time (and not digitally streaming on a screen).
Outside of The One Stop, guitarist/singer Kyle Travers leans against a wall, watching the fast-paced College Street traffic, readying himself for the impending gig. Upstairs in the still-shuttered Asheville Music Hall, Bryant sits on a couch and looks through her show notes, surrounded by ladders and equipment signaling another renovation.
Smoky Mountain News: With so much planned for 2020, what was it like to just slam the brakes on touring and performing?
Kyle Travers: It was very frustrating. I'd say it was strange for the [Travers Brothership] to be off the road, as well. We travel [extensively] and we're used to playing 150 to 200 nights a year nationally. And we were just starting to sell tickets all over.
When you're performing live that much, you really get used to releasing all your stresses and anxieties onstage. And we had to find another way to do that, whether it's sitting by a campfire more often or jamming in the house — it still meant something.
[But, we've] had to fight for survival quite often, that's why we named the first record, "A Way to Survive." So, we're just used to overcoming whatever obstacles are thrown at us, even if they're pandemic obstacles.
Abby Bryant: There was this grieving stage where you're [a young band] and you're energetic. You have all this output ready and you lose a whole year of that. You're ready to tour. You're enthusiastic. And you're hungry for more opportunities and growth to put your art out there.
We started [Abby Bryant & The Echoes] in 2017. It took a few years to really get this off the ground to where we just [really] felt the stage, [where] we felt it happening. We felt it all working and we were so excited to share our songs.
But, we're about to release our first full album [this year]. It was partially recorded before the shutdown. We've been hanging in here this whole time, just doing what we can every single day to write a song and finish the album. And it's really what kept us going, because we had this focal point. This [past] year gave us the opportunity to put the detail and focus into an album.
Abby Bryant.
Smoky Mountain News: But, I would surmise that you're a band that decided a long time ago that this is what you're going to do, come hell or high water — it doesn't matter, you're going to push through.
AB: Absolutely. I'm seeing the light at the end of the tunnel while we're working every day and just trying to hold onto that silver lining of having this album to put out into the world. And I'm really trying to hold onto the positive parts of that. This is an unprecedented time. [With playing tonight], I'm seeing that light, even it was just a faint glimmer for a longtime.
KT: Growing up together, [the Travers Brothership] used to play football in the backyard. We've always stuck together, no matter what. Now this has happened, [we're] amongst our families — in any way, shape or form, we just stick together and kind of get pushed through. This is just another time that we had to do that, you know?
It just comes with the brotherhood value of it. Brothers stick together. We work off each other. If one of us is confident, then it spreads like wildfire. If one of us feels like we can get through something, we can all get through it.