Archived Arts & Entertainment
This must be the place: Ode to 'Big Jack,' ode to $100 felines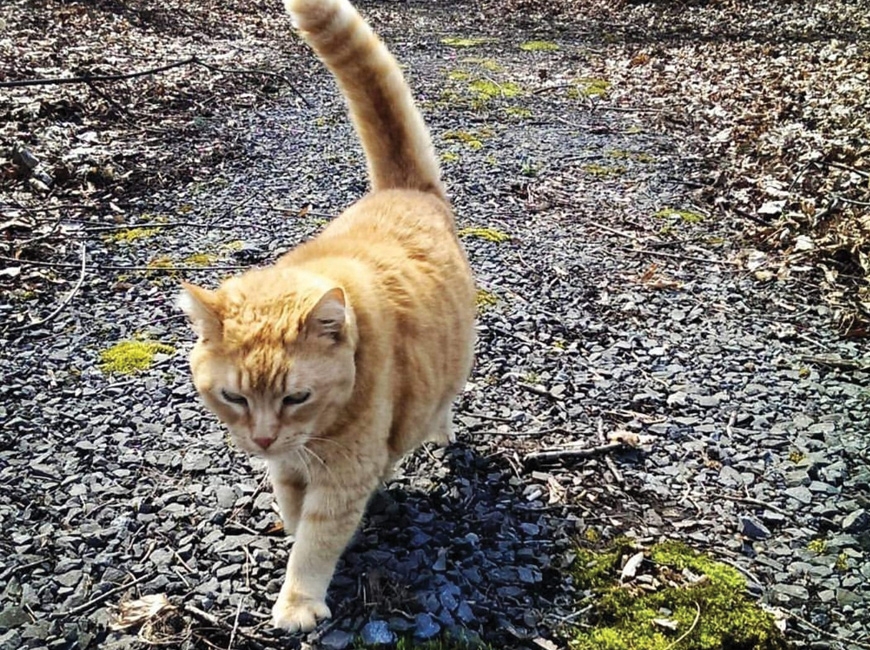 "Big Jack" roaming the farmhouse. (photo: Garret K. Woodward)
Rest easy, "Big Jack" (aka: "Jack Kerouac"). Goodbye to my beloved cat, who passed away this week back in my native Upstate New York.
In the summer of 2007, right after I graduated college in Connecticut, I returned back to Plattsburgh, New York, and lived with my parents for a period (until I could find a writing gig). Well, my little sister's cat, Sandy, went missing one day. This small orange kitty.
So, my parents placed flyers around the neighborhood, put a notice in the newspaper and offered a $100 reward. We got all kinds of leads. And one afternoon, my father left to see if Sandy was at this house nearby.
An hour later, my father returned with this fat orange cat. He walks in the house and announces, "Sandy is home." I go, "Dad, this cat is twice the size of Sandy. That, and Sandy is a girl. This is a boy."
He shrugged it off that he hadn't made a mistake (though later he said he felt bad for the cat's living situation and gave the owner $100 for Jack). From then on, Jack was also affectionately known as "C-Note."
What's even wilder is how my father kept bringing home these orange cats: in hopes of one being Sandy, or at least one that would suffice my little sister's sadness of losing her cat.
After Jack became a member of our family, a week later, my father brought home another orange cat he paid $100 to a complete stranger for. This time it was a girl. It was Sandy's size. And yet, it wasn't Sandy. We decided to keep her, too. No sense in tossing her back out into the unforgiving night. Anyhow, there was enough cat food and love to go around.
I called her "Hunter" after infamous writer Hunter S. Thompson, a pillar of my journalistic existence. As feisty and curious as ever, she still resides at my parents' abode to this day, chasing after birds and meandering along the creek bed across the street.
At one point in the quest to bring Sandy home, my father borrowed a squirrel trap from my late grandfather, seeing as he heard there was another orange cat in our neighborhood. But, this cat was elusive. My dad set up the trap with some cat food and caught the animal. It was definitely orange and a female.
But, it was a feral orange cat. Extremely feral, as seen by the damage to my folks' guestroom bed when my dad let it out of the trap in their house. The cat ran through the house in a manic state, eventually out the front door that we'd left open to persuade it to exit the living room. To this day, my mother still brings up my father's stupidity in bringing a feral cat into the house.
Well, the search continued. No Sandy. We never did find her and hope she found a new home somewhere, anywhere. But, now we had Jack (and Hunter). From 2007 until this week, he lived on my parents seven-acre farmhouse, spending his days roaming the back fields and woods of the property. Total freedom, with a meal always waiting for him in the kitchen.
I named him after my favorite writer, Jack Kerouac, though he always felt like a "Jack" to me: this free-spirited, loving beast of a feline. He never met a stranger and was adored by little kids, seeing as he would let them pick him up and he'd never get mad or scratch them, not once in all those years and with all those wild kids. It was incredible.
In all actuality, he was more of a dog than a cat, at least I think so. It was sad to leave him when I moved to Western North Carolina in 2012. But, he was in good hands with my folks. I always looked forward to being reunited Jack when I would find my way back to the North Country. I'd pull up in the driveway and he burst out from the barn and dart right towards me. He knew my truck.
The rest of my stay at home, he'd always end up sleeping in my bed, purring away like a small car engine. I remember many nights when I'd be at my folks for the holidays. It'd be freezing cold outside, a roaring fire in the back den.
Entering the den, I'd come home from the local bars after a night out with old high school cronies. Grab a nightcap from the fridge and flop into my father's trusty recliner. Flick on the TV. Lean back. Kick up the footrest.
And, like clockwork, I could hear Jack hop off the bed upstairs, his little paws trotting down the staircase, only to jump into my lap and hold court until I decided to head to bed. I loved that cat. He was something else, I tell you what.
To my dearest Jack, I hope wherever you are right now, that you're roaming free. I hope someone is kind and attentive enough in the ether to turn on the kitchen faucet just so delicately (a pencil-thin stream) that you can get some water in the only way you preferred to receive hydration.
I hope there are plenty of birds up in trees to watch and observe from way down below underneath the bushes. And I hope there's a recliner and a lap for you to jump up onto, once again holding court in the great cosmos.
Life is beautiful, grasp for it, y'all.