Archived News
Haywood EMS partners with HVO on COVID pod production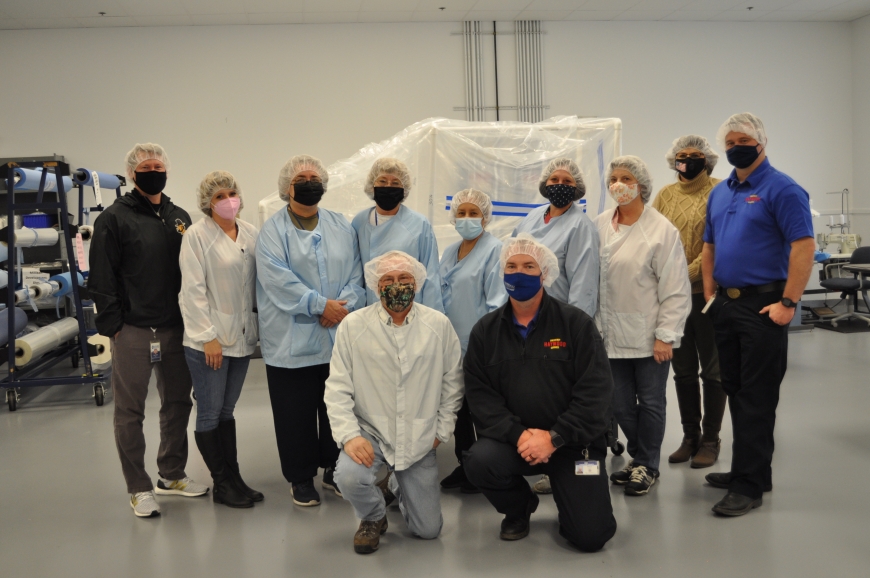 Expanding on an existing partnership, Haywood County Emergency Services has contracted Haywood Vocational Opportunities, Inc. to manufacture COVID pod covers for use in transporting patients with contagious respiratory symptoms.
Some of Haywood County's own paramedics are credited with designing the system that fits over existing stretchers, effectively isolating patients in their own COVID pod, while allowing access for medical care during patient transport.
In March 2020, when treating COVID was still a relatively new experience, Haywood paramedics recognized an immediate need to safely manage patients with COVID symptoms during transport to the hospital or other health care facilities and innovated their own solution in a matter of days.
Using common construction materials from Lowe's Home Improvement, they fashioned COVID 'tents' to go over stretchers that could be easily stored on an ambulance, assembled as needed, and decontaminated when finished.
The tent system, known as COVID pods, has proven highly effective, but the process of making new ones when needed became tedious, so HCES Interim Director Travis Donaldson sought out the help of HVO, Inc, which also manufactures surgical gowns the county uses.
"Because of that previous experience and our desire to work with local partners when possible, we thought it would be a great fit to work with HVO," said Donaldson.
Using ready-made materials, the skilled staff at HVO assemble the pod covers, add zippers and package them for easy storage until use. Because the HVO facility is less than a mile from the EMS Waynesville base, delivery is much quicker than with other suppliers.
Emergency Services took delivery of the initial batch of 120 last week and have contracted for a total of 300 pod covers in its first order. More orders will follow as needed.
The pod covers were designed as a response to COVID-19, but they will come in handy for other situations such as transporting patients with contagious respiratory diseases like tuberculosis, said Donaldson.
Working together with Emergency Services is a win-win for HVO as well.
"This project is important to us from a manufacturing and a humanitarian side. To be able to produce something designed here in our county that will benefit our local residents is a great source of pride for us at HVO," said Mary Phillips, business development executive.
Although different from its usual type of project, manufacturing the COVID pod covers fits right in with HVO's mission said Phillips.
"Everybody is very excited to participate in this. We love to work on projects like this, especially when we can see the impact in our own community," she said.