Archived News
NC Gov. Cooper eases some coronavirus restrictions
Wednesday, February 24, 2021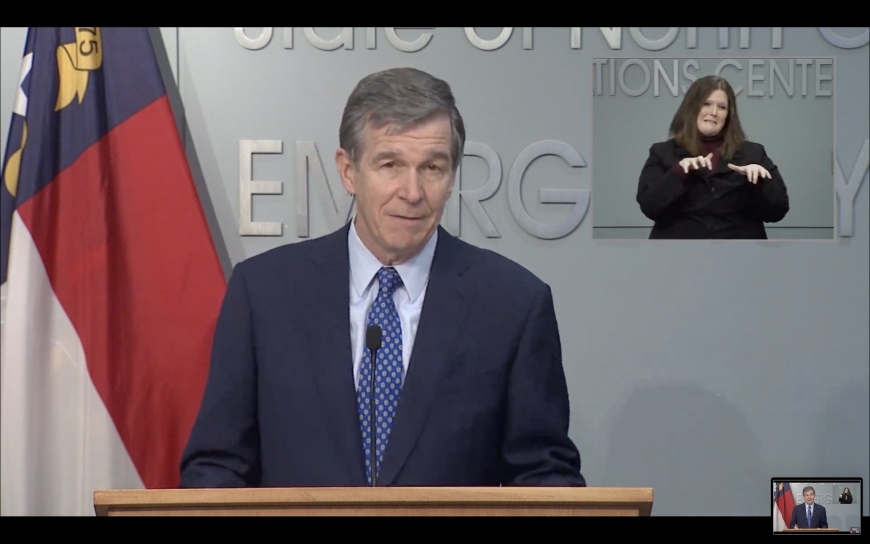 Gov. Roy Cooper delivers remarks during a Feb. 24 press conference.
As vaccination of North Carolinians continues and positive coronavirus case reports decline, today Gov. Roy Cooper announced changes to a number of previously imposed restrictions meant to quell the spread of the coronavirus.
"Given the significant and sustained improvement in our COVID-19 metrics today I am announcing that we will ease — but not lift — restrictions in several areas with a new executive order that will go into effect this Friday, Feb. 26," Cooper said during a 2 p.m. press conference on Feb. 24.
The mask mandate remains and the only restriction that was actually lifted was the modified stay at home order, which means no more curfew, but there's lots of good news for some businesses that have been hit the hardest by the pandemic.
"When it comes to easing some restrictions we're just depending on people to be responsible," Cooper said.
Per the order, a number of businesses and venues will remain or expand to 50 percent occupancy while maintaining health and safety protocols. Those include restaurants, breweries, wineries, retail establishments, gyms, museums, aquariums, barbers and other personal care businesses, pools, and outdoor amusement parks. On-site service of alcohol may now continue to 11 p.m.
Some businesses limited to an outdoor capacity of 30 percent will still have limits but will no longer have a 100-person cap, including outdoor sports fields, bars, amusement parks and other outdoor businesses.
Other indoor businesses may also open at 30 percent capacity, but with a cap of 250 people. That includes bars, taverns, indoor amusement parks, movie theaters and indoor sports arenas. Large indoor arenas with a capacity of more than 5,000 people, however, will be allowed 15 percent capacity, without a cap. That includes college and pro sports arenas featuring events like basketball and hockey.
Unless otherwise specified, mass gathering limits have now been raised to 25 people indoors, and 50 people outdoors.
"We know that this virus still spreads in social visits and informal gatherings," Cooper said. "Easing these restrictions will only work if we keep protecting ourselves and others from this deadly virus. The order and our own common sense say that health and safety protocols must remain in place."
Read the full text of Gov. Cooper's Executive Order 195 here.