Archived Arts & Entertainment
The human canvas: Sylva artist channels creative spirit through tattooing
Tuesday, February 23, 2021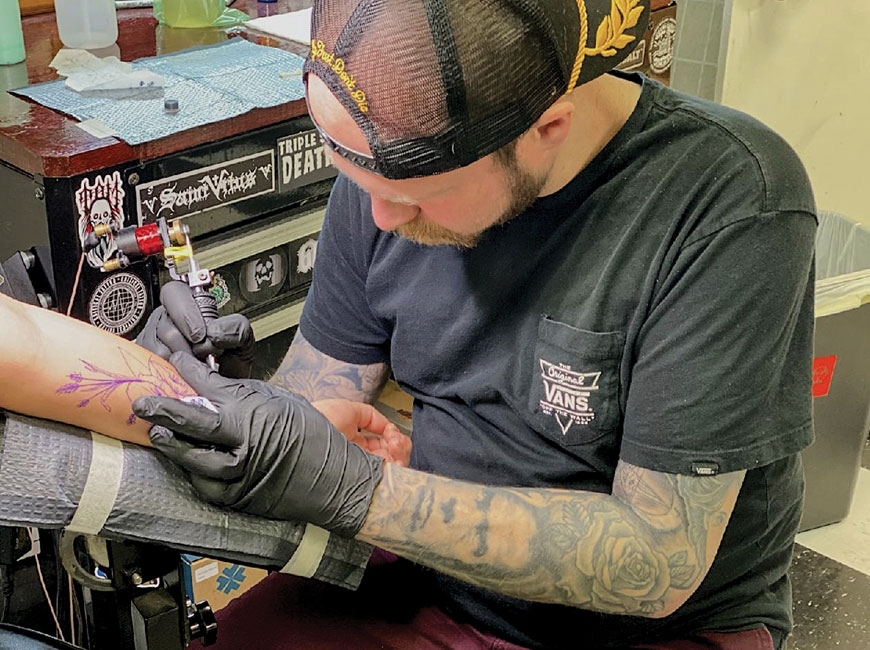 Robbie Crisp working on a new arm piece for a client at Born and Raised Tattoo parlor in Sylva. (photo: Garret K. Woodward)
It's Monday evening. A heavy rain is soaking Sylva and greater Jackson County. Passing by the Sylva Shopping Area, the empty parking lot is illuminated by the bright lights of Harold's Supermarket. The rest of the plaza is closed and dark, save for one bright light at the end of the row, a large window with the word "tattoo" emblazoned on it.
"I was 8 years old when I knew I wanted to be a tattoo artist. You know how some kids have lemonade stands? Well, I asked my dad to build me a little shack in front of the house so I could draw temporary tattoos," Robbie Crisp chuckled, taking a long pull from his cigarette in front of the shop. "I used to look at my dad's biker magazines and there were all these tattoos underneath the skin of the people in the photos — something about it fascinated me."
Now 33, Crisp is an in-demand artist (alongside shop owner/fellow tattooist Jeremy Brooks) for Born and Raised Tattoo in the Sylva Shopping Area. Crisp has been an artist in some capacity since he was doodling in his notebooks in elementary school.
With no formal art training (expect for one semester of college that was "a waste of time because they said I drew 'too realistic' for them," according to him), Crisp has now become a word-of-mouth tattooist (and a popular local painter) in the mountains of Western North Carolina, one whose schedule is seemingly filling up faster and faster with each passing year.
"I want to do conceptual works. And I've always been drawn to the masters, like [surrealist painter Salvador] Dalí, where he brought his dreams to life on the canvas," Crisp said. "If you have a conceptual idea, why the hell not say it in the most masterful way you can, and also being true to yourself, too?"
Growing up in Bryson City, Crisp started his apprenticeship with a tattoo shop in Sylva while he was still a senior in high school. After a short stint at Western Carolina University, he returned to the parlor and resumed his studies of ink and skin. There was just something about tattoos that kept calling to Crisp from deep within.
"It's about the transparency and depth of the ink on the body," Crisp said. "It's like when you look at a tattoo, it's almost an antique on the body, this aged symbol on a person that tells a story about something that means a lot to them and their life's journey."
Though he's originally from this region, Crisp has become a beloved character of sorts in the Sylva community. Whether it be working in the parlor, riding high atop his hand-built motorcycle or rockin' out in the front row of a raucous concert, Crisp runs in as many social circles as he has clients (and there are a lot).
For Crisp, it's about the urge to never stop exploring, never stop meeting new folks, having new experiences and making sense of the ongoing struggle that is the human condition, come hell or high water — all of which eventually carrying through his creative works somewhere down the line.
"There's always an adventure in doing this. And with tattooing, you can't have a bad day. Your reputation is on every single piece you do," Crisp said. "In a way, I'm also glad the stigma — behind getting tattoos and what they represent — has pretty much gone away these days. They've become socially acceptable and are looked at as what they should be, which is a piece of art."
Watching Crisp work, or even viewing his Instagram account of recent tattoos, one is clearly witnessing a human being in their absolute element. The intricate nature of his shading and clean lines on a portrait is astounding, especially when you take into account the permanence of each piece.
This is the human canvas. You only get one shot at that space and in that time. It's about freedom of expression and artistic vision — from both sides of the needle.
"People feel very vulnerable when they're getting a tattoo. It's permanent and it's a very intimate moment for them," Crisp said. "And people open up to you about some of the most personal things in their lives. You wouldn't believe the stories I hear and the people I meet who sit down in that chair — it's an honor to do this."
Want some ink?
Born and Raised Tattoo is located in the Sylva Shopping Area. Tattoos are by appointment only. Email Robbie Crisp (This email address is being protected from spambots. You need JavaScript enabled to view it.) or Jeremy Brooks (This email address is being protected from spambots. You need JavaScript enabled to view it.). follow them on Instagram: @robbiecrisp_tattoos, @jeremybrookstattooer, @bornandraisedtattoo.