Archived Arts & Entertainment
This must be the place: Turn my head into sound, I don't know when I lay down on the ground
Tuesday, February 23, 2021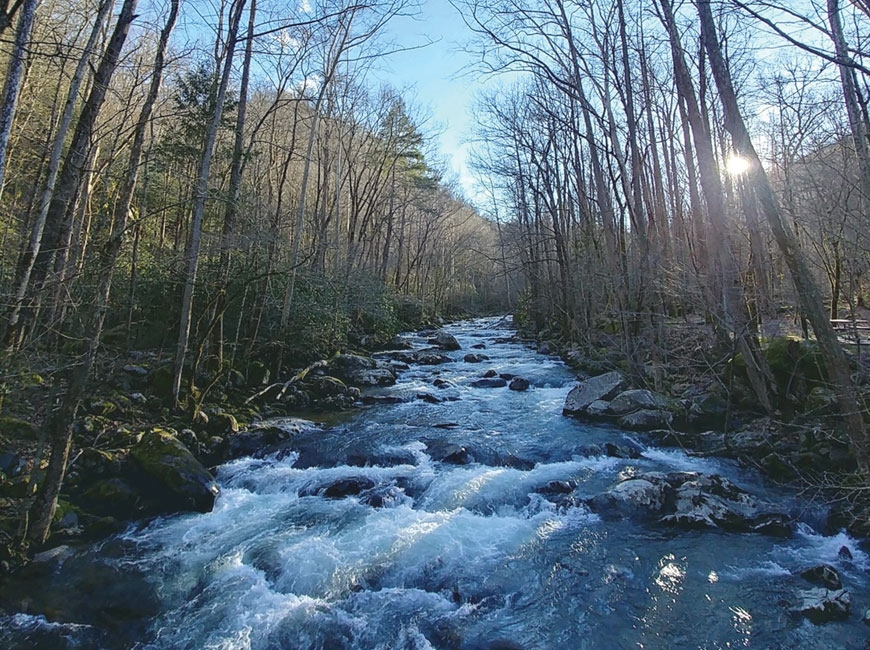 Big Creek, Great Smoky Mountains National Park. (photo: Garret K. Woodward)
When the trail bends sharply to the right, I know the waterfall is just behind the brush. I can't see it, but I can hear it. This eternal rush of water cascading down from the farthest reaches of the surrounding mountains.
About two miles up the Midnight Hole trail in the Great Smoky Mountains National Park, I stood in front of Mouse Creek Falls: in silence and in awe. Late Sunday afternoon, right when the sun finally disappears behind the ridge. Taking off my gloves and hat, I sat down on a large boulder in the creek and watched the rushing water.
Lots on my mind, as per usual. Endless thoughts flying by just like the waters I stood alongside. Passing by so fast that you don't seem to have enough time — not even one moment — to process what's actually going on and how you should react.
It seems the entire world and all of its human creatures has also been on this ongoing trajectory, this flying arrow through the heavens that only seems to pick up speed with each season. Keep moving. Keep working. Keep being productive. Keep going somewhere, anywhere. But why, and for what?
Friday morning. With most of my writing and assignments in the rearview mirror, I sat down on my couch and strummed my acoustic guitar. Plucking through some chord changes emerging from deep emotions currently felt within, now radiating through the fingertips. The strings felt a tad grimy after a little while. It was time for new strings.
Hop into the truck and head for Strains of Music in downtown Waynesville. Pick up some Tommy Emmanuel signature Martin strings and head for the register. But, not before wandering into the electric guitar room. Pull down a couple of Fender Telecasters and Jazzmasters from the wall rack. Felt great, as expected.
Out of the corner of my eye, I spotted a bright orange Gretsch Electromatic hollow body with the Bigsby. Always such aesthetically pleasing instruments. But, I've never sat down and actually played one. Lord, that thing felt absolutely amazing within my hands. I was shocked. I didn't want to put it down.
My fingertips just rolled up and down that fretboard with such ease. As they say: you don't pick the guitar, it picks you. Put it back up on the rack with nonstop ideas in my head as to how to afford this instrument: will it still be here if and when I come back next week?
Headed over to Maggie Valley on Saturday afternoon to attend a memorial and fundraiser for a good friend who recently passed away. Somber vibe. Auction held to raise money to pay for his funeral expenses (which they did, thankfully). Lots of sad faces trying to hold steady amid the celebration of Tony Jo (aka: "The Harmonica Man"). Tall tales told in gusto.
Left the memorial by myself and meandered back down Soco Road. Rolled by the Valley Tavern. Hadn't eaten lunch and felt like having a beer. Pulled in. No seats open in the entire place, except the far end of the bar counter next to this old man. I ask him if I can sit down. He says okay.
I ordered a Budweiser. He grunts, "Well, at least yah drink good beer and not that other crap," then points to his Budweiser in solidarity. I chuckle, cheers him and introduce myself. His name is Joe. Start talking.
Turns out he's 86. From Detroit originally, was a "tool and dye guy." Came down to Carolina some 19 years ago because "my late wife was sick of Michigan winters and wanted four seasons." Then he goes, "There are only two seasons in Detroit: winter and the Fourth of July."
I smile in solidarity being a North Country native. I swear, he doesn't look 86, more so late 60s. I ask what his secret is to looking so young. He replies with a smile, "Drink Budweiser and don't trust doctors." We laugh and talk a little while longer.
I get up to leave and tell him, "Well, Joe, we are friends now. It was a pleasure to meet you." He goes, "You too, Garret. Remember: don't speed and be kind."
The next day, with a crisp air and bluebird skies, I wandered into the national park. Nobody around. No tourists. No locals, either. An empty parking lot at Big Creek, which was odd and happily surprising. Throw on the trail running shoes and begin the trot up the Midnight Hole trail. Mud puddles. Bounding over rock and roots unearthed by the elements.
By the time I reached Mouse Creek Falls, I had, literally and figuratively, sweat out any and all thoughts and emotions taking up real estate in my head. The whole jog up, I thought of how I could swing purchasing that Electromatic, of how striking it was to be immersed in nature in pure solitude, of Joe and his mantra of "don't speed and be kind" and all he has witnessed thus far in his 86 years on this planet.
I thought of Tony Jo ("The Harmonica Man") and his light being cut short at 67, how close he got to his life's goal of jamming onstage with 500 local/regional bands. It was said he had recently passed 470, according to his small notebook where he'd scribble down the names of musicians he played with.
I thought of family and friends back home in my native Upstate New York, the personal struggles they're dealing with at the moment, of which I either come across on social media or through text messages at all hours of the day and night.
Thoughts of recent dates with the opposite sex, expectations high after a year of social distancing and lack of opportunities to meet a new femme fatale amid "all this," only to walk away with head held high that a cosmic connection via matters of the heart will someday be met — most likely by chance, not by purpose.
Taking off my gloves and hat, I sat down on a large boulder in front of Mouse Creek Falls and watched the rushing water. Lots on my mind, as per usual. Endless thoughts flying by just like the waters I stood alongside.
The sounds of the waterfall coated my body and soul. It is what it is. Keep that head held high. Be grateful and live in the moment. And remember, "don't speed and be kind."
Life is beautiful, grasp for it, y'all.