Archived News
Bit by bit, major investments bring broadband to the mountains
Tuesday, February 16, 2021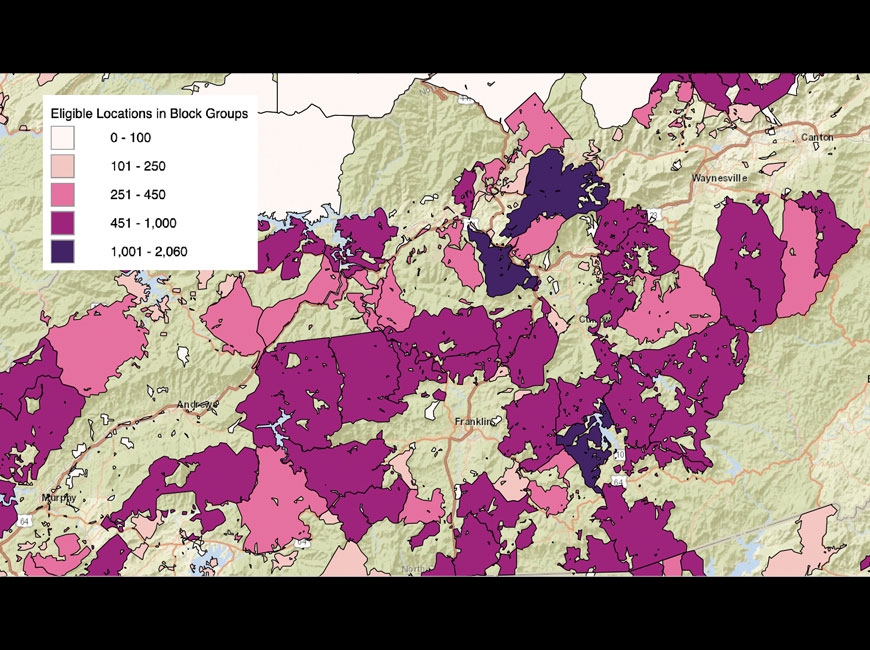 Western North Carolina census blocks eligible for Rural Digital Opportunity Fund are denoted in shades of red. FCC map
After years of pecking away at Western North Carolina's broadband problem at the state level, a large-scale federal investment in rural broadband access could bring a game-changing impact for schools, businesses and entrepreneurs across the country, state and region.
"The federal grants coming to North Carolina amount to a total of $166 million [and] $45 million is going to Haywood and west," said Sen. Kevin Corbin, R-Franklin. "A total of 155,000 customers will be hooked up to high-speed internet in North Carolina and we are getting 35,000 hookups in the seven western counties."
Corbin made the announcement in a Feb. 12 press release that also mentioned the protracted multi-jurisdictional effort that led to the establishment of the Federal Communications Commission's $20 billion Rural Digital Opportunity Fund back in 2019.
"It goes back to when [former Marion-area House rep and current NC Labor Commissioner] Josh Dobson and I introduced the Fiber Act. Our argument was, there is no single fix to this internet problem," Corbin said. "We're going to have to involve state government, local government and private industry. It needs to be a partnership of all of those things."
If it had passed, the Fiber Act would have dropped longstanding provisions against local governments getting involved in the telecom business — even in areas major telecoms fear to tread. But it didn't.
"I'm just being honest — the big guys like AT&T and Spectrum, those guys hated it, man," Corbin said. "They were just angry. They fought enough that it killed our bill, but what came out of that was the GREAT grants."
Launched in 2018, "GREAT" stands for Growing Rural Economies with Access to Technology. Although millions in grant funding suddenly became available through the program, it was only available to counties designated by the North Carolina Department of Commerce as distressed counties, known as Tier 1 counties.
In 2020, the only WNC counties to qualify were Graham and Swain. That year, it took more than $12 million to connect about 8,000 locations across the entire state — a staggeringly slow pace.
"This is the fourth year of that, and we had $15 million per year. When the CARES Act money came from the feds, several of us, Josh Dobson, [Rep.] Bobby Hanig from Manteo, we were like, OK guys, we got this COVID money from the feds, let's take a hundred million and put it into the GREAT grants," Corbin said. "Well, we didn't do that, but we put $39 million in, so it's about $99 million that we've put in over the past four years."
That was still too slow for General Assembly members like Corbin, who since the beginning of the Coronavirus Pandemic has chided both the House and the Senate that in his district, remote learning consists of "driving past someone's house, slowing down and throwing a book out the window."
Corbin, along with other members of the General Assembly, began to lobby then-Congressman Mark Meadows.
"Congressman Meadows was instrumental in getting the ball rolling on this about three years ago," said Corbin. "He was in a very influential place in Congress, and then he was in an extremely influential place up until about a month ago [as President Donald Trump's chief of staff through Jan. 20]."
What ensued was the creation of the FCC's Rural Digital Opportunity Fund, which a January 2020 press release from the FCC called its "single biggest step" towards closing the digital divide.
RDOF, as it's known, is charged with deploying high-speed broadband to rural America through a reverse auction, whereby telecoms submitted bids on how many locations they thought they could connect with the amount of federal funds allocated for each geographic area.
According to a recent story in Broadband Communities Magazine, funding for RDOF "is derived from traditional high-cost universal service funding previously allocated to territories served by large price cap telcos, including Frontier, CenturyLink and AT&T." This time, however, the FCC focused on moving away from established "incumbent" carriers.
Phase I of the program entitles only census blocks that have zero customers with broadband access to receive funding. For the purposes of RDOF, broadband is defined as a speed of 25 megabytes per second download, and 3 megabytes per second upload.
All told, $9.2 billion in funding went out across the country to 49 states during Phase I, with $11.6 billion more to come in a future Phase II.
North Carolina received more than $166 million of Phase I funding, good for 24th place out of the 50 states plus Washington, D.C., and the Marianas Islands.
The seven counties in Corbin's senatorial district received more than $45 million of that. In particular, Haywood County received almost as much funding as the entire state of New Jersey, and Swain County received 20 percent more funding than the state of Connecticut.
That funding, at least in WNC, will go to companies like Charter Communications and Space Exploration Technologies, better known as Elon Musk's SpaceX. In exchange for the federal funds, those providers are bound to live up to their commitments in terms of locations served as well as matching a certain percentage of the federal funding with their own cash.
If all goes as planned in Corbin's seven-county district, providers like SpaceX have six years to connect 33,862 locations. That may not sound like a lot, however that's locations — not customers. While some locations may serve only one customer, like in a remote cabin up the rural mountain hollers common here, other locations may serve apartment complexes, businesses and schools, perhaps leading to newfound broadband access for more than 100,000 people.
For scale, the seven counties in Corbin's district have a total population of just over 200,000 residents.
Economic development professionals across the region welcomed the news.
"This is long-awaited good news for Haywood County," said CeCe Hipps, president of the Haywood County Chamber of Commerce. "The Haywood Chamber and Economic Development committee have had broadband infrastructure on their legislative priority agenda since 2006. Affordable and accessible broadband is an essential component of economic development along with adequate water, sewer and a well-maintained transportation system."
Hipps has had her hands in Haywood's high-stakes economic development game for many years now; accordingly, workforce development has been a focus area, and increased broadband access will only help lure large, high-paying employers out of the state's better-connected municipalities.
"Site consultants tend to eliminate communities very quickly based upon the above-mentioned criteria," she said.
But Corbin's not done yet; he's eager for work to begin on Phase I installations and is looking forward to less restrictive qualifications in Phase II, but in continuing his "no single fix" theory, he's still pushing on the state level.
"We're still doing the GREAT grants, and I'll tell you, I want to reintroduce the Fiber Act again," he said. "Even if I get pushback, it's just to keep pressure on everybody to know that we've got to keep this moving. It's like back in the 1950s, when, when our country built the interstate system. I mean, it would take days to get across North Carolina, it would take days to get to Florida. This is the same thing if you translate that to 2021. North Carolina had been left behind, but we're catching up fast."
Rural broadband funding by county and provider
• Cherokee (Space Exploration Technologies): $2,864,363 for 3,229 locations
• Clay (Space Exploration Technologies): $1,459,610 for 1,587 locations
• Graham (Charter Communications): $3,380,292 for 2,333 locations
• Haywood (Charter Communications): $7,121,025 for 5,479 locations
(Space Exploration Technologies): $517,287 for 224 locations
• Jackson (Charter Communications): $16,994,261 for 11,128 locations
• Macon (Charter Communications): $9,009,136 for 8,191 locations
• Swain (Charter Communications): $5,297,362 for 3,400 locations
Source: Sen. Kevin Corbin's office