Archived News
Bi-partisan opposition builds against Cawthorn
Wednesday, February 03, 2021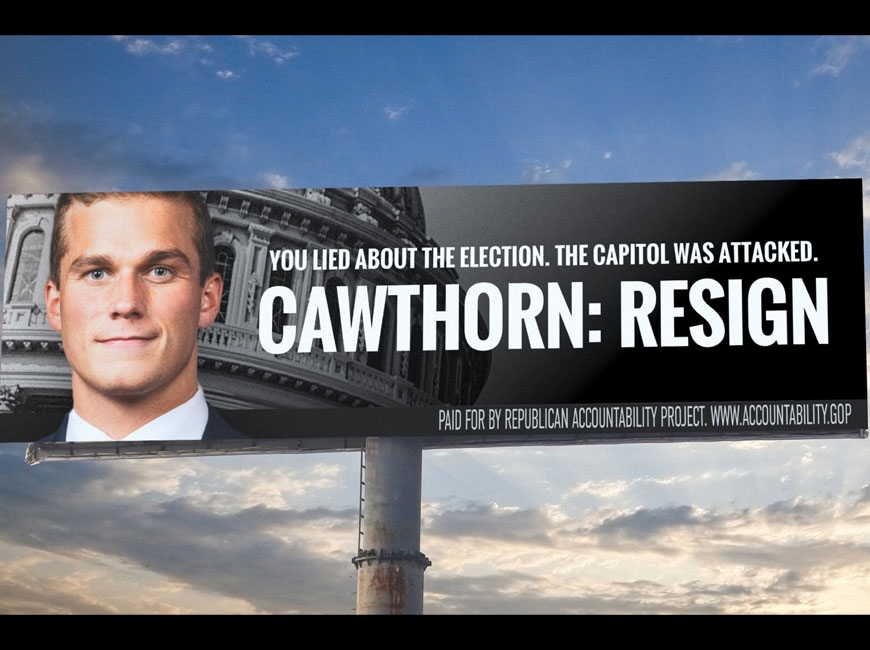 A national PAC has begun challenging lawmakers it says were "irresponsible" leading up to the Jan. 6 insurrection. Republican Accountability Project photo
He hasn't even been in office for a month, but Western North Carolina's Republican Rep. Madison Cawthorn is already starting to see groups forming to oppose him over his conduct leading up to the Jan. 6 insurrection.
"Republicans would like to simply move on," says the Republican Accountability Project's website . "But without accountability there is no clear path forward. That is why we've launched the Republican Accountability Project."
The project aims to support congressional Republicans who "at great personal and political risk, are defying party leadership and defending the institutions of our republic," and also to unseat elected officials that supported overturning the Nov. 3 General Election.
That explains the billboards popping up in Buncombe and Henderson counties, and their simple message. "You lied about the election. The Capitol was attacked. Cawthorn: resign."
Cawthorn's not the only lawmaker under scrutiny from the PAC, which recently kicked off a $1 million nationwide billboard campaign highlighting Cawthorn and 10 others it claims "were the most irresponsible during the aftermath of the 2020 election."
That includes Sen. Ted Cruz (R-TX), Sen. Josh Hawley (R-MO), House Minority Leader Kevin McCarthy (R-CA), Rep. Mo Brooks (R-AL), Rep. Matt Gaetz (R-FL), Rep. Louie Gohmert (R-TX), Rep. Marjorie Taylor Greene (R-GA), Rep. Jim Jordan (R-OH) and Rep. Jodi Stefanick (R-MO).
The Republican Accountability Project is an offshoot of another advocacy group, Defending Democracy Together, which claims to be backed by "lifelong conservatives and Republicans — many of whom have served in Republican administrations and write for conservative publications."
Cawthorn responded to the billboards with a statement issued Jan. 31 by spokesman Micah Bock:
"Rep. Cawthorn is disappointed to hear that local Democrats are once again funneling dark money, from outside sources, into N.C.-11. The Republican Accountability project is an affiliate of 'Defending Democracy Together,' which is a 501(c)(4) organization that spent $11.5 million dollars electing Joe Biden. The Republican Accountability Project is a front for the Democrat media machine, and are one of the top 'dark money' groups in the 2020 election cycle according to election financing watchdog, Open Secrets. Rep. Cawthorn will continue to work hard for the people of his district, and will continue to fulfill his promises of only representing their interests, not the interests of some D.C. lobbying group."
But large national PACs aren't the only ones expressing their displeasure with Cawthorn. In early November, just after the election, Buncombe resident Nicolette Baglio started another group, called Women Invest Now — N.C., on Facebook.
"Madison's kind of the first order of operation for us, trying to get him removed if we can," Baglio said. "I think that a couple of the House members, Greene, Boebert and Cawthorn potentially, could be expelled from Congress and I think that we're seeing the heat starting to turn up a little bit."
Today, WIN-NC counts more than 1,400 members — most of whom, like Baglio, are registered as unaffiliated voters. She estimates about 10 percent are Republicans, the rest Democrats. And just because "women" is in the name of the group doesn't mean they don't have plenty of men involved as well.
"In my opinion, and I think in many people's opinion, I think we're all a little bit confused about how he got elected, with a lot of the lies, and right now he's kinda doubling down on that," she said.
Another member of the group, Erin West, said that her experiences as a licensed clinical social worker who goes into some of the region's poorest communities demonstrate the need for competent federal representation.
"Looking at his platform and what he was bringing forth to the community, I just didn't really see much of a platform, just attacking the radical left," said West. "[Cawthorn's General Election opponent Col. Moe] Davis was so far from radical left that at times it was humorous, but then it became evident that [Cawthorn] was going to win."
West, a Democrat, said she's now considering changing her registration to unaffiliated, like Baglio, who expressed concern that North Carolina's 11th Congressional District wasn't drawn to be anything remotely resembling a competitive district.
"I will be honest and say that I don't know that a democratic candidate is going to win the 11th," she said. "I would love to see that, I think so many of us would, but I think the goal of the group is finding a candidate that represents the people's needs in Western North Carolina. I feel collectively that we don't have that in Madison Cawthorn right now."
That sentiment even goes so far as to leave Baglio open to supporting a Republican in a Primary Election contest against Cawthorn early in 2022.
"I think right now I know me myself personally, as well as a lot of members in the group are for finding a candidate Republican or Democrat, even a centrist that can beat Madison. So yes, that would be something that we're going to look at exploring and potentially supporting closer to the primary," she said.
Baglio's group took a big step less than a week ago, formally incorporating as a PAC so as to have an easier time raising and spending money in support of Cawthorn's potential opponents. The group recently mailed thousands of postcards to Cawthorn's Washington, D.C. office, and hopes one day to follow the efforts of the Republican Accountability Project with some local billboards of their own.